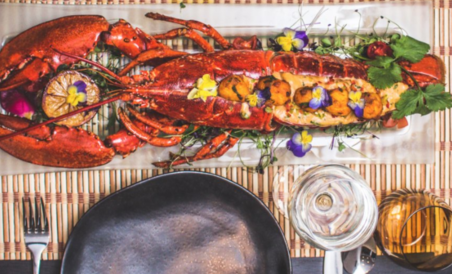 David Dawkins visits Matsya in Mayfair and finds a welcome collision between traditional Indian comfort food and the tweaks and twists of tinkerman chef Uttam Karmokar's philosophy
There's something refreshingly honest about Matsya. Rice, naan, spice and love – the comfort food from homes in Punjab, Kashmir, Delhi, Mumbai and Bengal – tinkered, tweaked, tailored and – at least in my opinion – improved upon for the Mayfair diner.
While other Indian restaurants can often overly rely on big white plates and tiny towers of food and a calculated brush stroke of garam masala yogurt – Matsya's approach concerns home comfort and creativity: recipes passed down from (in this case) mother to son, and built upon, made new.
@MatsyaDining
That said, Matsya is not a totally traditional experience, and director Vikkas Puri has a surprise for me. 'This is for your readers', he says unveiling what can only be described as a VIP private dining room slash whisky dungeon slash wine cellar.
'All the things' he points at a wall of expensive whisky and seems altogether very proud of his gold and vanilla VIP cavern.
And so he should be. Matsya is not exactly a 'minimal' experience. It's all about colour (purple, gold, vanilla, orange) warmth, opulence and a big tweak of humour – it's hard to imagine a bolshy gaggle of UHNW lads ending up here after a Friday night Mayfair bender – hard – but not impossible. And the food follows the same path.
@MatsyaDining
The trio of Bombay Pani Puri – tiny bread pots and a tart shot of pani – followed by Mangalorean Masala Clams, a moreish mound of spicy shellfish – rich in coconut and red chilli – a true sharing dish for flying forks and licked fingers, rich tiny chaps steamed with the smell of curry leaves and mustard seeds.
A solid third plate of three cheese towers arrives next, the Paneer Tikka Hari Mirch is cooked in a fresh green chilli sauce finishes on a smokey note and the Khattai Baingan aubergine smoked on an open flame – 'just like back home' says my Bengali guest (although she's keen to stress – 'not a Bengali dish') – is tangy, smokey, sour loaded with tamarind and whole chillies, a lovely little pot of meat-free blackness.
Another wonderful dish is the split personality dal bowl – yellow and black – accompanied with ridiculously garlicky, garlic naan I break down the middle and scoop through the smokey, aromatic tadka. The darker of the two is a deep broth of a daal – there's no whiff of a watery limp lentil here.
@MatsyaDining
Although Matsya is not at all busy, the entire upstairs is empty with a few pockets of tables – couples, Indian families, young lovers celebrating – it's easy to forget your manners returning to that chewing, nodding, slurping state – bright white napkin collar tucked – as Matsya's promise of something you know and something you don't bares true. A (price) tweak, a (marketing) nudge and a hunk of luck will see Matsya fill up soon enough.
Despite frequently, but accidentally kicking my chair, Matsya's staff are blunt and knowledgeable – 'you'll like that' – I was told as one dish arrived. And I did. They're led by Chef Uttam Karmokar – a cheery, portly fellow – who walks around chatting, shaking hands – pinching the air with both hands very close to his face, talking slowly – the global language for 'doing the cooking' with intimacy and care.
@MatsyaDining
He stops for a long chat in Bengali with my guest (who plays with her hair) and recommends his mother's 'best' dish the Dhab Chingri in Coconut Shell as our main. Possibly the most familiar taste on the menu – it's an improved take on cookbooks' Keralan or Goan curry – coconut, chilli, ginger and shrimp cooked in an 'Indian green' coconut. A real crowd-pleaser, the shrimp and the nut collide with the Kashundi, a green mustard paste used in salads, appetisers and curries.
Kashundi is obviously an ice-breaker. A long conversation in Bengali ensues. I'm now very full and slightly drunk. Thoughts turn to how I might finish my review; drinking Bollywood-inspired cocktails while they talk of recipes and mothers. Mothers, mothers everywhere – the things mothers do, they buy, they cook, they say, they love. And curry.
Matsya, like all great British Indian restaurants, has a part of this at its heart, motherly love, innovation, damn good curry and ridiculously garlicky, garlic naan.
Read more: Indian Accent Review: Mayfair gets a taste of the 'world's best' ★★★★