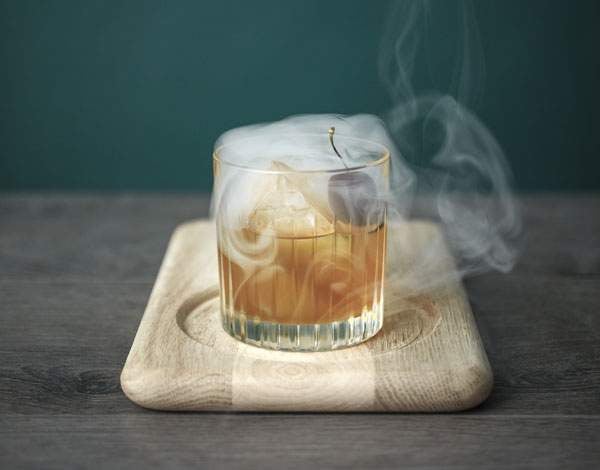 Craving a gulp of G&T and a swig of martini this dry January but without the guilt (and the hangover)? Seedlip has just the thing for you.
Post festive blues and dry Januaries needn't be all boring and dull. Seedlip, the world's first distilled non-alcoholic beverage have shared some of their signature cocktails with Spear's to help you bypass the booze.
1. The Collier
Seedlip I Coconut Blossom I Smoke I Salt I Cherry
Story
Wood Colliers (charcol crafters) have been part of British woodlands since before the Bronze age. In fact, it was charcoal that enabled tin and copper to be smelted together to create the bronze that defined the age. Colliers often lived alone in small huts in order to ten their wood piles and this short rich cocktail pays homage to their 'old fashioned' country pursuits.
Ingredients
50ml Seedlip
5ml Coconut Blossom Nectar
Pinch Smoked Salt
3x Drops of Oak Smoke Droplets
Method
Stir together & strain into an oak smoked glass, serve in a tumbler and garnish with a black cherry.
'
2. Seedlip Tonic
Seedlip I Tonic I Red Grapefruit
Story
The G&T without alcohol.
Ingredients
50ml Seedlip
100ml Tonic
Method
Build over ice, serve in a highball glass and garnish with a red grapefruit twist.
'
3. Seedlip Martini
Seedlip I Olive I Jalapeno I Lemon
Story
A non-alcoholic martini? Why not.
Ingredients
50ml Seedlip
5ml Olive Brine
5ml Jalapeno Brine
Method
Stir ingredients down cold and strain, serve in a coupe glass, and garnish with nocellara olive & blind lemon zest.
'
4. Madam Eliza Cholmondeley
Seedlip I Marmalade I Black Pepper I Dill
Story
"A marmalet of Oranges" the earliest recipe for marmalade as we know today documented in 1677 by Madam Cholmondeley when jams were only eaten in the evening. This short shaken cocktail pays homage to marmalade's early English evening antics and the Seville Orange season is now upon us for the next few months.
Ingredients
60ml Seedlip
7.5ml Seville Orange Marmalade
3 Drops Black Pepper Essential oil
2 Sprigs of Dill
Method
Shake, Strain it, serve in a coupe glass and garnish with a sprig of dill.