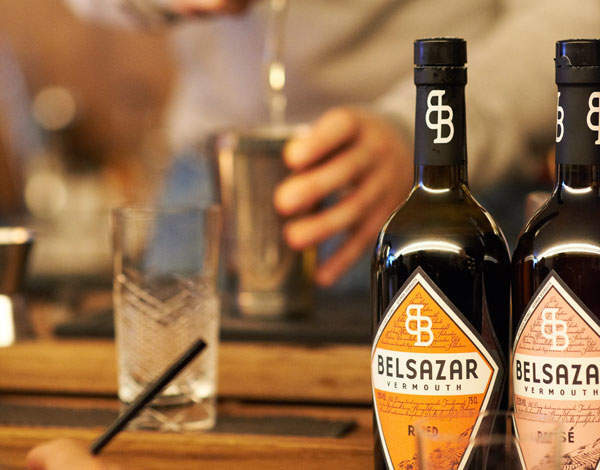 Vermouth reminds me of a coral reef: it has the capacity to delight and intrigue but it generally remains unseen below the surface (in this case underneath the bar) – and there is also the danger of accidentally getting wrecked on a cheap and nasty version. However I feel a sea change coming on.
Last week I attended a banquet to mark the launch of new German vermouth Belsazar in the UK. Our host, co-founder Max Wagner, joked that he initially planned a two and half hour briefing on the history and production of vermouth followed by a half hour exam. Thankfully though, he was persuaded to bring Bompas & Parr on board to accompany his vermouth quartet with their bombastic cuisine.
Over a back-to-front themed dinner served on upside down plates and including 'hidden scallops' and suspended jellies carried in to Shostakovich, Wagner (our host, not the composer) took us through his fortified wines.
The first we tried was a dry vermouth, sweet smelling but with a powerful bitters aftertaste of wormwood and orange. It's a bar tender's friend but not necessarily something his patrons would reach for.
However, both the rose and the white vermouths are genuine crowd-pleasers. Like the dry they are distinctly fruity but with a lingering, decadent sweetness. The rose especially has an almost sickly intenseness, which is curiously alluring. The white is slightly more complex with more subtle layers to what is still a very rounded juiciness, an homage to the Black Forest fruit brandy that gives Belsazar its secret kick.
Serve either of these on the rocks and you'll have summer party to remember. If you're planning any Christmas parties, though, go for the red. It is equally as full of fruit but with cinnamon hints and candied, rather than bitter, orange making it significantly more festive.
The dry may be more suited to the cocktail cabinet but the red, white and rose are stand-out wines on their own, great aperitifs on ice or in snifters as dessert wines. The likes of Martini have long dominated the vermouth scene in the UK; these German latecomers will hopefully provide much needed diversity. Fun and distinctive but with real heritage and quality, they may even nudge the sacred Pimms come June. Vermouth has a new champion.