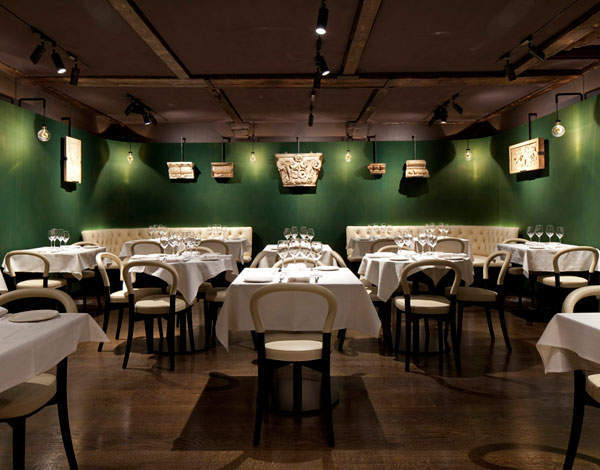 The Keeper's House is tucked away in a far corner of the Royal Academy's Burlington Building, guarded by a rather burly and surly doorman standing underneath a Tracey Emin neon. If you manage to get past him you will find the restaurant down a narrow flight of stairs in the basement.
The restaurant is opposite the small bar, which – if you poke your head in – feels a little dated with its red padded benches and plum-chocolate coloured walls. The dining room itself is much like an exhibition room in the Academy with great chunks of decorative architectural stonework hanging from the dark green walls.
There is no background music, which is not always a bad thing but in this instance I feel a little song or two would have helped lift the atmosphere and make everything a little less stern (and also less awkward – as was I could hear everything the lady in the far corner was saying and apparently it is about her and not her husband's art, incase you were wondering).
Read more restaurant reviews from Spear's Food Friday
Despite the rather somber tone, it is fabulous for people watching as the place fills with interesting characters over the course of the evening. The tables are taken by a slightly older generation of diner. This isn't a trendy, no reservations sort of place, rather a grown-up dining room with starched table clothes and white napkins. Also worth a mention are the fake tea lights for sheer entertainment value, I can't help but feel a real flickering flame might have been more atmospheric, though perhaps there is some sort of health and safety ruling against naked flames underground.
King of artful dining
The restaurant is overseen by the king of art gallery restaurants, Oliver Peyton, and is run as professionally as you would expect from him. The staff are lovely, accommodating and only too happy to help out with wine selections – allowing us to try before we buy. The food is modern British and sounds great on the menu but on the plate possibly tries a little bit too hard and could benefit from some simplification and, most importantly, better execution.
To start I had the sweetbreads with parsnip – a simple presentation of well cooked, creamy sweetbreads on a much-loathed stripe of parsnip puree. There was also a little scattering of simply blanched spring greens. Sadly, the greens came complete with cooking water, which sat in a small pool around my sweetbreads. The greens weren't cooked badly but someone in the kitchen needed to have drained them properly prior to the plating up stage. This is a rather basic error and ended up being the thing I remembered most vividly about the dish – I doubt this is what they were after.
The parsnip, which was actually rather lovely, was also sadly a tad token considering it had been mentioned on the menu. There should have been more of it. My dining companion faired better with the squid cassoulet, which was tender, vividly coloured and beautifully smoked with paprika.
Mains were generously portioned and good but again just needed a little finessing. The milk soaked pork shoulder was wonderfully tender but the sauce just a little over reduced. It would have also benefitted from a nice spoonful of creamy mash too. The heritage carrots, though, which came in a malt glaze were great – all dark purple and burnt orange in colour and full of flavour.
Everything we ate was very nearly there but just fell a little short, much like the renovation itself, which felt somewhat dated and staged, though perhaps the upstairs rooms are more successful. The menu Ivan Simeoli has put together reads very well and shows great promise – with a little more care and precision, it could prove to be a great addition to Peyton's collection.