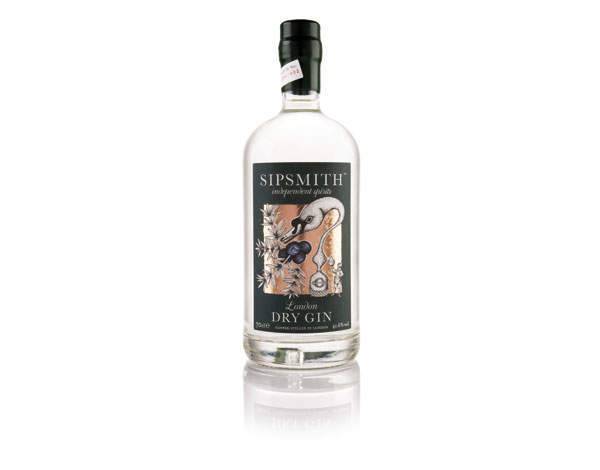 DISTIL, MY BEATING HEART
Early morning in Hammersmith and I'm standing in a warehouse talking to Sam Galsworthy. 'So meet Constance,' he says as I look up at a huge copper still. Constance is the newly created and significantly fatter third sister of Prudence and Patience, sibling stills that when fired up distil the distinctive gin and vodka that is Sipsmith.
Having started production around the corner in a converted garage in 2009, business is growing and this new site, on space rented from nearby brewery Fullers, will significantly increase production.
The two stills will be moved here shortly. 'But first they're going back to Germany,' says Sam, 'back to Bavaria for a little R&R. They'll get a good clean from their makers, a colonic irrigation. They'll come back different people.'
And when they come back, they'll have their work cut out. Constance will have been fired up and the three stills will — now using a steam boiler — have to produce vodka and that same spirit mixed with botanicals and distilled once more into gin for a brand that has grown not just around the UK but internationally too.
The arrival of Sipsmith is one of the reasons discerning drinkers don't just order a gin and tonic. They order a Sipsmith and tonic. Or a Tanqueray, a Miller's, a Bloom or a Williams Chase — the list is very long and getting longer. And these choosy sippers like to specify the tonic too. The current flavour of the month seems to be Fever Tree. ('It's a tonic that has no ego' is Sam's view.)
A spirited comeback
Gin is experiencing an extraordinary revival. Indeed, it's more than that. It's a rebirth, where the range and quality are unprecedented. There may have been a much-written-about Gin Craze in mid-18th-century London, ever-referenced by Hogarth's print Gin Lane, when — in addition to sales at public houses — it was available from street vendors and one in four habitable buildings housed a still, but today's craze is a little more civilised.
No one is expecting a clampdown; MPs are not considering suppressive Acts of Parliament; this is an elegant obsession. It follows from the three previous decades, when vodka was all the rage. As the gin historian Thea Bennett comments: 'Now that the 21st century is well under way, younger drinkers in my local pub [are] choosing from the different brands of gin behind the bar [and are] discussing the merits of Bombay Sapphire, Hendrick's, Beefeater 24 and Sipsmith.'
And as Sipsmith's Sam Galsworthy says, these different gins are helping each other to grow. 'It's an incredible industry,' he says. 'Everyone is up for sharing stories. Even Beefeater were great to us when we were starting out. It was like getting into the ring with an undefeated boxer and finding him helping to tie your gloves on. There's a genuine camaraderie.'
Indeed, the older, more established players have been learning from the young guns. As Sam explains: 'We've lifted the veil of secrecy from this industry. We introduced the idea of the public being able to visit a distillery and see the process of gin-making in action. Now Beefeater are opening their own visitor centre. They wouldn't have done that without us.' Likewise, companies like Beefeater have created smaller niche brands (such as Beefeater 24) to compete with the likes of Sipsmith.
This growth has accompanied the national interest in food which has exploded over the past decade. As foodies question the wheres and hows of food, so they have with gin. At a point when our food culture sees a pub like the Hand and Flowers (run by one Tom Kerridge) with a waiting list of three months for a table, that same pub stocks some twenty gins for its customers to chose from.
This early-21st-century gin craze has also seen entries into the market that are targeting not just gin lovers in general, but also gin-loving women. Distiller Joanne Moore, for example, has created a floral London dry gin inspired by the idea of chamomile and honeysuckle growing in an English country garden.
Given the challenge to create a new gin by her bosses at G&J distillers (creators of brands such as Greenall's and Berkeley Square), she conjured up a scene in her head. 'It was a secret garden,' she explains. 'You know, with a wrought iron gate and a wild flower meadow.' From this vision she created a light, floral gin that she named Bloom. And then she created an elegant, tall bottle engraved with patterns. 'It's like a perfume bottle that is so pretty you'll leave it out on the dressing table,' she says.
Joanne insists that just as many men as women buy Bloom. But you just try putting on a He-Man act in your local and ordering what she suggests: a Bloom and Fentimans tonic garnished with strawberries.
Mood slings
Of course, it all depends on your mood. Gin, according to Joanne, is so versatile that there is a brand for every type of person in every kind of mood. And there are bartenders out there to satisfy your gin-loving whims. 'Bartenders are very well educated these days,' she says. 'In fact, they are becoming drinks geeks.'
So in any quality bar you can today happily bore the pants off one another as you discuss your preferred brand. 'Gin is very trendy,' she tells me just after her mid-morning tasting — or rather sniffing — in the distillery (the perfect time of day, apparently, for some nasal inhaling — you can sniff, you don't need to sip). 'The interest in gin has now filtered down from the influencers to the mainstream.'
And as the mainstream might wish to have some jolly gin facts to lighten up the gin-ordering moments, it's worth noting at this point that the word itself comes from the French for juniper water, 'eau de genièvre', back in the 17th century. The English, between dodging pikes and muskets in the Low Countries during the Thirty Years War, huddled together, and to warm themselves from the icy wind that cut their spirits as it blew across the flat landscape, would pass around a leather cup that contained a spirit garnered locally.
The soldiers called it 'Geneva', unable to deal with the French lingo. That word was then shortened to the simpler-sounding gin. And those soldiers drank it neat; there was no softly fizzing Schweppes.
Local heroes
It's a far cry from the quiet scene that is my own drinks table at home in Northamptonshire, where a happy collection of gins stands proud. And such is the variety of gin on offer today that I've discovered the latest distillers to join the gin bandwagon just a few fields away. Early summer each year, Tom Warner and Sion Edwards scour the hedgerows of our county picking elderflowers, which they distil in a barn on Tom's father's farm. The resulting Warner Edwards gin I like to sip neat. And I don't need the tip of a Dutch musket pointing at me to galvanise my gin-loving juices.
Back in Hammersmith, Sam Galsworthy is gathering his things and heading for a flight to San Francisco. He reckons the US market is ripe for Sipsmith. On a table in his office I spy a copy of a book called Bold: How to Be Brave in Business and Win. With Constance, Prudence and Patience at his side, it could be one hell of a (juniper-infused) victory.
SIP THIS
William Sitwell's top three artisan gins are just the tonic
Martin Miller's
Created by the late antiques expert and partygoer, Martin Miller's has cassia and cinnamon bark in its unusual mix and takes a round trip to Iceland, where it is blended with what many consider the purest water on the planet.
Berkeley Square
This is distilled in copper stills for 48 hours with hand-picked botanicals wrapped in muslin. The water comes from the foothills of the Pennines and it's perfect for a gimlet: two parts gin, three or four parts lime juice, tonic water and a twist of lime.
Hoxton Gin
Created by trendy East End mixologist Gerry Calabrese and using alcohol from French summer wheat, Hoxton Gin
is macerated in coconut, grapefruit, juniper, iris, tarragon and ginger.
Add lemon juice, elderflower cordial, rhubarb purée and soda for a summer Collins.