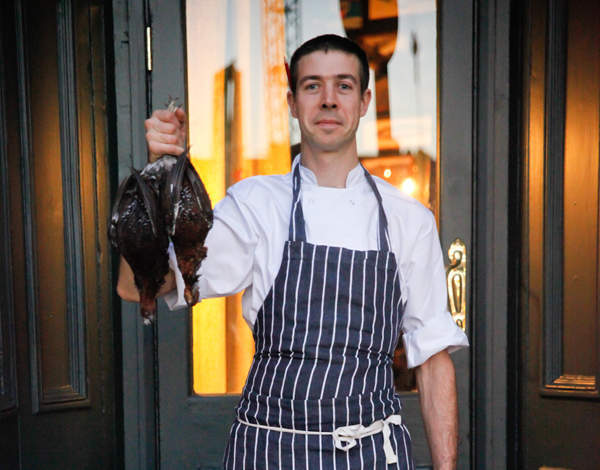 I'm up for a quick cup of tea and slice of toast at 6.45 before dashing to the train to get in the kitchen for 8.00. Breakfast service at Newman Street starts at 7.30 and our breakfast chef, Domingos, will already have orders underway – our most popular dishes are eggs Benedict, chorizo with potato and egg, and smashed avocado on toast.
There is a quick morning briefing where we divide the daily tasks and talk through new dishes: we only use the best seasonal British produce so dishes can change daily. Recently we've come up with crushed Jersey Royals with coddled duck egg & wild garlic, and specials such as suckling kid and a beautiful escalope of cod from a huge fish caught out of the Helford.
At 8.15 I'll put the bread on: baking in-house not only delivers deliciously fresh bread, but gives rhythm to our day. Then I'm in the fridges having a good look through what produce we have, which helps to focus everybody's mind on our daily and weekly tasks: is there butchery to be done, pate to mix, sausages to make or venison to pickle?
By 9.15 I need to push ahead and think about lunch service, preparing the panna cotta, a really classic, simple dish made using organic cream & milk. We serve it throughout the year with different fruits – at the moment it's champagne rhubarb but before we know it, English raspberries will be upon us. Meanwhile, our breakfast chef is still flying through orders: a mountain of Tamworth bacon & egg sandwiches usually hits mid-morning around 10.00.
Every morning at 10.30, sparkling fish arrives from our fisherman Dylan at Kernowsashimi, a small family business that fishes out the Helford using a stunning gill net and hand-line. It means the fish is looked after from the moment it's caught and ensures we get it in near perfect condition. I'll give him a call to catch up and get news on the wind and tides to understand what we can expect for the rest of the week, then it's on to scaling and filleting the delivery.
We have our team breakfast at 11.00: a large vat of creamy homemade porridge with toast, fruit and coffee to see them through the next four hours of service. At this time, Eddie arrives – our old school master butcher who has nearly 60 years' experience in the trade. He helps us get the best out of the carcass, which we buy direct from select, interesting producers such as Ben Weatherall who supplies our Galloway beef and Mary Holbrook who sends us her milk-fed kid.
We'll have a quick briefing at noon with the waiters and bar team, tasting any new dishes and answering questions about the food and drink on the menu before heading into lunch service. We serve a lot of fishcakes, gem and avocado salads and Galloway burgers at lunchtime, and the orders are steady till at least 3.00.
I'll give our fisherman another call after lunch service to confirm his day's catch: lots of brill, turbot, a box of mackerel – more than enough to keep us busy the next morning. The team then clean down the kitchen from lunch and start preparing staff dinner – it's always pizza on Friday, so I make sure there's extra dough from the bread.
A few dessert orders come through between 3.00-5.30: our warm chocolate tart and freshly baked Madeleines are popular with a coffee or afternoon tea, otherwise the team is back prepping for evening service.
We get a rush of bar snack orders around 6.00 from our after-work crowd, and by 7.30 we're getting cheques through for dinner. Monday is Rib Night, so we get lots of requests for 500g charcoal ribs to share and we have to make sure we've plenty of cheesy mash to go alongside.
Around 10.30 the rush slows and we have a few puddings left to order. Time to clear down, check order counts and prep lists for the next day: what parties are coming in, what big jobs need to be done and who will manage them.
One of the floor team will come down with a bar order for the morning – fruit for juices, garnishes for Bloody Marys at the weekend with brunch – before we clear the kitchen down and lock up. I'm usually able to catch the last tube and make it home to the family by 1.00 where I fall into bed. Then the alarm goes and it starts all over again…
Peter Weeden is head chef at the Newman Street Tavern