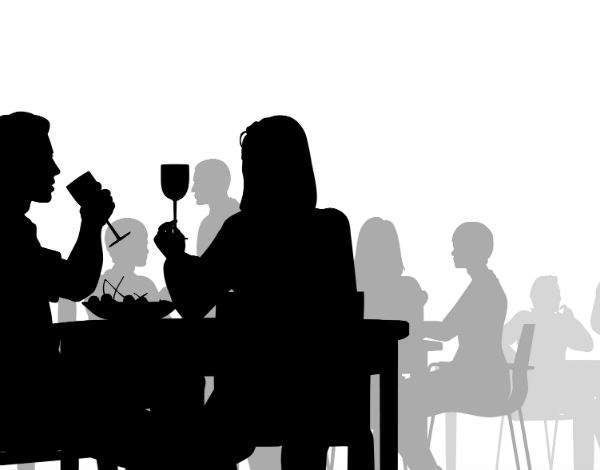 Most days I am up by about 6.45am to reflect upon the stay and the meal the night before in the peace and quiet. Some inspectors choose to write everything down as soon as they get back from a meal because we don't make notes at the table; others do it fresh in the morning. We try to be quite discreet.
We normally spend three weeks on the road and a week in the office. We have to be restrained because eating out for breakfast, lunch and dinner every single day is very tempting. We have about 200 to 250 meals a year.
On my weeks on the road, I tend to keep breakfast simple. I'll have some good yoghurt and fruit, and good coffee and mint tea. If I'm in a different country I'll try and sample the different things that they have.
After visiting a variety of pubs, restaurants, hotels and B&Bs, it's time for lunch. We try not to book as, while it would be wonderful to travel around in pairs all the time, we can't always do that so a booking for one does tend to stand out. When we go to pretty high profile places we double up and no matter where we stay or eat, we always pay our bill.
We're suspected of being an inspector from time to time but there's less emphasis on it now because people are more confident in what they're offering. We try to blend in wherever possible but if it's a little restaurant in the countryside they know their customers.
I could have dinner in the place I'm staying in, or I might have to drive to a village close by. As inspectors, we're looking for something that takes technical skill, so we check out the combinations of flavours, the execution of the preparation, whether or not all the ingredients marry together, if there is anything unnecessary on the plate, and if it is good value for money – that's something we are sticklers for. It has got to look the part and the taste must be good.
We're never forced to sit and eat something that we don't want but there aren't many things we don't like! Anything on the menu is there to be tested so we try to choose a variety of things. We keep a very good record and we will always try something different from what the previous person has sampled.
It's not a job where you necessarily have to put on weight. These days, particularly with Japanese food, chefs have so much of a simpler style that they're not as loaded with calories as they used to be. Gone are the days of heavy cream sauces – it's not like that.
Before I eat at a restaurant I'll look at any research inspectors have done but sometimes you don't want to form an opinion before you've already been, so it's nice to go with a clean sheet. There are lots of avenues now for opinion on the internet and we take it for what it is but we're not influenced by other people's opinion. We will go back as many times as we feel necessary to get the right opinion, although if we keep going then something is wrong.
On the weeks away from home, it's very non-stop but we've all worked in the industry so we're used to long hours. Last night I went out for dinner at 9 o'clock and got back at midnight, which isn't untypical. You've got to be very flexible and if there's an opportunity to get a booking in a high profile restaurant somewhere around the world, then we'll go there and meet a colleague. We follow the same procedure as everybody else, hanging on those phone lines when the booking line opens. We don't get preferential treatment.
It's quite a shock to the system when you go home and live a normal life. It's nice to go back and try and recreate the master works that we've had. We've got a love and an interest for it – and it never stops. It's such a lovely subject and it's nice to come away and see what other techniques and ingredients are being used, and how London and the UK measures up to the rest of the world, and we really do.
Being an inspector is very full-time and there are lots of nights away from home, but the perks are endless. You've just got to have lots of energy and enthusiasm for the industry and understand the other side of the business. Michelin are a fantastic global company, the most recognised brand in the world and the ultimate chef's accolade. We have over 100 inspectors around the world, eating in a variety of places to keep our selection up to date.
We take it very seriously and we don't make knee jerk reactions. If someone has an off day we'll go back and take another look before we make a decision. Taking a star away is not the nice side of our work. We make very measured and careful decisions as awarding a star or removing a star can make a difference to someone's business.
At the end of the day we're just trying to make a reliable book that is a reference for people who – in today's world, where we're all leading busy lives – know that they can pick up the guide and find reliable recommendations.
As told to Laura Walkinshaw.