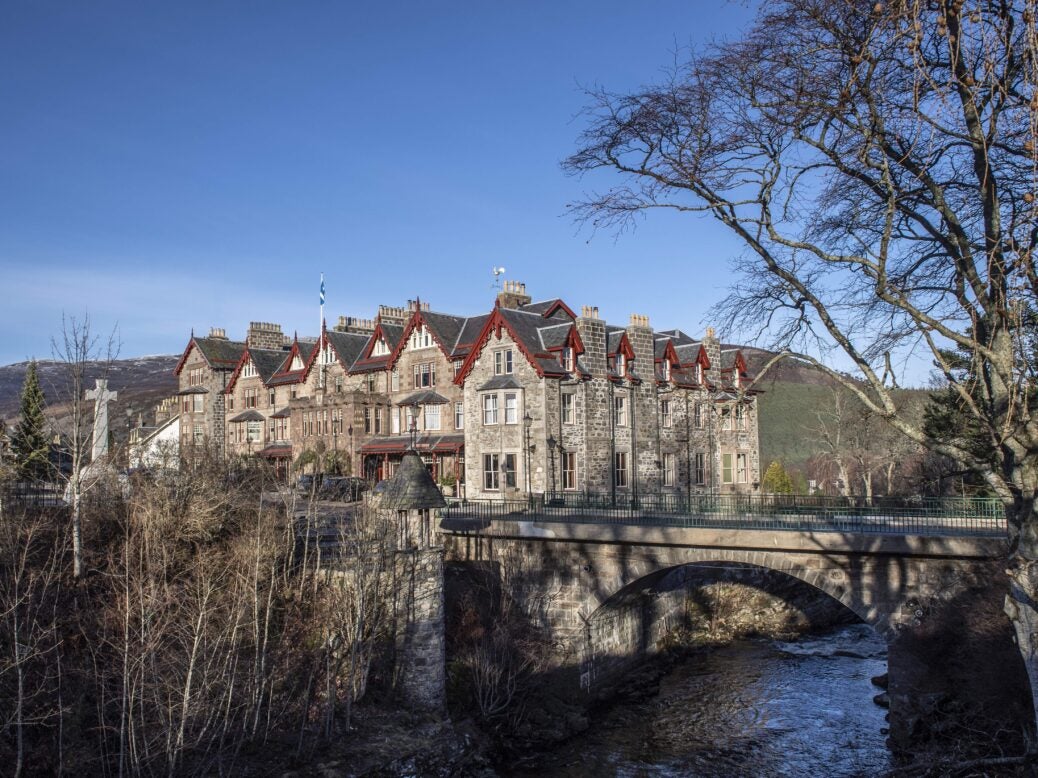 The Fife Arms is reborn as Scotland's supremely sophisticated yet informally relaxed go-to Highlands hideaway, writes Andrew Harris
Build it and they will come. Was that what Iwan and Manuela Wirth were thinking in the remote Highland village of Braemar, as they surveyed the Fife Arms; a sombre Victorian listed lump, condemned to death-by-coach-party, decades ago? As mega-gallerists Hauser & Wirth and the most influential couple in the art world, well known for bold brush stroke manoeuvres, it's more likely that they were just toying with the notion of acquiring it so they could turn it inside out. They did.
Following a transformative overhaul, the Fife Arms, opened in January 2019 by the Duke of Rothesay, as Prince Charles is known locally, is a hotel unlike any other. A mesmerising melange of taxidermied traditional and cultured cutting edge, so easy to get wrong but here rendered so unrelentingly right, it transfixes from the first step across the threshold. The Fife Arms is reborn as Scotland's supremely sophisticated yet informally relaxed go-to Highlands hideaway.
Art of all shapes, sizes and genres (around 16000 pieces) dominates the interior whilst through almost every window, the great outdoors, looking as great as the outdoors ever can or will, beckons with spectacular mist-shrouded brooding hills, babbling brooks and braying stags.
The staff, many in kilts and plus-fours, are resplendent in house tartan and tweed designed by local textile revivalist Araminta Campbell. As they escort guests into the lobby amidst the warm dark woods and crackling fires one might expect in a Highlands hotel, a Lucien Freud portrait of his daughter Annie conveys a subtle indication of the disruption to come. Peek around the corner into the lounge and there's a Picasso self-portrait, whilst the ceiling's anodyne anaglypta is replaced by Chinese painter Zhang Enli's dramatic green and purple swirls, inspired by Scottish agates. He's one of several Hauser & Wirth artists commissioned to embed their creativity directly into the property's renovation.
Elsa's Bar, named after fashion designer Elsa Schiaparelli, a famous rival of Chanel who would come to Braemar to visit her friend, Vogue editor Frances Farquharson after she married the local laird, is covered in Man Ray and Cecil Beaton photographs. In the Clunie dining room, a majestic stuffed stag dominates a space whose walls are painted in Argentine artist Guillermo Kuitca's trademark cubistoid style. Down one end is a Gerhard Richter eagle and at the other, a large Breughel hangs prominently amidst Kuitca's cacophony of colour.
Elsewhere period pieces including a watercolour by Queen Victoria of a stag shot by John Brown, share the limelight with works like Delhi-based Subodh Gupta's magnificent chandelier comprised of thali pans, stainless steel buckets, coloured light bulbs; basically, anything shiny, utilitarian and Indian.
A giant Louise Bourgeois spider dominates a courtyard whilst the pub part of the building is re-christened the Flying Stag after U.S. artist James Prosek's emblematic creation. His fantasy creature of a stag endowed with the white wings of a ptarmigan, a bird found at the very highest reaches of the Cairngorms, hangs directly above the bar.
And then there's the stuffed animals. If you prefer fauna with their insides still inside and minding their own business in the countryside, a deep intake of breath is an advisable precursor to a Fife Arms visit. I was particularly drawn to the enormous record-beating salmon and the accompanying photo of Miss Ballantine after she landed it in 1922. A dour determined-looking young woman, one can't help feeling that even though it looks bigger than she does, the salmon would have been well advised to surrender immediately.
And so it goes. All slightly nuts and a raisin d'être that's difficult to define. Hand-crafted by cultural icons whose unshakeable confidence in delivering this Harry Potter by way of Damien Hirst manifestation of a country house hotel, belies the fact that it's their first attempt at one. Interior design is by Russell Sage whose liberal use of Liberty fabrics and the juxtaposing of a museum-load of art, is executed with skill and subtlety. The 46 rooms and suites, none of which are the same, are tilted more toward the traditional, where an encounter with a Jacobite highland warrior is more likely than a Calcutta vegetable colander.
Braemar, 12000 feet up and brandishing the record for the UK's coldest temperature (-27C), has always registered on the radar of the discerning. Summer days are long, the mountains envelop the village in a panorama of almost implausible perfection, and it's remote. A factor no doubt, uppermost in Victoria and Albert's minds when they rebuilt Balmoral castle nine miles downstream along the River Dee.
It remains a favoured royal recreational retreat, with a royal presence guaranteed at the Braemar Gathering every September, although 2020's Highland Games were, of course, cancelled. Balmoral was completed in 1856, the year in which Victoria also inaugurated the Fife Arms, though not everyone appreciated the attention ushered in with the royals. In 1881 Robert Louis Stevenson spent the summer in Braemar, observing thus:
"The country is delightful, more cannot be said; it is very beautiful, a perfect joy when we get a blink of sun to see it in. The Queen knows a thing or two, I perceive; she has picked out the finest habitable spot in Britain. I wish however she had picked some other"
As Stevenson implies, the summer of 1881 was a wet one. On a washed-out afternoon, with his stepson Lloyd, they began drawing a map of an imaginary island which quickly morphed into what began as The Sea Cook: A Story for Boys. Fifteen chapters flew off the page before writer's block set in. Ironically, it was at a modern-day treasure island, Davos, where Stevenson sought yet again, the balm of mountain air for his ailing lungs, that inspiration returned, and the timeless treasure that is Treasure Island was completed.
The ghillies (gallic for attendant) at the Fife can curate pretty much any calibre of an excursion out into that breath-taking beyond; from a gentle stroll with in-house forager Natasha, suddenly falling into the undergrowth like a woman possessed, to serious mountaineering, fishing on the Dee, or a picnic on the Balmoral Estate. Our land-rover-assisted hike with Julian, who with partner Katy, operates Braemar Highland Experience, proved a notable highlight.
Katy's roots run centuries deep in the area whilst Julian's former life as an academic ensured a polished professional delivery of what seemed like every Cairngorm fact known to man. At John Brown's windswept birthplace, standing in surreal contrast to Balmoral Castle across the valley, and a building so basic even the sheep weren't interested, we learn that not only is Julian a member of the mountain rescue service, he's also a whisky connoisseur. He probably dreams in tartan.
Ensconced in a corner of the Clunie dining room with the river fuming furiously through one window and the Chelsea gold medallist, Jinny Blom's gardening genius wafting through the other, I'm eyeball to eyeball with the stag; the monarch of the restaurant. Slowly succumbing to the sensual overload of this spectacular space, it's difficult not to envisage the evolution of one of the great dining destinations of Scotland. The kitchen is presided over by Tim Kensett who arrives from Goldeneye in Jamaica after a culinary journey encompassing six years at London's River Café.
There's wood-fired cooking and a menu accented toward the organic premium produce available right outside the door and from the nearby North Sea coast. The Clunie has barged straight into the Michelin Guide with a 'Michelin Plate', denoting 'very good cooking'; an assessment with which I'd concur as probably appropriate for now. Whether there's a hunger for greater gastronomic plaudits, we'll find out soon enough.
Braemar remains as deliberately difficult to get to now as it was in the nineteenth century with no shortage of cars lined up in front of the hotel. The village kids nonchalantly ride their bikes about, keeping an eye on developments.
After all, who knows what might emerge from a building with a giant spider inside and a bright orange Lamborghini outside? Transfers though, are readily accommodated from Edinburgh, by the ghillies.
In my case, in a waiting Tesla after being whisked to the Scottish capital in not much more than four hours from Kings Cross. Straight into the heart of the highlands with a 500-mile-long crystal-clear eco-conscience, then! They did build it, and they did come. They haven't stopped coming, in fact. I suspect they're not going to.
Read more