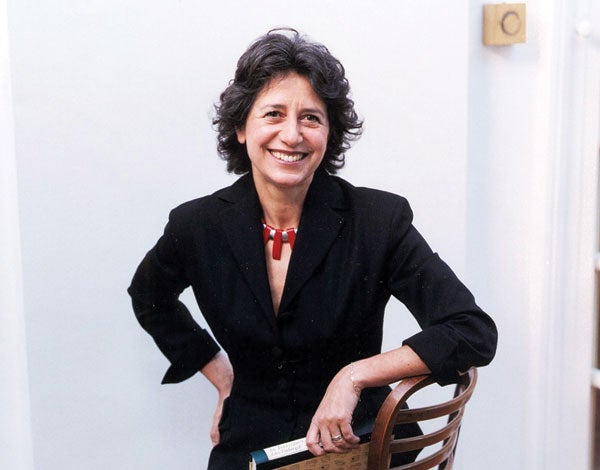 POP ART
Gagosian Gallery has just curated the artwork in our newly refurbished tearooms in Brown's Hotel in Mayfair. At the moment we are showing bright and provocative pieces by Michael Craig Martin, Glenn Brown and Douglas Gordon, which bring a sharp contemporary feel to our classically Art Deco hotel.
Brown's sits in the midst of many of London's best art galleries and organises monthly art tours hosted by our prominent neighbour-dealers. But in July we magnified this by celebrating the second Brown's London Art Weekend, in association with the Royal Academy. It has grown from small beginnings: now it has 116 galleries as well as the auction houses taking part, with tours, talks, private views and more. I hope it's an interesting addition to the London season.
MÜNCHEN GLAD
Last week I visited the Charles Hotel in Munich as we are creating a large new bar there, which is going to look spectacular, with a wonderful outside area. I do love Munich — we arrived on a hot, sunny day and had the added bonus of sitting outside for a quick lunch. Unless I am working in a particular hotel I don't visit them that often, so when I do it is an endless tramp around all the different bedrooms, conference rooms and spas. They make me sing for my lunch!
Munich is like a very elegant middle-aged lady. It is full of beautiful buildings and interesting museums, and one near the hotel that I am particularly fond of is the Lenbachhaus, which was the home of the most fashionable painter of the 19th century, Franz von Lenbach. We bought a collection of his paintings when we opened the hotel, and they are now in the Charles.
SECOND CHANCES
After a couple of days in Munich, we flew to Frankfurt to visit Villa Kennedy, where we are refreshing the rooms and also doing some work in the bar. Villa Kennedy has a marvellous outside courtyard which is very popular in the summer for drinks and meals, and one of our best pools, though in nine years I have yet to swim in it. It's my own fault as I should get up earlier in the morning before starting work to take advantage of its spa.
Frankfurt is a bit like Brussels, where we have Hotel Amigo, in that one thinks of these two cities as rather boring but in fact they are not at all. I now love going to Brussels, with its incredible antique shops and markets.
I have bought there for all our hotels, from Thirties basins and huge conference tables to charming chests of drawers and unusual chairs. It's much cheaper than anywhere else in Europe. Just one minute's walk from the hotel is the Grand Place, which I never miss the chance of seeing.
This time I decided to give Frankfurt a chance. When we had finished, quite late in the evening, I walked along the river with my colleague. The River Main is nearly as wide as the Thames and has huge barges travelling down it; on the banks, hundreds of young people were picnicking, enjoying the evening sun with their feet in the water.
A joyous, relaxed atmosphere. We crossed the pedestrian bridge and saw grand buildings housing museums which I promised myself I would visit next time.
SOUTH FACING
Back from Germany, I spent the weekend in my favourite part of England — the South West. I have two hotels of my own there, Hotel Endsleigh in Devon and Hotel Tresanton in Cornwall.
I spent the night at Endsleigh, checking out the new suite in the stable block. I defy anyone to find a more beautiful spot in the whole of England than that of this Grade I-listed hotel, an unusual cottage orné (decorated cottage) built by Wyatt for the Duke of Bedford.
There is no traffic or aircraft noise, no light pollution, just the sound of the Tamar river and the sight of groups of champion trees in the Repton garden, also Grade I-listed.
The next day I was at Tresanton, which couldn't be more different from Endsleigh as a higgledy-piggle of whitewashed buildings, with all rooms looking out to the sea, including a three-bedroom family suite which I have recently built. The hotel is in St Mawes on the south coast, a pretty fishing village perfect for anyone who loves sailing; I would love to live down there, with the very occasional trip to London — or Frankfurt — or Brussels…