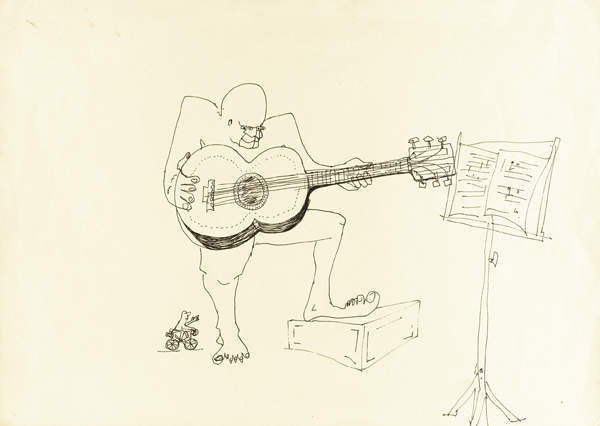 Author: Aoife Moriarty


Sotheby's New York is to sell 89 lots of illustrations and manuscripts used in Lennon's books In His Own Write (1964) and A Spaniard in the Works (1965) – both published at the height of Beatlemania.
The two short volumes feature nonsensical rhymes and stories as well as pen line drawings by the musician, who originally trained at Liverpool College of Art before becoming a Beatle.
Included in the collection is a handwritten manuscript for the whimsical poem 'The Fat Budgie' (pictured), which is expected to fetch between £15,000 and £20,000 alone.
The first verse of the poem reads:
"I have a little budgie
He is my very pal
I take him walks in Britain
I hope I always shall
I call my budgie Jeffrey
My Grandad's names the same
I call him after Grandad
Who had a feathered brain"
The lighthearted sketches, scribblings and typescripts were gifted by Lennon to his publisher Tom Maschler, who originally persuaded the musician to create a book out of them. All of the items in the upcoming sale – which coincides with the fiftieth anniversary of In His Own Write – are from the publisher's own private collection.
Speaking about Lennon, Maschler commented: "John regarded these pieces as a kind of a private joke that he was doing for fun. It had never occurred to him that they might be suitable for publication.
"I presented the book as a work of art in a way; I was not publishing this book because it was by a Beatle and therefore it would sell. Well, finally he kind of succumbed. We published on a Thursday. The following Monday I came into my office and saw twenty booksellers outside our warehouse queuing for more books and it just boomed."
John Lennon 'You Might Well Arsk': Original Drawings and Manuscripts Auction takes place June 4 2014, Sotheby's New York.