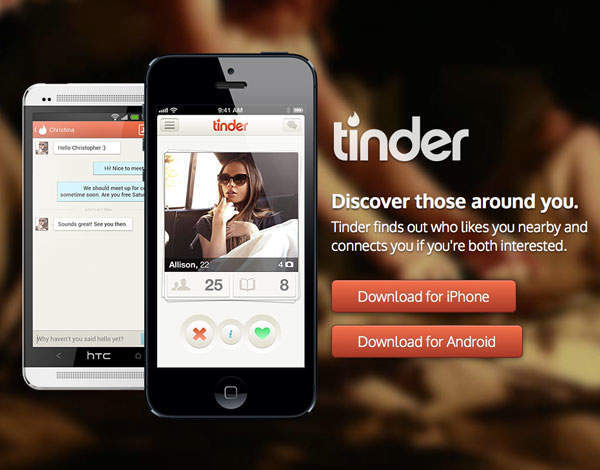 In 2013, casual dating – long a lost cause – made a comeback. If you were standing at the bar at Bodo's Schloss, Tonteria or Mr Fogg's and the guy to your right was making that attractive blond weak at the knees, or that girl engrossed in her iPhone was captivated by a virtual conversation, you were more than likely looking at Tinder's people.
This app is so simple in its brutality the possibility to offend is endless, yet somehow Tinder has captured the hearts and underwear of tens of thousands in the capital, as well making 50 million matches worldwide.
It allows the user to flirt with potential dates and simultaneously bin those who don't tickle your fancy by swiping your finger across their picture to dismiss it. You never have to reveal more than a few photos, an approximate location in London and mutual friends, given via Facebook.
For the young and well-heeled, who party at Cuckoo Club and spend summers in Mykonos, to admit to online dating would be worse than death. Yet Tinder has reached a demographic previously unmoved by the medium.
Tinder works so well because it is utterly shameless. It can be treated as seriously or as light heartedly as the user likes. It allows the 'Tinderer' to find love with a serious candidate or – for many users – fun with someone semi-legitimate.
This legitimacy is of the utmost importance. For today's young HNWs, Tinder has replaced the rush of a first-time real-life encounter with a social filter so robust and superficial one can only marvel at the way in which the plankton of the London social scene can be whittled away, leaving only the well-networked and suitably postcoded in your conversation column.
This may all sound absurd, but when speaking to JR, a man-about-town from St John's Wood, the complexities of casual dating in London seem to be simplified using Tinder.
'You know, it answers the two most important questions for a night out: is this person going to work in my scene? And how much is the taxi going to cost me the next morning?'
And yet Tinder isn't just for casual dating. Growing numbers use it as a tool in a pressured work environment, where demanding jobs sap the energy required for chance encounters. Many young professionals do not have the time or will power to meet partners organically, and Tinder avoids more traditional, more cumbersome online avenues with its instant gratification. Tinder matches stop the butterflies that accompany a hesitant approach at the bar: both people find each other attractive enough to say yes. And best of all, the person is socially vetted.
I spoke to George, a 30-year-old lawyer living in Marylebone who is looking for love and is an obsessive user of the app. 'You get so stuck in a particular crowd in London, it's great to have something that takes away the awkwardness and allows me to meet new girls that somehow know people I do, on a regular basis.'
A few weeks ago, I sat at the bar in Annabel's on a Saturday night as a young man in a sharp suit, with a large Hermès belt and slicked-back hair, entertained two scantily-clad women. I wondered, as I sat alone, nursing my vodka while watching him work his magic, how he had managed to find two girls at once.
Later, I tapped him on the shoulder and asked him how he had met the women. 'You think I met them here?' Well, yes. 'Tinder, mate. The beauty is, if they're not up for it, I'll just Tinder someone else.'
I said that it was casual: I never said it was always classy.