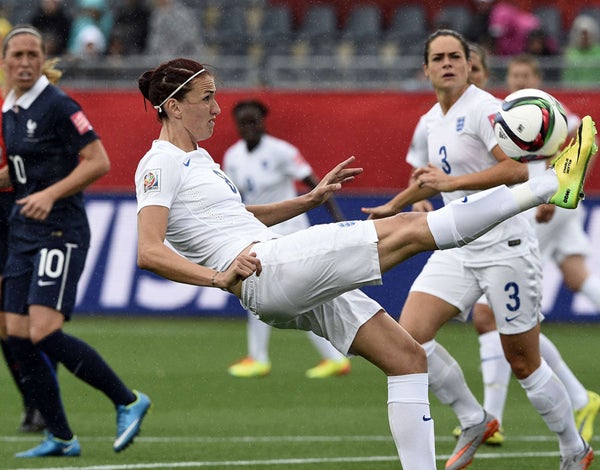 As the curtains closed on a thrilling Women's World Cup, where the US team thrashed Japan 5-2 in a repeat of the previous final, big questions are now being asked of FIFA and the worldwide football community regarding the future of women's soccer.
With 21 million US viewers and tens of millions more globally tuning in to watch the final, international appetite for women's football is on the march. Thanks to Carli Lloyd's halfway line goal, a copycat of David Beckham's, the quality in the game is evident.
The US has always been a keen contributor, where decades' worth of grassroots investment has encouraged female participation in the beautiful game to flourish. One statistic shows that nearly half of all youth registrations in US soccer are female.
As Major League Soccer, the US men's league, continues to attract star names to America and grow its own brand with the help of David Beckham, Frank Lampard and Kaka, there are similar hopes that off the back of their recent victory, women's soccer can continue to grow in the same vein.
FIFA claims on its website that its social media accounts saw a 97 per cent increase during the Women's World Cup. Evidently, enthusiasm is hitting the next generation. However, underlying issues with money, chauvinism, and a smaller fanbase are hampering its growth, where commercial revenues lag far behind their male counterparts.
The prize money for the Women's World Cup winner was $2 million, miserly compared to the $35 million Germany received after its victory last year. Even the other 31 federations made $8-$25 million for participating in the more prominent World Cup, compared with the other participating female federations, who took home a derisory $650,000.
In the UK, women's football lags far behind its American cousins. Most Premiership football teams in the UK do have teams competing in female competitions, however matches are rarely televised and the World Cup Final was relegated to BBC3. Social media were awash with criticism that England's 'Lionesses' didn't get the sort of coverage they should have, particularly given that there isn't exactly a deluge of football during the summer, excluding the Copa America.
Clearly the appetite is there to grow women's football around the world: a combination of football federation investment, increased sponsorship and endorsements, and men's teams pushing the support of their ladies should continue the goodwill that has been generated from the most widely supported and viewed Women's World Cup on record.
The organisation is well-placed, once Sepp Blatter goes and the storm clouds dissipate, to bring order to its house and create a meaningful legacy with substantial investment in women's football. FIFA made $4.5 billion from the last men's World Cup and, with some strategic investment, there is no reason why in the future women's football couldn't be as popular and lucrative.