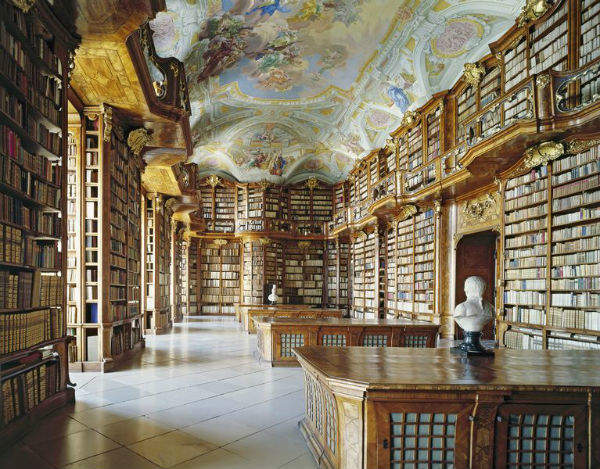 From stunning interiors and innovative architecture to rare book collections, our round-up of some of the world's most beautiful libraries to visit will appeal whether or not you're a bookworm.
Strahov Monastery Library, Prague, Czech Republic
Prague is considered to be one of the most picturesque cities in Europe, and with its wonderful architecture and breathtaking library, the Strahov Monastery is a must-see for visitors.
One of the oldest Premonstratensian monasteries still in existence in the world, the abbey houses a beautiful library made up of two halls and a connecting passageway.
The library features gilded wooded carved decorations, attractive stuccowork and gothic wooden statues and contains over 200,000 volumes, some of which date back to the 1500s, including thousands of editions of the bible.
Image: Copyright of Jorge Royan / http://www.royan.com.ar
Trinity College Dublin Library, Ireland
As one of the top attractions to visit in Ireland, Trinity College Dublin houses an iconic library which dates back to the eighteenth century.
Visitors to Trinity College Dublin are taken back to the 1700s as they walk along cobbled streets to reach the Old Library, which houses the world-famous ninth century gospel manuscript, the Book of Kells. The Long Room, which is lined with marble busts, contains some 200,000 of the library's oldest books.
Now one of the largest libraries in Europe, the Trinity College Dublin library was once the place of study for the university's most notable alumni, including Oscar Wilde.
Image: Copyright of Brett Jordan via Flickr
Wiblingen Monastery Library, Ulm, Germany
For one of the finest examples of Rococo architecture in the world, a visit to the library at the Wiblingen Monastery is a must.
A former Benedictine abbey founded in 1093, Wiblingen Monastery underwent a renovation in the 16th century, which transformed it into a Baroque masterpiece.
Featuring a winding gallery, several statues, colourful ceiling frescoes and the inscription "In quo omnes thesauri sapientiae et scientiae" – meaning "In which are stored all treasures of knowledge and science" – the library is an enchanting and harmonious place to visit.
Library of El Escorial, Madrid, Spain
One of Spain's most visited landmarks, the Royal Seat of San Lorenzo de El Escorial is a UNESCO World Heritage Site, famed for being a significant architectural monument of the Spanish Renaissance period.
Inside the complex, a church, monastery, royal palace and college can be found, along with a library founded by King Philip II of Spain, who donated his personal collection of documents.
Featuring frescoes on vaulted ceilings, painted by Pellegrino Tibaldi, marble floors and crafted wood shelves, the library has a collection of more than 40,000 volumes from the 15th and 16th centuries.
Image: by Quenoteam (Own work) via Wikimedia Commons
Sainte-Geneviève Library, Paris, France
Sainte-Geneviève Library is a public and university library in Paris with a collection of around two million documents.
Designed by architect Henri Labrouste in the 19th century, the library has an exposed structural iron frame, which was a first for the time.
Although the library was built in the mid-1800s, it houses collections from the Abbey of Sainte-Geneviève, which date back to the sixth century. The collection features documents on linguistics, art, literature, philosophy, psychology, religion, social sciences, and more.
Image by Marie-Lan Nguyen via Wikimedia Commons
George Peabody Library, Baltimore, USA
Considered to be one of the most beautiful libraries in the world, the George Peabody Library was set up by philanthropist George Peabody in the mid-nineteenth century and today boasts more than 300,000 titles.
The library is renowned for its unusual architectural interior, which features decorative cast-iron balconies and a skylight that is 61 feet high.
The vast collections at the library reflect the times in which it was built, with titles dating back to the eighteenth century and an emphasis on archaeology, British art and architecture, British and American history, biography, English and American literature, to name a few.
Image: Matthew Petroff via Wikimedia Commons
St. Florian Monastery, Sankt Florian, Austria
Founded in the early ninth century, the St. Florian Monastery is one of the most impressive examples of Baroque architecture in Austria.
The beautiful library features breathtaking ceiling frescoes painted by Austrian baroque painter Bartolomeo Altomonte.
It contains around 130,000 items, including many manuscripts, with works dating back to the 16th and 17th centuries.
Image: Copyright of Monastery of St. Florian / Constantin Beyer
More from Spear's
The Ten Biggest Castles in the World
Best architecture schools in the world
'Your collection of books says a lot about you': meet the creators of the bespoke library