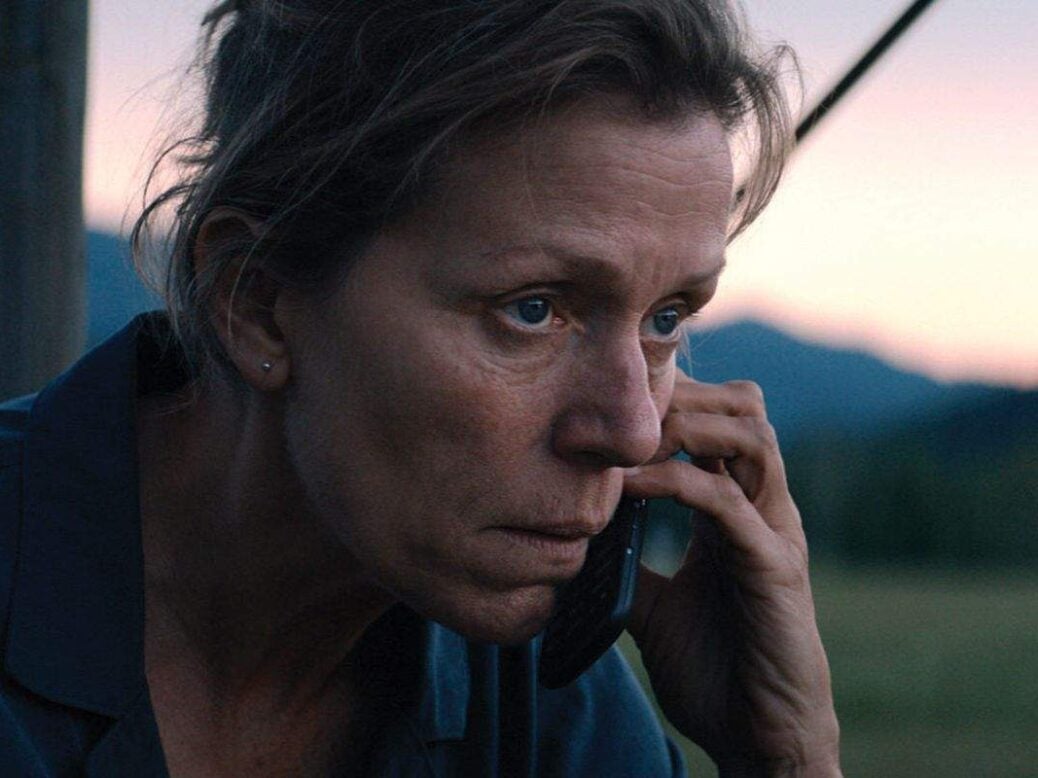 Martin McDonagh's latest film is a disturbing tragicomedy with a splendid cast and a beautiful exploration of the immersive characters he's created, writes Robert Clark
What's remarkable about Three Billboards Outside Ebbing, Missouri is how discomforting an experience it is. It is an uncompromising tragicomedy where anger, retribution and violence are the driving force behind a complex character-driven narrative. Beautifully funny and beautifully tragic at the same time, writer-director Martin McDonagh's (In Bruges, Seven Psychopaths) existential humour cuts through the profoundly dark premise with often razor sharp wit. This gallows humour will leave you laughing at even the most inappropriate moments, and as uncomfortable as it is – and it gets very, very uncomfortable – Three Billboards is a fascinating and must-see exploration of several well developed and totally immersive characters.
'Raped While Dying', 'And Still No Arrests?', 'How Come, Chief Willoughby?' After seven months of no arrests following the rape and murder of her teenage daughter, Mildred Hayes – played exceptionally by Frances McDormand – takes action by renting three billboards on the outskirts of the fictional midwest backwater town of Ebbing, Missouri. At first the misdirected grief and guilt from Mildred is invigorating; her outbursts of rage are cathartic, satisfying and justified in light of the tragic events in her life. McDormand portrays this in an outstanding performance on par with her Oscar winning portrayal of Marge Gunderson in 1996's Fargo, indeed, imbuing her portrayal of Mildred with such drive and strength surely puts her in line for her second Oscar.
Subsequently, however,  Mildred's methods are quickly brought into question when the man the billboards are directed towards is introduced as Woody Harrelson gives a charming performance as revered Chief of Police William Willoughby. Harrelson plays the respected police officer and family man with such charisma that the juxtaposition with the sentiments and anger directed at him by Mildred's billboards is enough to convince the audience that he is sincere when he says tells her that the police just haven't caught a break with the case.
Another notable performance in what Is a film full of masterfully portrayed three dimensional characters is Sam Rockwell's racist, bigoted police officer Jason Dixon. He is a deplorable character who's relationship with his mother screams of Norman Bates. It is only when he is made to give up his badge and his gun does he begin to show glimpses of becoming a more substantial and complex character, only then, towards the end of the film, does he begin to take steps into becoming a decent human for the first time in his life. What McDonagh gives us with Rockwell's character though is not a traditional redemption arch as by the films end there is no redemption, no absolution; only a failed attempt.
What makes Three Billboards such an entertaining watch is its unpredictability. There are points in the film that could have seen the story heading down a cliched narrative and it may well have done in the hands of a more traditional writer-director, but what McDonagh gives us is not a murder mystery, nor is it a simple tale of vengeance, or justice, but rather what we get is an insight into the human condition and a caution about how 'Anger begets anger'. McDonagh is constantly asking us to try and decide who is in the right and who is in the wrong; who are our heroes and who are villains, and this is simply impossible. Instead all we can do is view each character as unassailably human. Every character is flawed and nothing in this film is cut and dry.
The film's ambiguous final scene will leave you with only more questions. It is as though McDonagh doesn't need you to like or agree with any of his characters' personalities or actions he just needs you to find them interesting. The film is continually subverting expectations and reinventing itself in interesting ways but in doing so it continually divides its audience. What is definite though is that McDonagh has assembled a fantastic cast of character actors and his un-intrusive direction allows for every character in the film to become fully realised. Three Billboards is not your traditional story, rather it is an Insightful, emotional look at the human experience and certainly not one for the faint of heart.
Robert Clark is a freelance writer