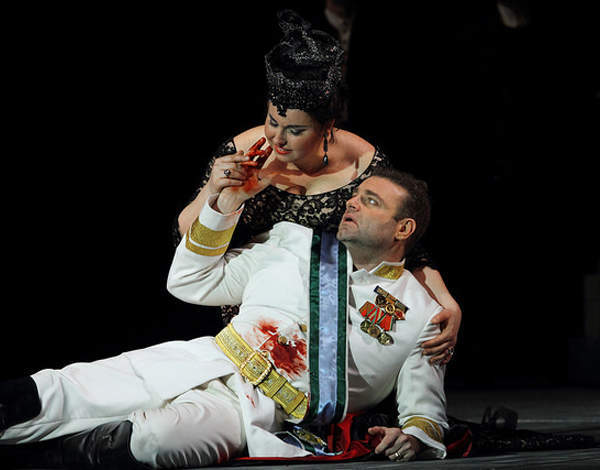 I have a love/hate relationship with the Royal Opera House at the moment. Their latest Mozart offering, Idomeneo (one of my favourite operas), was torn apart by the press for a production set in a land ruled by a brainwashing mafia who made the chorus dance with fish and worship a giant rubber shark. This resulted in raucous booing on the first night and a taste of bitter dissatisfaction from regular opera-goers who want something more traditional.
Well, they couldn't be disappointed with Katharina Thoma's production of Un Ballo in Maschera. It is a traditional as it gets, with a stellar cast, yet for me something was missing and I am still trying to put my finger on it. I loved the set (although the lighting was on the dark side), but there was an overwhelming lack of drama, chemistry and tension from the three lead roles in this tragic love story.
Ballo is a Verdian masterpiece with one of the most beautiful love duets ever written and some unforgettable tour-de-force arias. Yes, the plot about an aristocratic 'affair' is slightly contrived, so it is difficult to stage convincingly, but who are we kidding? This is opera. We can overlook ridiculous plot lines.
Cuddly Joseph Calleja as the love-sick Riccardo sings with his usual beauty and freedom but I felt he was not quite anchored in the role. Liudmyla Monastyrska sings Amelia exquisitely, possessing one of the most beautiful and rich soprano voices around today. Monastyrska spins divine pianissimi, colouring her phrases tenderly, and can deliver this hefty soprano role with authority and assurance.
There is a little too much gear-changing in her chest resonance, which had me slightly worried, and her love scenes with Calleja were unconvincing, while her aria 'Ecco l'orrido campo', set in a graveyard in the dead of night, did not posses the ominous terror it should. Human statues come alive and engulf her as she sings, a strangely slotted-in novelty, which seems more suited to an audience outside on Covent Garden piazza.
Dmitri Hvorostovsky, the supernova of bass-baritones, sings with his usual honey-toned sensuality but he did seem to be going through the motions somewhat, so his delivery was slightly underpowered.
All this leads me to think that as a director Thoma is not pulling this production together. It lacks cohesion, passion and purpose and, most importantly, it lacks drama.
Highlights for me, instead, were a sparkling Serena Gamberoni as Oscar, making her Royal Opera debut, and a chilling and resplendent Marianne Cornetti as the witch Ulrica, complete with a comical hunchback henchman who looks exactly like Riff Raff from the Rocky Horror Picture Show.
I rather like the setting of Ulrica's spiritualist readings in an Edwardian drawing room and her aria 'Re dell'abisso' has all the intensity, metal and dramatic scope one would want from a star turn in this role.
If you want a traditional night at the opera with the world's finest singers on stage, then this is for you, but this production won't set you on fire – despite having all the right ingredients. Perhaps it's the chef.