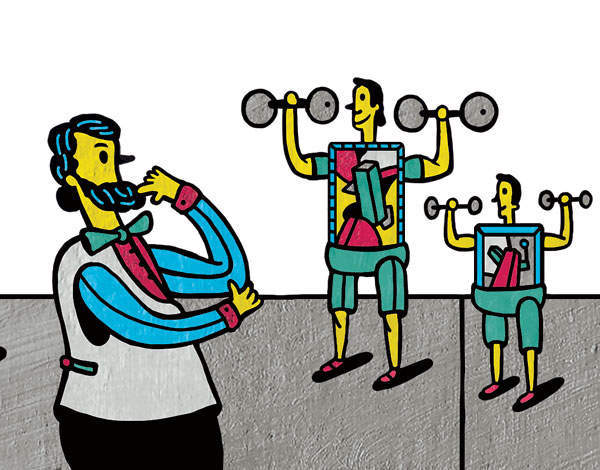 Masterpieces and money don't speak the same language. 'Priceless' might represent unparalleled beauty to the artistically inspired, but for the hard-nosed investor it's a vehicle for unlimited return. For HNWs unsure whether a price tag is a boon or a blemish — whether that family heirloom is in fact a future fortune — the role of the valuer is crucial. But that role is changing as auction houses, oracular dispensers of valuations, are encountering competing firms who are offering clients easier valuations and a crucial second opinion.
There's an appetite for better service: one major complaint among those looking to get their artworks valued, usually following inheritance, is the time they're afforded with a valuer at the major houses: 'You'll have a minute. Unless it's something that really stands out and you're Lord Fauntleroy of Lordington, you won't be given the time,' says an art dealer and valuer who used to work at Bonhams and Sotheby's.
You might not even feel comfortable going to the big houses: 'You don't want to go into an auction house with a picture that you think is the best, that your grandfather said was the most valuable thing in the house, and they say, "It's worth £100, get it out of my sight." It's what happens.'
Character also seems crucial, but not necessarily for the right reasons. Another insider recounted what a valuer told them: 'When someone comes in, we look at whether they're a man or a woman, look at their shoes, see where they're from and then we give the price.'
To avoid the financial (and emotional) cost of such rebuttal, HNWs could consider the services of websites such as Valuemystuff.com. Set up by Patrick van der Vorst, former director of Sotheby's continental furniture department, the site provides valuations via email. You send photographs and the valuation team, made up of 62 current and former professionals from the major auction houses, respond within 48 hours. At £10 it's cheaper and easier than wedging your country scene oil in the back of the car for the trip to London, and it might even give you a more accurate valuation.
Megan Mulrooney of Valuemystuff.com points to a client with a painting signed by a 'James A'. 'As a valuer you're not going to know who the artist is just from that,' she says. But emailing all the information, such as sale history and location of purchase, gives the valuer time to research before they respond, meaning they have an advantage over the expert, peering over their pince-nez, in a Mayfair basement. 'In person you just have that fleeting moment.'
'My instinct is good luck to them,' says Melanie Gerlis of The Art Newspaper and author of Art as an Investment?, when I ask her about the rise of valuers outside the establishment. 'The auction houses, who are meant to be the experts, value things all day every day and often get it outrageously wrong.'
The non-sale at Christie's New York of a Stradivarius violin, estimated at $7.5-10 million, was a recent example, but it also reveals a deeper paradox: an estimate is just that — value can only ever be established by sale. Estimates are based on the learned variables of connoisseurship, comparables and market sentiment, but sales need two people in the room who both want the item. Van der Vorst appreciates this: 'Auction houses are good because at the end of the day they take an object, they put an estimate on it, but they place it on the market and the market decides what the object is worth.'
Patrick van der Vorst champions the ability of his site to make sure clients are 'armed' before they're sent to a more traditional valuer employed by an insurance company or a bank: 'Banks with HNWs will value all the jewellery and watches quite high because it's easy to store, it's easy to take out; and then they will largely undervalue furniture and Old Master pictures because they need to put it in special storage. For them, giving a valuation is a tool to win business or to reject business.'
But whether with this agenda or not, it can still pay to have a second opinion from the money manager. Luke Dugdale, RBC's director of private client wealth management, isn't an art valuer but still knows value for money. He describes helping a client purchase one of Munnings' horse paintings for his wife: Dugdale sourced second opinions to save him a considerable sum by uncovering that the £600,000 price tag on the painting was three times what the gallery had paid on reserve just two years previously. 'He said, "Thank you very much, Luke, you've just saved me £400,000."'
Thus there are now alternative sources of information for owners, but auction houses are not out of the race yet. Melanie Gerlis recognises the gravity of the big houses in setting industry benchmarks, something newcomers can't currently compete with at the high end: 'To give credit to Valuemystuff.com, if they're going to give some benchmark base price for prints, editions, possibly photographs, then great, I think that will get traction. But when you're talking in the tens of thousands and upwards, unless you start getting it right all the time, no one's going to rely on you.'
That puts a premium on the quality of big house valuations. Paddy Feeny, head of communications at Christie's, says there's a responsibility because the pressure is on to make their own estimate at sale: 'Once Christie's has ascribed a number, an estimate, that can then be used in a number of ways — to raise money, or to insure — and we need to be sure we've gone through every single individual process here, to make sure it's as accurate as it can be.' (In September Christie's announced that sellers whose work exceeds estimate will have to pay 2 per cent extra commission, which seems like it might incline the house towards giving lower estimates they're bound to beat. Of course, low estimates won't attract consignors.)
'You get the specialist to look at it in the round, but then there's an internal process where a colleague checks that for them, so there's never just one pair of eyes on something. That kind of level of detail would be very hard to replicate online.'
Franka Haiderer, senior director and chair of European valuations at Sotheby's, regards the level of service her team provide as 'unique' — with 100 experts in Impressionism and Modernism alone. It's more costly, ranging from the 'hundreds to the thousands', but doesn't have to be intimidating: 'You can send in photographs and communicate with us by email, and if we think it's valuable we'll definitely invite you. People don't need to worry, we're offering a service here.' However, she still welcomes the rise of the online valuer, if only to guarantee her lunch break: 'It's important that there are other platforms out there, because if I got every valuation request that is out there I'd be drowning.'
A second opinion is justified, and even the auction houses — grudgingly — agree: 'If they don't believe the valuation or the estimate, then of course people should look for a second one,' says Feeny. Haiderer is more coy: 'There's no harm in getting a second opinion, but if you want to be confidential go to one person you trust; if you feel differently, then get a second opinion.'
Prudence can only go so far, though. The real question is whether valuations matter. 'You should buy it because you love it,' the banker Luke Dugdale tells me, but I get my own second opinion from art journalist Melanie Gerlis: 'Make sure you love it at least.'
Illustration by Phil Wrigglesworth