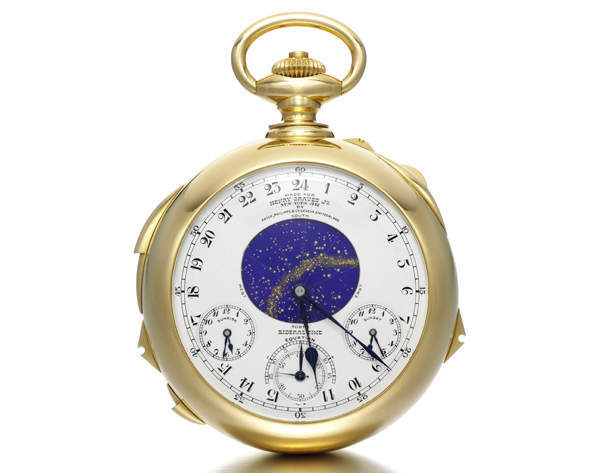 Author: Aoife Moriarty


A pocket watch designed by Swiss watch manufacturer Patek Philippe has sold for a record $24 million at Sotheby's Geneva.
Outdoing its own record sale of $11 million in 1999, the world famous timepiece went under the hammer last night to an anonymous bidder after 15 minutes of tension-fuelled back and forth.
The 'Henry Graves Supercomplication' is named after the prominent New York banker who commissioned it in 1925 and took three years of research and five years' skilled technical work to produce.
Incorporating 24 horological complications, it is the most complex watch ever made by human hands without the aid of computer technology.
Among its range of handcrafted features are a perpetual calendar, moon phases and indications for time of sunset and sunrise and the night sky of New York City. The story goes that it was commissioned by Henry Graves Jr. as part of a friendly 'horological competition' he started with businessman James Ward Packard.
Tim Bourne, Sotheby's Worldwide Head of Watches, and Daryn Schnipper, Chairman of Sotheby's Watch Division, commented that the timepiece was "more than a watch" and had now earned "rockstar status".
"It is a masterpiece which transcends the boundaries of horology and has earned its place among the world's greatest works of art," they said. "The fascination it has attracted over the past few months, as Patek Philippe celebrates its 175th anniversary, is a fitting tribute to the genius of the Swiss manufacturer."