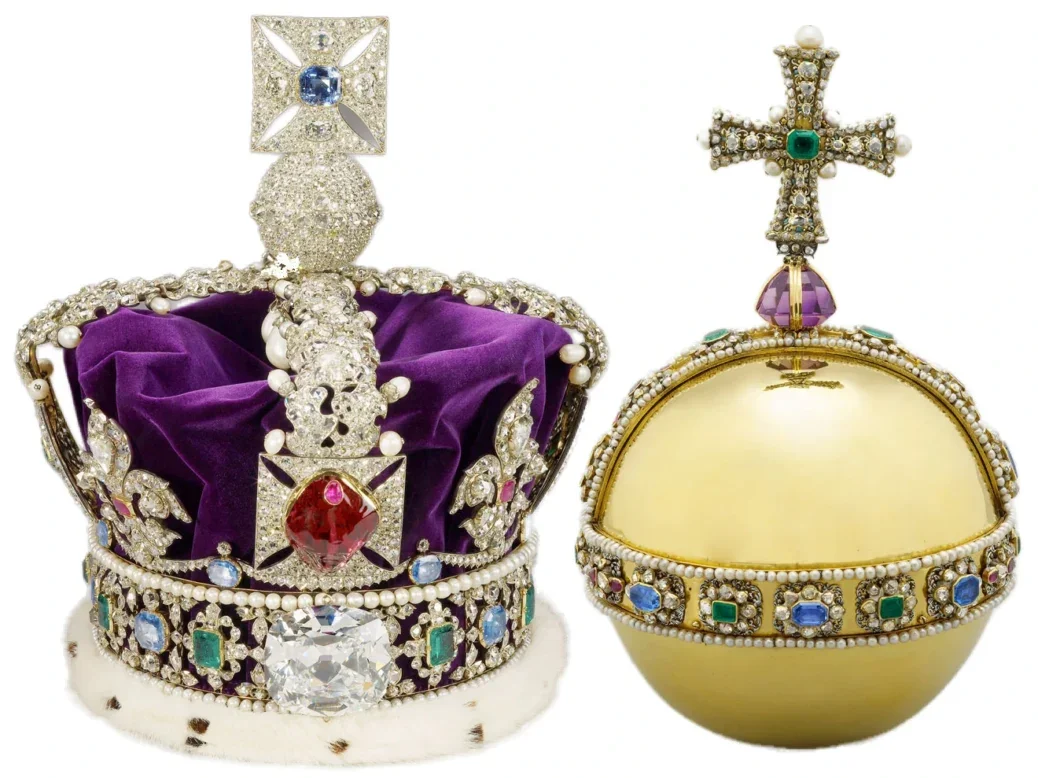 There has been much talk lately of 'stealth wealth' and 'quiet luxury' but for those who prefer a little more blatant oomph, might we suggest tuning in to the Coronation of King Charles III?
From the moment a white-gloved hand opens the diamond and sapphire-set handle of the Diamond Jubilee State Coach, to the lowering of the glittering St. Edward's crown at the moment of coronation, this will be the greatest jewels show on earth.
It's difficult to think of the orbs, sceptres, crowns and ceremonial rings that will be jostling around in Westminster Abbey on Saturday 6 May and resist trying to calculate how much they might cost.
Ask a jewellery expert this burning question, however, and you will likely be met with a raised eyebrow at best, if not an entirely contemptuous side eye.
Most will refuse to comment.
'The value of the royal family's jewels is almost impossible to ascertain,' offers jewellery historian and author Josie Goodbody, whose podcast The Jewellerian often sheds light on royal jewels.
'Many have belonged to them for several hundred years and during that time, have been altered, added to or indeed transformed into other pieces. As with all jewels, they are only worth what someone will pay – or the insurers will pay out.'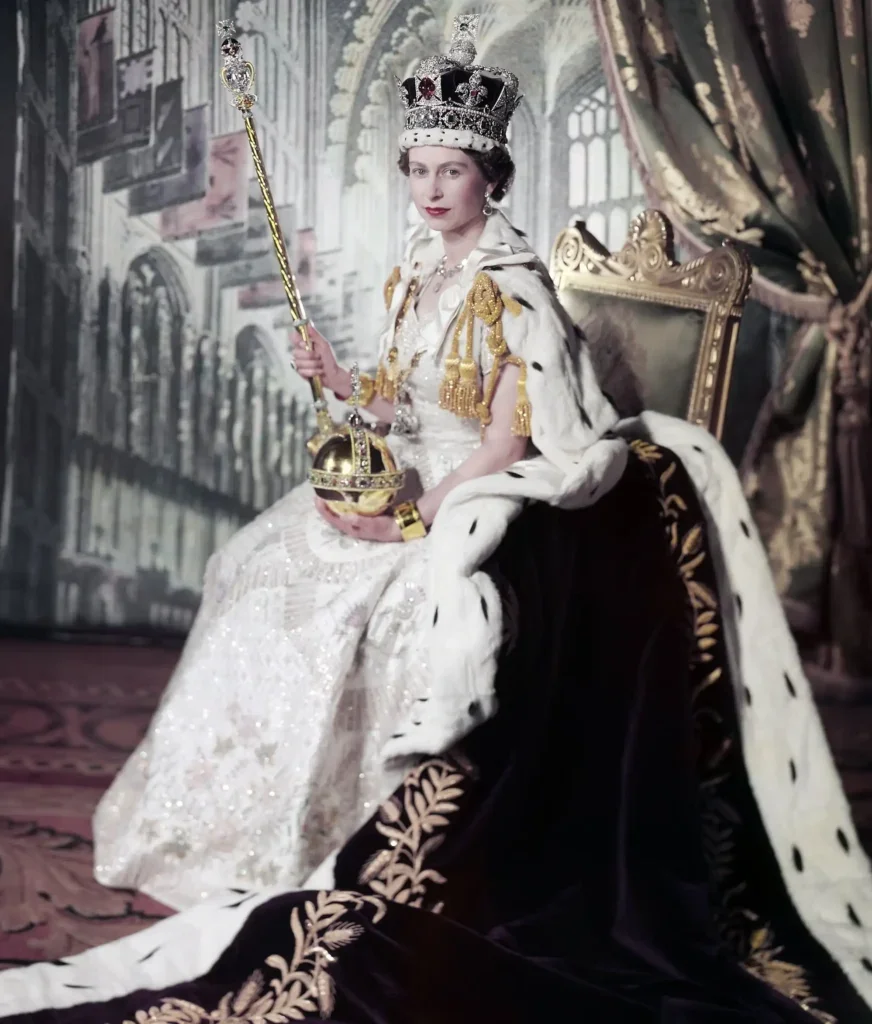 How much are the Crown Jewels worth?
For one major insurer estimating from afar, the payout for the Crown Jewels would be £5 billion.
The subsequent insurance bill? An annual premium of around £18.9 million; to cover the jewels on the day of the Coronation only would cost the Crown £51,700.
'With more than 100 objects and 23,000 gemstones [in the Crown Jewels], they are an almost priceless collection, having no official valuation as the royal family could never consider selling them, but some experts believe they could worth between £3 billion to £5 billion, or even more,' says Noel Summerfield, head of household at Admiral Insurance.
[See also: World's most expensive private jewellery collection set for record-breaking auction]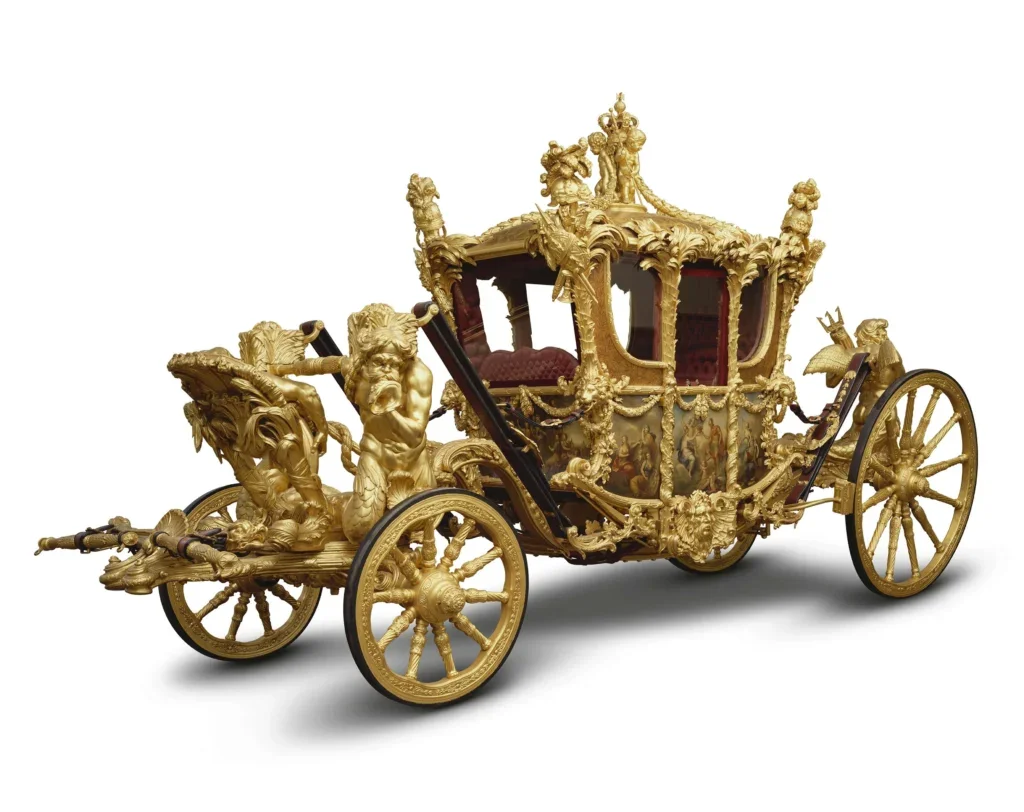 When Lord Edward Twining, British diplomat and heir to the Twining tea dynasty, released his book A History of the Crown Jewels of Europe in 1960, he described it as being 'too heavy to hold, too dull to read and too expensive to buy'.
Despite this, it was a commercial success, proving our deep fascination with these priceless royal objects. Should you wish to read Twining's take, a copy of the book is currently available on 1st Dibs for a princely £1,500. Or it can be found in the library of The Goldsmiths' Company, alongside many other tomes on the subject.
The Coronation Regalia, the collection of precious objects within the Crown Jewels used only to mark the ascent of a new monarch, have been locked up in the Tower of London since Queen Elizabeth II's coronation in 1953. On 6 May, they will once again be brought into the light. So, what can we expect to see on the day?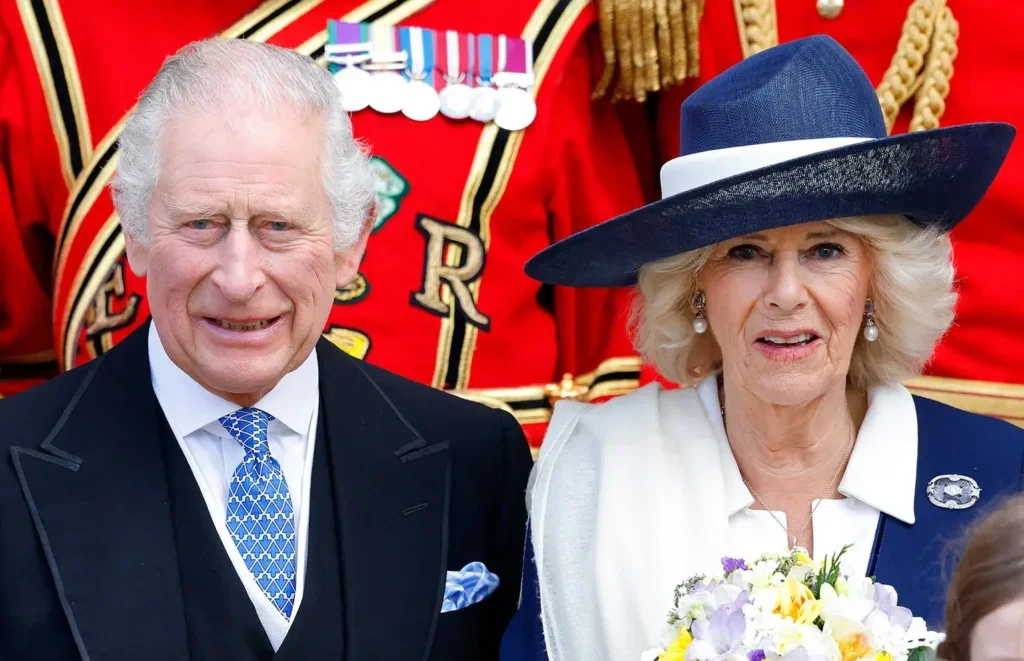 Crown Jewels the royals wear on Coronation day
King Charles III will wear two crowns. The most sacred and ceremonial of the two is the gold St. Edward's Crown, which was made in 1661 for King Charles II and is only used at the moment of coronation.
It weighs 2.07kg, which at today's gold price values just the metal at more than £117,000, and that's without factoring in craftsmanship, gems and provenance.
Thrifty monarchs past had set the St Edward's Crown with borrowed gemstones, but in 1911 King George V invested in a permanent selection of rubies, amethysts and sapphires.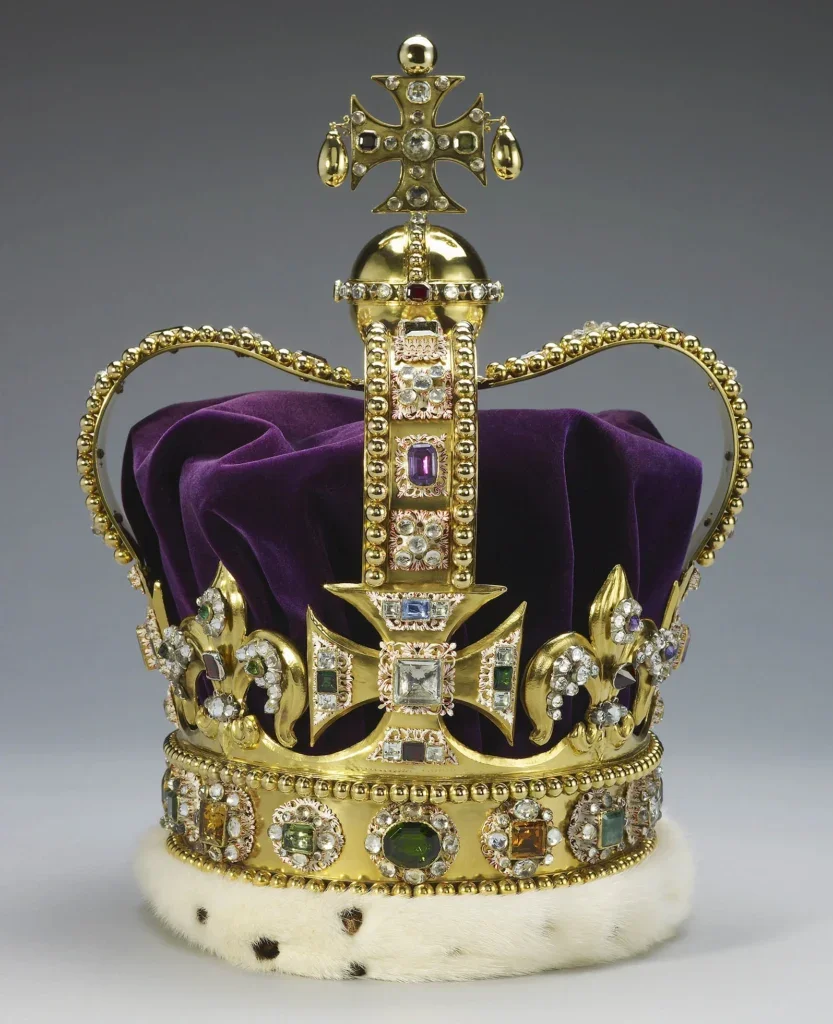 The next George – King George VI – went one step further and, not wishing to wear Queen Victoria's crown, commissioned an entirely new one in 1937 from London jeweller Garrard.
This is the Imperial State Crown, which will be worn by King Charles III as he leaves Westminster Abbey, and it is set with 2,868 diamonds, 17 sapphires, 11 emeralds, 269 pearls and four rubies.
The Imperial State Crown not only holds many gemstones, but some of the most important in the Crown Jewels.
These include: the 317.4ct Cullinan II diamond, the second-largest stone cut from the world's largest gem-quality diamond, the 3,106ct Cullinan, all of which are owned by the royal family.
It also features the 104ct Stuart Sapphire smuggled out of England by James II when he fled to France in 1688; a large cabochon-cut red spinel called the Black Prince's Ruby that once belonged to a 14th century Moorish king; and the St Edward's Sapphire, which was worn in a ring by St Edward the Confessor and discovered in his tomb in 1163.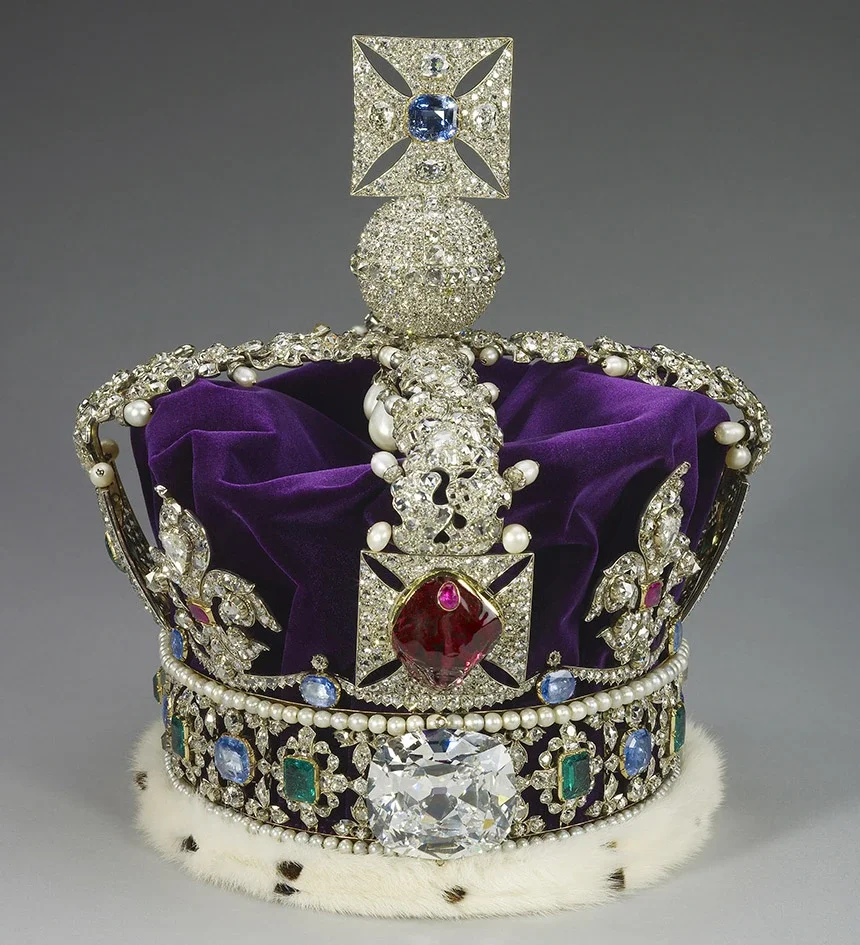 Also central to proceedings will be the 1661 Sovereign's Sceptre with Cross, which has been used at every coronation since Charles II in 1661.
As part of his 1911 gem shopping spree, George V transformed the sceptre by instructing Garrard to add to it the 530.2ct Cullinan I diamond, the largest colourless cut diamond in the world.
This will be gripped by King Charles III at the moment of coronation, as well as the cross-topped 1.32kg gold Sovereign's Orb studded with emeralds, rubies, sapphires, diamonds and pearls.

The Sovereign's Ring, first made for the Coronation of King William IV in 1831, will be placed on the fourth finger of King Charles III's right hand to symbolise His Majesty's commitment to the nation.
In a nod to the Union Jack, it is decorated with an octagonal blue sapphire overlaid with rubies (four rectangular and one square cut) to form a cross, plus 16 old mine-cut diamonds.
'It's always difficult to attach a price estimate on such a piece, due to its rich history, and considering this is a crown jewel it is, of course, priceless,' says Tobias Kormind, managing director of online diamond store 77 Diamonds.
'Similar-looking pieces would fetch anywhere from £6 million to £10 million. If we were to create a replica, it would have a price of £160,000.'
Queen Camilla's crown
Of course, Charles will not be the only royal to be crowned at the ceremony. His wife will officially become Queen Camilla, and will do so wearing the Queen Mary's Crown created by Garrard for the coronation of Queen Mary, consort to George V, in 1911.
The crown is set with 2,200 diamonds but one controversial stone will be missing – the Koh-i-Noor diamond. The gem, one of the largest cut diamonds in the world, is at the centre of a fierce colonialism debate amid suggestions it was stolen from India in the 1800s.
Instead, the crown will be reset with the Cullinan III, IV and V diamonds from Queen Elizabeth II's personal collection. The III and IV were worn by Her Majesty as a brooch and humorously referred to as Granny's Chips, despite their combined carat weight of 158cts and estimated value of more than £50 million.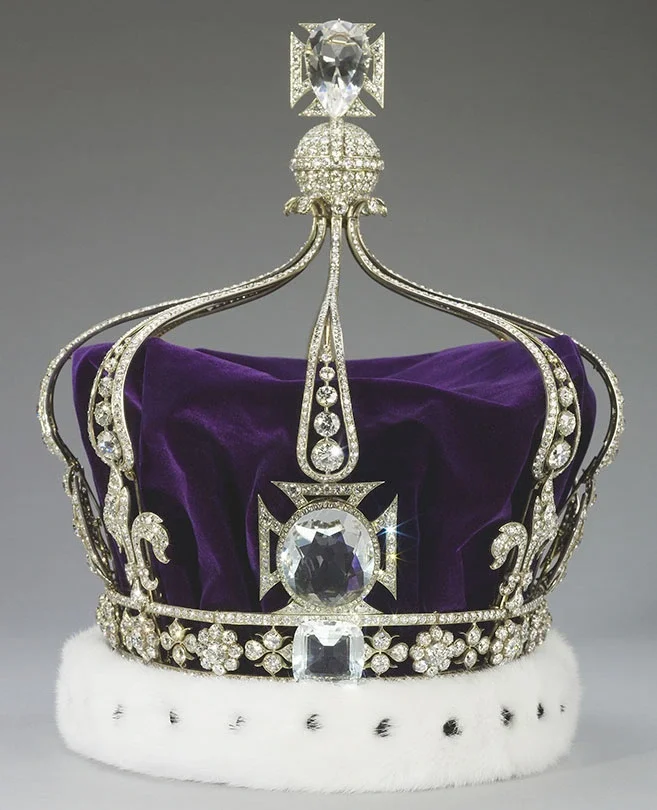 'The Crown Jewels, for me, have always been a lesson in reuse and recycle,' says Susannah Lovis, a Burlington Arcade dealer of antique and vintage jewels.
'According to [Buckingham Palace], the Queen Consort will be crowned using Queen Mary's crown "in the interests of sustainability and efficiency" – a sentiment that we very much support.'
As for the true value of the much reworked and passed-on Crown Jewels, it is impossible to say. As we've witnessed with fallen monarchies, everything eventually has a price; something Tiffany & Co founder Charles Lewis Tiffany found out when he picked up a third of the French crown jewels at auction in 1887.
As long as the British monarchy remains intact, so too will the crown jewels, and as we ready to officially crown a new king, it would seem that, for now, the collection remains priceless.