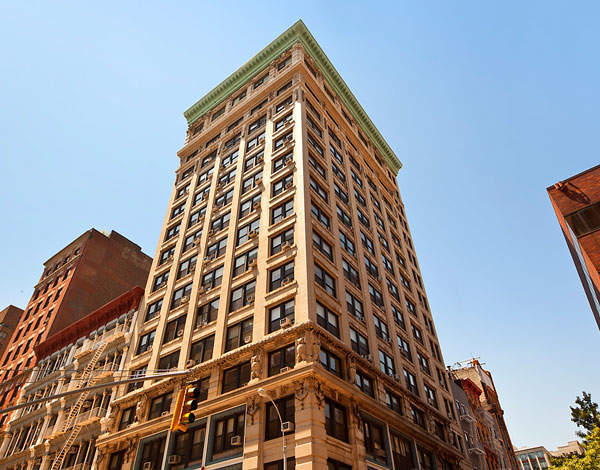 NEW KIDS ON THE BLOCK
We're moving. It's official. Down the block to a 1950s monstrosity that looks like a giant refrigerator. Actually it's worse: it looks like many refrigerators stuck together.
But while the outside resembles some Soviet architectural experiment gone dismally wrong, from inside you have fantastic views of Washington Square Park. In addition, the apartment has that word which never meant so much to me until I became a mother: space.
Harry, adorable as he is, seems to believe that our furniture was invented as a lovely obstacle course that we need to chase him around. I'm surprised any of the books still have pages in them and it's a near miracle that the walls have remained, so far, stain-free. Also, the prospect of not clobbering myself with the stroller each time I reach into the coat cupboard holds a lot of thrills, too.
Despite its appearance, our new building seems to have a lovely soul. Even though it's located in the heart of Greenwich Village, the hippy centre of the universe, it is still a co-op. For those uninitiated in the finer points of Manhattan real estate (or who have forgotten our editor's piece on co-ops from the last issue), a co-op means the building is a legal entity owned and controlled by its members. So you own shares of the company instead of a piece of actual real estate. This is great for many reasons (er, none of which I can remember now), but what it really means is that all applicants have to pass the board.
A board interview is not to be sniffed at, and people have been turned down for the slightest infractions. Being famous was a particularly poor move: the Upper East Side is littered with stories of celebs being excluded because the members thought they might bring too much attention to the building. Even though we aren't famous, we were still nervous and did our best to play to the choir by dressing in understated business casual clothing and talking about how much we loved the Village community and the lending library in the building.
We weren't due to move in for a while, so we still needed to keep our furniture in our old apartment until it sold (something brokers don't tell you right off the bat), which took a few more months than we expected. In the meantime, the apartment was empty and we decided to lend it to a family member.
Hugh has a large and loving family full of good-looking, fun-loving artistic people who are all a bit younger than us, in their early and mid-twenties. We adore them and they've come to stay for varying lengths of time. We offered our new apartment to one and he moved in for a few weeks in July. In August, he was still there. He might have stayed longer, except that some time in early September Hugh got a call from the management company and had a conversation that all homeowners dread.
First they asked politely if a family member was staying in the apartment, to which Hugh reluctantly answered yes. The management company then said that, while they weren't accusing said family member of anything, several neighbours had complained of a 'strong smell of marijuana' coming from the flat. 'We're not saying that it is him, but if it is, could you please deal with it,' beseeched the poor management woman.
Fresh heir and exercise
Suffice it to say, we had a word with the family member and all appeared to be well. A few weeks later he was back for just a couple of nights. He had decided to use the gym — which, to be fair, he had been using all summer with no problems.
As it turned out, the gym was part of a 'membership package' that we hadn't known to sign up to yet, so the family member was using it illegally. Added to the problem was that on this particular day, the family member had chosen unusual clothing for the gym, described to us as being 'a motorcycle jacket with no shirt underneath it and boxer shorts'.
As the gym needs a key fob to get in, the family member pounded on the locked door for several minutes. He must have been pounding for a quite a while, because when the door was finally opened, a small, grey-haired man stood there looking irritated.
The family member thanked him profusely and explained who he was and how he was staying with us. Then he thanked the grey-haired man for letting him use the gym and as he glided off towards the elliptical machine, he tossed one last question over his shoulder. 'Sorry, who are you?' The man replied: 'I'm the president of the co-op board.'
Hugh and I are now waiting for a letter rescinding our tenancy. Could be a first in the history of the Village.