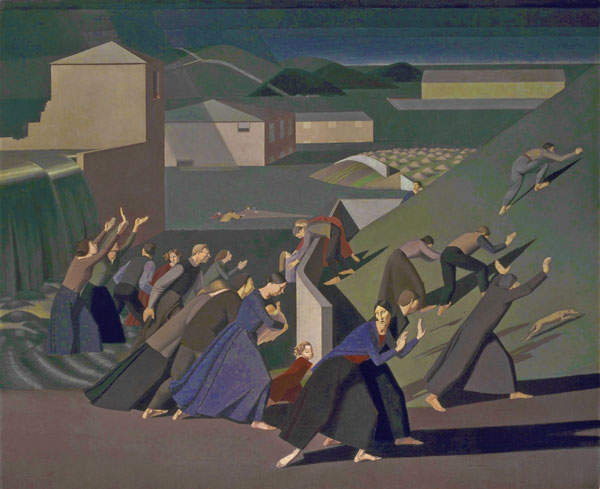 Above: Allen Jones 'The Battle of Hastings' (1961-2), Tate
In a society obsessed as much as it is oppressed by its history, alternative dialogues, viewpoints and opinions are a very welcome cultural breeze. Unfortunately any critique or laudable reinterpretation of art or history is lost in Fighting History's indecipherable melee of ideas – the artworks aren't only fighting each other but the visitor too. There's not so much a breeze of cultural enlightenment as a tempest of philosophies that casts ideas of art and history adrift, very much at the mercy of the unknown.
But surely the difficulty of comprehension is the point? History is illusory in the way that its narratives are constructed and, if this exhibition proves anything, these narratives are constantly hostage to artistic interpretation. But artists at least try to make coherent narratives; the curation here offers no such sense in the dialogue between its pictures. Chronology, naturally, has no place: the curation believes the flow of informed sequences that create society is a cursed matrix that smothers art. It's fine to fight history but don't deny it.
Above: John Everett Millais, 'The Boyhood of Raleigh' (1870), Tate
It's a shame as this was an exhibition I was excited to see. History is too often a sealed room, art is the dynamite we need to see inside, to value, question and critique our past. The varying techniques on display show the importance of the historical motif but there is little to draw them together and the threads between them are so tangled they'd clothes-line the most acrobatic postmodern academic.
The opening room's juxtaposition of Dalwood's 'The Poll Tax Riots' (2005), Deller's 'The History of the World' (1997-2004) and Pine's 'John De Warenne, 6th Earl of Surrey Giving his Answer to the King's Justices on the Enforcement of the Statute of Quo Warranto 1278' (1771) is a powerful dialogue on how culture can counter oppressive politics and celebrate British rejection of tyranny (when it suits the landed minorities).
One looks forward to different artistic interpretations of these themes in the show and how later artists reviewed and criticised previous pedestals. But instead, largely thanks to a mistrust of chronology, we're plunged into the unrehearsed cacophony of style and subject that has been designated 'history painting'.
This includes Millais' 'The Boyhood Raleigh' (1870), Sickert's 'Miss Earhart's Arrival' (1932) and Steve McQueen's photograph 'Lynching Tree' (2013), all in the same room. The art itself is intriguing – from pre-Raphaelite Victorian romance to modernist abstraction and an refreshingly figurative historical commentary on slavery, but to pretend McQueen's work is an extension of Millais' is belittling. They both represented past events in their work but the only tradition they share is that they are artists and British. Their work is respectively interesting but here barred from context and therefore meaningless. While celebrating these 'pregnant moments' the curation again denies that the art has a father: history.
Above: Jeremy Deller, 'Jacket from The Battle of Orgreave Archive (An Injury to one is an Injury to All)' (2001), The Artangel Collection at Tate © Jeremy Deller
This irresponsibility is most acutely felt in the collage of media presented in Jeremy Deller's 'The Battle of Orgreave Archive: An Injury to One is an Injury to All' (2001). It's a living history, well composed, featuring films of re-enactments of the running battles between miners and police and the hardship suffered by communities subjected to callous economics and vindictive politics. Deller has offset the riot police training footage with Roman and medieval re-enactments and meticulously detailed the events and public and private responses.
It's a conscious, political piece that kicks against state authority with its heavy reality, but here it is done a disservice because it seems so out of place and therefore, in contrasting the rest of the art so starkly, it feels like we're in an exhibition about an exhibition. Maybe this is the existential question about the role of history and place in art that is at the heart of this exhibition but it feels more like they wanted to disguise the lack of depth in the curation with wild variation.
But if the point is that there is no point, that artists painting history are representing a sort of ethereal anarchy, then perhaps there is some traction on a theme. However the curation seems too uninterested to warrant even this interpretation. A better theme might be that you are actually wondering through some neglected storage rooms.
Above: Richard Hamilton, 'The Citizen' (1981-3), Tate, © The estate of Richard Hamilton
Misrule is king: Allen Jones' brilliantly abstract 'The Battle of Hastings' (1961-2) sits on the same wall as Malcolm Morley's disappointingly banal 'Trafalgar-Waterloo' (2013). These two works are opposite Yeames' 'Amy Robsart' (1877) which, we're told, represents 'mystery' in British history painting and Hamilton's 'The Citizen' (1981-3) which depicts IRA dirty protester Aodh O Ruanai (Hugh Rooney).
There's certainly mystery here and perhaps it is Tate Britain's own protest against the still-influential imperialist narrative, which is as prevalent in historical readings as anywhere. But that loose guess was as close as I could come to comprehending this exhibition's raison d'être.
The closing room does provide some theme: five images of the biblical flood, from Francis Danby's impressive 1840 monster to Winifred Knight's Modernist interpretation. But it's too little, too late: there's no conclusion, not so much a pudding without a theme as an empty cake tin. Even the art on display seems insufficient given the wall space – as if key loans fell through at the last minute.
Above: Winifred Knights, 'The Deluge' (1920), Tate, © The estate of Winifred Knights
History is inescapable: therefore, by extension, and certainly by the wide parameters given here, all British art could be considered 'history painting'. If the mission was to display British artists from history then Fighting History has, like an embarrassing drunk uncle, trampled unceremoniously all over its host's purpose; one wonders why it was invited in the first place.
It is not so much artists fighting to represent their historical inspiration as visitors fighting with the confusion – perhaps wondering if 'Some Art' would have been a better title. This exhibition has fought history, and all other ontology, to present its art, but in its ham-fisted and lazy disruption of the former, it has churlishly slain the latter.
Fighting History is on at Tate Britain until 13 September 2015