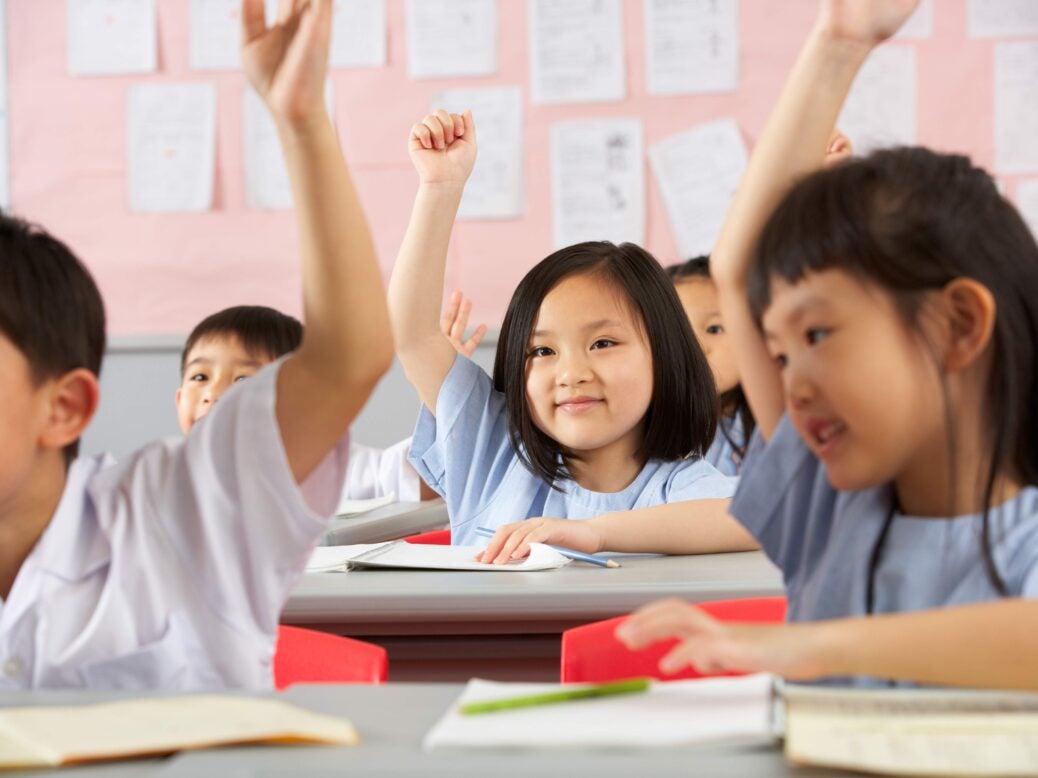 As global Britain gears up for Brexit, the timing couldn't be better for Europe's first English-Mandarin bilingual school to open in London, writes Olenka Hamilton
What could be timelier in a globalist outward-looking post-Brexit Britain than the launch of Europe's first bilingual Mandarin-English independent prep school? Based just off High Street Ken in an ultra-modern sharp-edged asymmetric block, Kensington Wade School is preparing to rear the next generation of international statesman – tomorrow's little emperors.
The school will teach pupils aged three to thirteen all subjects in both English and Mandarin, the world's two most widely spoken languages – with 1.2 billion Chinese speakers worldwide, learning Mandarin gives pupils an inroad into an international leviathan. The teaching method known as 'immersion' will ensure all students are fully bilingual.
School co-founder Professor Hugo de Burgh, a journalist and academic who himself speaks conversational Chinese and has been visiting China since 1972, says its high time we all started teaching our children Mandarin. 'The interest in China is now tremendous,' he says. 'It's such an important country in the world's economies and its becoming more important politically, and people are rather attracted by Chinese culture now communism is less evident.'
Because Mandarin is such a rich and extensive language, full immersion is important for students to achieve fluency, and especially in Britain where we are notoriously poor when it comes to learning foreign tongues. 'We don't send many people to China because we are so bad at languages,' said former education and skills minister Lord Willets who attended the school's official launch. 'I hope this will change in the next twenty years.'
Come September, Kensington Wade will welcome its first intake of 30 soon-to-be super-kids who will expect to leave not just multi-lingual but also hyper-intelligent and culturally smart thanks to the school's offering. Pupils will learn in mixed ability classrooms – a traditional Chinese method where the thinking is that stronger pupils encourage the weaker ones to improve – and the famed Chinese technique of rigorous rote learning will be combined with the liberal English system, revered for cultivating individuality and creativity. The result should be an elite of ultra-employable young adults and masters of the universe.
The not-so-simple act of learning Mandarin, which is at least 5,000 years old and made up of thousands of complex ideograms should help develop the concentration and memory in the way that English, French or Spanish never will: 'There are acres of research showing that if a child is being taught Chinese well it develops his or her cognitive abilities,' adds de Burgh. Unsurprisingly, the kids are expected to go on to the likes of Eton and Westminster, who are in turn expected to up their Mandarin teaching programmes in the next decade.
The system works and the proof is in America which already has around 25 Mandarin-English immersion schools, the oldest of which has been around for a decade. 'Some of them are quite remarkable,' says de Burgh. 'There is one in Massachusetts where almost none of the children are of Chinese origins, but you'll find them nattering away in Mandarin to each other in the playground!'
The UK is catching up with 800 English schools already in the UK teaching Mandarin on a part time basis. In addition, last year the Department for Education launched a new £10 million initiative to expand Mandarin teaching in state schools with the aim of making 5000 students fluent by 2020.
The capital's parents are keen. Most already signed up to Kensington Wade are from prosperous multi-national families, with a minority of pupils coming from English families and Mandarin-speaking families. 'These people may come across China in their work, so they know it's interesting and know that learning the language is a gift they can give their children,' says de Burgh.
For the super-keen 'Tiger Moms' out there there's also Britain's first bilingual English-Mandarin nursery Hatching Dragons, which opened in the City of London in 2015 with the motto: 'Help your baby fly through life'. What better way to get the kids ready for KW?