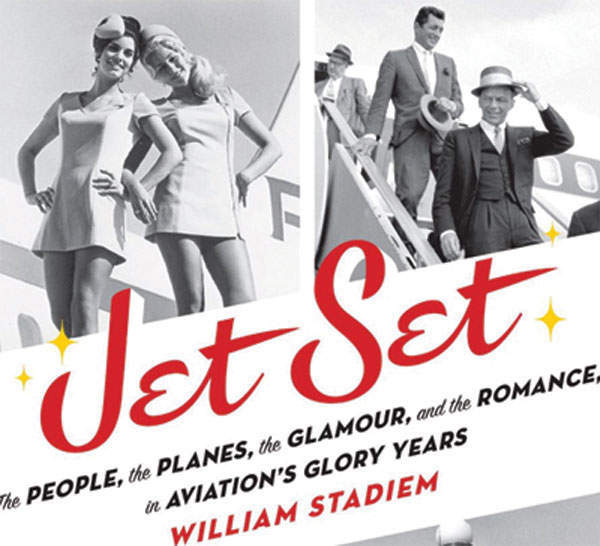 Jet Set is roughly Lifestyles of the Rich and Famous, 1955-1965. The international hybrid gadabout Rich and Famous, not the homogenous WASPs and toffs or Hollywood stay-at-homes, but people who lunched in Paris and dined in New York thanks to transatlantic jets.
The Jet Set included mobile movie stars and producers, plutocratic playboys, second-tier royalty like the Grimaldis, strange deracinated Euro-toffs and lots of high-end sex workers like the Dominican 'diplomat' Porfirio Rubirosa with his twelve-inch column and a raft of before-they-were-famous
actresses.
It was the world of American syndicated gossip columns. One of them, 'Cholly Knickerbocker', was written by Igor Cassini, a White Russian jobbing writer who is central to this book for coining the term, living the life and energetically promoting his invented world in print and PR.
It was the world that a mass of more modestly comfortably-off Americans wanted into. The big jets, the Boeing 707 and then the Jumbo 747s, opened up Europe — initially France and Italy and later the UK (actually London) to mass tourism. They were selling the world the new Hollywood dreamscapes when films were increasingly made in glamorous locations rather than California studios.
Films like An American in Paris, Roman Holiday, To Catch a Thief (set on the French Riviera), Funny Face (set in
Paris) and then the first Bond films, themselves hybrid Anglo-American productions, sold recovering Europe to newly prosperous American audiences ready for a bit of Euro-posh and Euro-sex. There was also Euro-cuisine, in the full-on Escoffier sense of Maxim's and the Tour D'Argent (its proprietor Claude Terrail is another of Stadiem's central characters).
Julia Child published her first book, the best-selling Mastering the Art of French Cooking, in 1961. America was opening out to
the world. It's about the making of a myth, a collective dream spurred on by the airlines, the hoteliers and restaurateurs (there's masses on the Hiltons) and the tourist boards through their lobbyists and publicists. It's the period of the social historian Daniel Boorstin's brilliant The Image (1962), which describes the hyper-real world conjured up by PR and media — the 'pseudoevent' which exists solely to be reported by mass media.
This is the kind of story, a mass fantasy underwritten by economics and new technologies that needs someone like David Kynaston or Richard Davenport-Hines to tell it. Someone capable of interweaving Big Picture analysis with first-hand oral history. Or someone like Thomas Frank, the author of The Conquest of Cool, who can show you in painstaking detail how PRs and lobbyists develop a big story over time. And it needs glorious pictures, the kind you get in the Rizzoli and Assouline books, to show how the aesthetic of that fantasy develops.
But in Jet Set we just get William Stadiem gossiping. Now gossip can be marvellous, if first-hand, first person uninhibited, like Nicky Haslam's Redeeming Features. But Stadiem doesn't do it first-hand, so he's absolutely determined to parade everything he knows in the long biographical pieces about his key characters — the horrible-sounding Cassinis, Conrad Hilton, Claude Terrail, the financier-playboys Eddie Gilbert and Bernie Cornfeld. He simply doesn't know where to stop. It's well enough researched in the sense of having masses of detail that sounds accurate. But there's no insight to animate it. And then there's the question of Stadiem's style.
It's amusingly awful at first, painfully ring-ading-ding, epically cheesy. Then it's just awful. He simply can't finish a sentence. There's always another reference, another terrible metaphor to be squeezed out. It's like being locked in Trader Vic's with someone who'd learnt his fashionable slang from the original Rat Pack in 1959.
It's potentially a wonderful story; the whole wonder-world of characters like Hugh Hefner and Bernie Cornfeld, Régine and Zsa Zsa Gabor, reappears from the most extraordinary stories — like the French Markovic murder scandal or the Rubirosa/Trujillo Dominican lobby in the US. But Stadiem's style and structure — everything all over the place — leaves you only knowing you hate practically everyone in the book. I wonder what a really tough editor could've made of it.