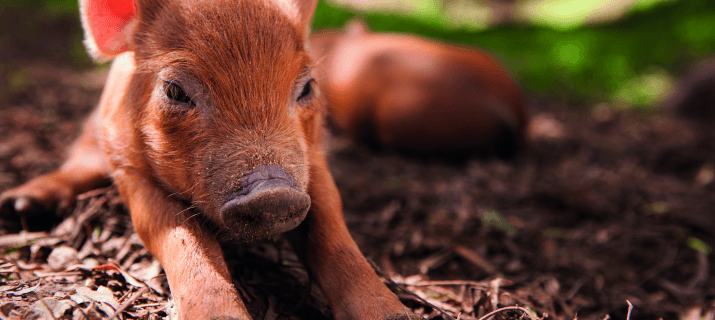 An Emmy award-winning filmmaker-turned-farmer documents a personal, unusual and wild journey through the countryside, writes Rasika Sittamparam
Here's a Sundance-listed, Oprah Winfrey endorsed film you've never heard of, the highest-grossing documentary of the summer in the US raking in $4 million at the box office and counting. It had been 'watched by a room of 25 people' in the UK before officially debuting at Regent's Place last week. Spear's was naturally one of the first to appear at such eclectic premieres, although this one, organised by London's first Green Film Festival, didn't feature the usual red carpet glamour. The carpet was, in fact, symbolically green, the canapés meat-free and jackfruit-laden, the host welcomed the audience in a pair of green wellies – and the screen was projected onto an outdoor wall.
But the details of the surroundings quickly become out of focus when The Biggest Little Farm begins, zooming into the lives of a Santa Monica-based couple, John and Molly Chester, and their belligerent pup Todd. When the Chesters receive an eviction notice from the landlord who's had enough with the dog's misdemeanours, they are hit with a realisation. It's time to finally move out of the city and pursue Molly's lifelong dream of owning a farm.
Such countryside idyll is not unfamiliar to many of us struggling in the Big Smoke, but their desire to explore an ancestral way of farming is unusual, considering their complete lack of knowledge of even the basics. John, an Emmy award-winning wildlife filmmaker (also the director), and Molly who is a private chef who blogs, miraculously gather enough investors to fund their exploratory project.
They quit their day jobs and move to a 240+ acre land in Moorpark, California. The ground is scattered with dust, dead plants, lifeless bees, and stony obstacles. It had become barren from overuse and the polluting methods of neighbouring farms.
What's wackier is the summoning of self-styled biodynamics guru, Alan York, a savant with a view that agriculture can coexist with natural systems. York brings in tonnes of worms to create soil and disperse it throughout the arid landscapes. The Chesters and a number of international volunteers, on York's recommendation, purchase chickens, sheep, highland cattle, ducks and a pig called Ugly Betty (they swiftly name it Emma). Together with Todd and a pair of Pyrenees puppies, they form an animal squad in charge of further fertilising and reviving the land. Within months, Apricot Lane Farms is born, transformed into acres and acres of greenery. But farm guru York disappears, leaving the Chesters without instructions on how to actually manage the random mix of animals and winding rows of fruit trees interspersed with wild and planted cover crops.
And the saccharine narrative stops here, as the plot is layered with problems the inexperienced farmers face, as their year-long funding vanishes within six months. Brutal realities appear: coyotes kill vast numbers of chickens, biblical swarms of starlings destroy the fruits of hard labour, gophers attack the lemon trees from the ground up, and stomach-turning amounts of snails thrive on the leaves. There are cruel droughts, savage rain and the wind storms dubbed 'the fifth season' to watch out for too. We are shown a scene where the couple and their team look visibly desolate at the farmer's market. There is no one to buy the very little produce they bring out to sell – they need to eat, and so do the vast numbers of animals and plants they are now burdened with.
John, however, starts thinking like a filmmaker and carefully observes his problems from afar. He notices the intricate details he had been missing all around: the natural, sometimes obvious, solutions to almost each major obstacle he faced. Step by step, he figures out that his ducks could gobble up the millions of snails suffocating the lemons, and that chickens eliminated the maggots that appeared in piles of manure. By looking into the eyes of a dying coyote, he realises that the suffering enemy could actually become a friend. He sets up night-vision cameras and discovers that one of his Pyrenees' was the one massacring the chickens – not solely the coyotes. Further night footage reveals that with enough time, predators such as the coyotes could actually eliminate the gophers. Even the weed-like wild bushes underneath the crops had a role, John discovers: they are feed for cows and sheep, whilst doubling as a protective layer that sponges up excess rainfall and prevents soil erosion.
Eight years of such realisations go by, with the film ending with a message of hope. The Chesters had not only managed to revitalise their once-barren farm, but also had also attracted a range of wildlife such as owls and eagles which further protect their crops from pests.
The Biggest Little Farm is a feel-good film that does have genuine grit. For Spear's readers, this is a tale of entrepreneurial triumph, but one that is achieved through an intelligent understanding of complex systems. The Chesters have cleverly documented how profits can be achieved through coexistence with nature, and for that alone, the film is well worth a watch.
Verdict
regentsplace.com/greenfilmfest
Rasika Sittamparam is Senior Researcher at Spear's