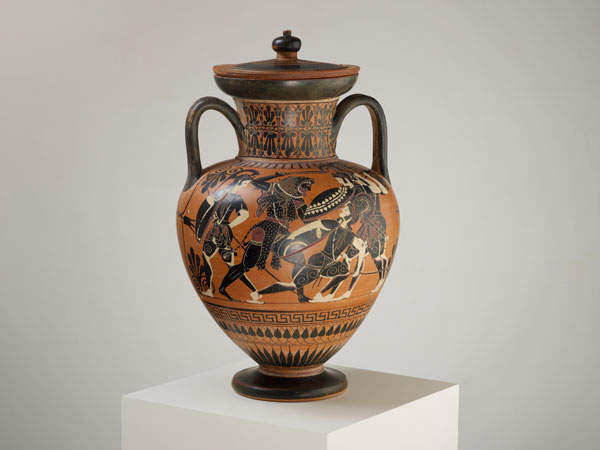 Provenance, as any art dealer will tell you, is key: where has this painting come from? The better the painting's path – the way it has moved through significant collections – the more valuable it is. If you applied the same question to Lorne Thyssen-Bornemisza, founder of a new Mayfair gallery dealing in ancient Greek art, you'd see he has a sterling provenance of his own.
Baron Thyssen (for such he is) comes from a short but significant line of collectors. His grandfather, Heinrich, was a German-Hungarian industrialist who picked up Old Masters from Depression-hit American collectors, while his father Heini was mad for the nineteenth and twentieth centuries. (Great-uncle Fritz was unfortunately rather mad for Hitler in the Thirties.) When Heini sold the collection (reputed to be the second biggest in private hands after Britain's Royal Collection) to the Spanish government for $350 million in 1993, founding Madrid's Thyssen-Bornemisza Museum, it contained works by everyone from Duccio to Otto Dix.
This poses both a problem and a pleasure for Baron Thyssen. Collecting is in his DNA, so to speak, but equally most of the space he might like to collect in has already been colonised by his forebears. There's no point trying to collect Picasso when a) he is today extraordinarily expensive; and b) your father got some of the best ones before the paint was even dry.
Sitting in his office-cum-study in the gallery on Davies Street, Baron Thyssen says his interest in antiquities – from Greek coins to Roman sculptures – isn't consciously an effort to carve out an area of his own, but he does talk about what he's learnt from his family: 'If you want to build up an important collection over time you need obviously the means, the passion, the knowledge and patience and if you keep the bar high you will end up with an important collection.'
None of this is surprising, but I am slightly bemused by what he goes on to say: 'You have to keep the bar high and perhaps not squander your resources on just stuff that you like because you'll make mistakes.'
I find this a strange divorce between taste and collecting – how can collecting what you like be a mistake? Isn't a collection a reflection of the person, rather than an attempt to create Plato's (or Sotheby's) idea of the perfect collection? It seems a little, well, heartless.
'No, you make mistakes. In coins, for example, once you've seen a few thousand coins and you've studied coins closely after a few years you realise that you did make a couple of mistakes in terms of the quality so then basically you just upgrade them. If a better one comes along I'll upgrade it.' Still, 'upgrade' seems a word better suited to your car than your art.
Other side of the coin
Baron Thyssen does seem to be in a difficult position for a gallery-owner. Given his considerable independent means, he fears he could be seen as 'cherry-picking' the best items he comes across for himself instead of putting them in his gallery. To combat this, he is keeping his personal collection (Roman antiquities) entirely separate from his shop's stock (Greek).
'Stock' perhaps understates the treasury he has put together. There is a spectacular silver rhyton (drinking horn) capped with a stag's head, antlers and all, and an early elegant bronze horse, a gift-offering to the gods. Gold coins glow under pinpoint lighting in a glass cabinet and there is an intact three-thousand-year-old drinking cup. Expertise comes from Baron Thyssen and gallery director Dr Glenn Lacki, who has a master's degree in Classical art and archaeology and a doctorate in Classical languages and literature from Oxford.
Pictured above: Black-Figure Dinos, Archaic Period, circa 540-20 BCE
Antiquities is not the hottest field for collectors today. Its prizes don't have the brainless cachet and bragging rights of much of Contemporary art, and you certainly can't pose for a selfie with the artist. This means that prices have not rocketed, but there is a clique of collectors, familiar to one another, who keep competition stiff(ish).
This was good news for Baron Thyssen on two fronts. First, 'When I started collecting Roman it occurred to me that there are actually relatively few collectors of antiquities at the top end, there are maybe half a dozen and mostly people are focused in particular areas, so in Roman antiquities I'm probably the strongest buyer at auction… It is a small part of the art market, hugely undervalued in my opinion and utterly spectacular.'
And second, this means if he plays his cards right – or displays his wares right – he can lead an expansion of the market, be a tastemaker as well as a dealmaker.
But it's not easy to be a tastemaker when the field is so foreign to collectors (which is a polite way of highlighting a certain prevalent ignorance). Baron Thyssen thinks he will sell to some people who 'may just want a beautiful rhyton to put on their mantelpiece next to their soup tin by Andy Warhol', though he hopes there will also be those who delve more deeply, for which you need greater education.
He is emphatic about the place of education in art appreciation. He himself is a student, taking a part-time Classics degree at the Open University and getting involved in archaeology at Oxford: 'I actually realised that I didn't have a solid base of knowledge of Roman and Greek history so that's what I've been trying to fix.' 'You don't have to be a Classicist to enjoy Greek antiquities,' he adds later, 'because the objects speak for themselves… Perhaps you get another level of understanding if you understand that this is a kingly rhyton and you know that it was used in drinking parties at court.'
To illustrate both Baron Thyssen's educational ambition and the academic image his gallery is projecting, consider his bookshelves. The Loeb Classical Library is a series of books about the dimensions of a postcard with Latin or Greek on the left-hand page and an English translation on the right. The series contains every major text that has come down from antiquity – and Baron Thyssen appears to have them all. There are feet after feet of green spines (the Greek texts) and on an adjacent shelf the red ones (Latin). I haven't seen so many outside of Blackwell's in Oxford, and a photo I tweeted of it sent Classicists into raptures.
Love of learning is a trait he admired in his father: 'People used to say about my father that he had a great eye. He did have a great eye but he also studied like crazy, so when he was in his twenties and thirties especially, he studied Cubism, he read everything that there was to read about it, he went and saw all of the best Cubist pieces… and he understood this material at the level of the painter practically.'
An earnest educationalist
Putting his money where his heart is, Baron Thyssen is also an educational philanthropist. He has funded Classical scholarship at Oxford both at a college and a university level, and he has taken archaeologists (including an old tutor of mine) on tours around the Middle East to see Classical sites, which I think he probably enjoys as much if not more than the scholars.
Talk of Classical sites brings us back to provenance. When you consider that many antiquities are illegally looted from sites across the Mediterranean, travelling directly from the black market into private collections, the problem of who owns (thus who can sell) ancient art is fraught.
There are laws in place to clarify, but they are partial and variable. The most important development was a 1970 UNESCO convention which says that countries should enact laws so that antiquities brought out of the ground since 1970 must have a state certificate authorising the export. This makes the trade in legal antiquities much easier if their discovery dates from 1970 – but it makes the legality of pre-1970 objects no easier to determine, and fake documentation is rife. (Not all states ratified the convention immediately, however, so rules vary around the world.)
So how is he handling this? If anyone were to allege he was selling looted work (which no-one has), it would be devastating for him as a dealer and as a collector. 'It's the most important thing. We do more than what is required which is essentially checking all pieces against the Art Loss Register, making sure that they're not known, that they haven't been stolen from public institutions, that it's not Nazi plunder and so on. We add on several levels of due diligence, which is actually where having very strong ties with Oxford is very helpful.'
As a last question, I ask Baron Thyssen about the ultimate contested antiquity. Parthenon Marbles: keep or return? Instantly he says, 'Keep them,' but there is a long pause when I ask why while he seems to reckon up whether I've led him into a trap.
Eventually, he says: 'I would agree with Mr MacGregor [Dr Neil MacGregor, director of the British Museum]. I think that these are world heritage treasures that are on display to the world at the British Museum, that's all, and it would also open the floodgates for all kinds of claims from governments everywhere… I think they're great ambassadors of Greece and I think they're in very safe hands and are well looked after – but I appreciate I may be in a minority on this situation.' As an ancient-art-collecting aristocrat of Swiss-Hungarian German-British-American heritage, Baron Thyssen, I believe, is well-used to being in the minority.