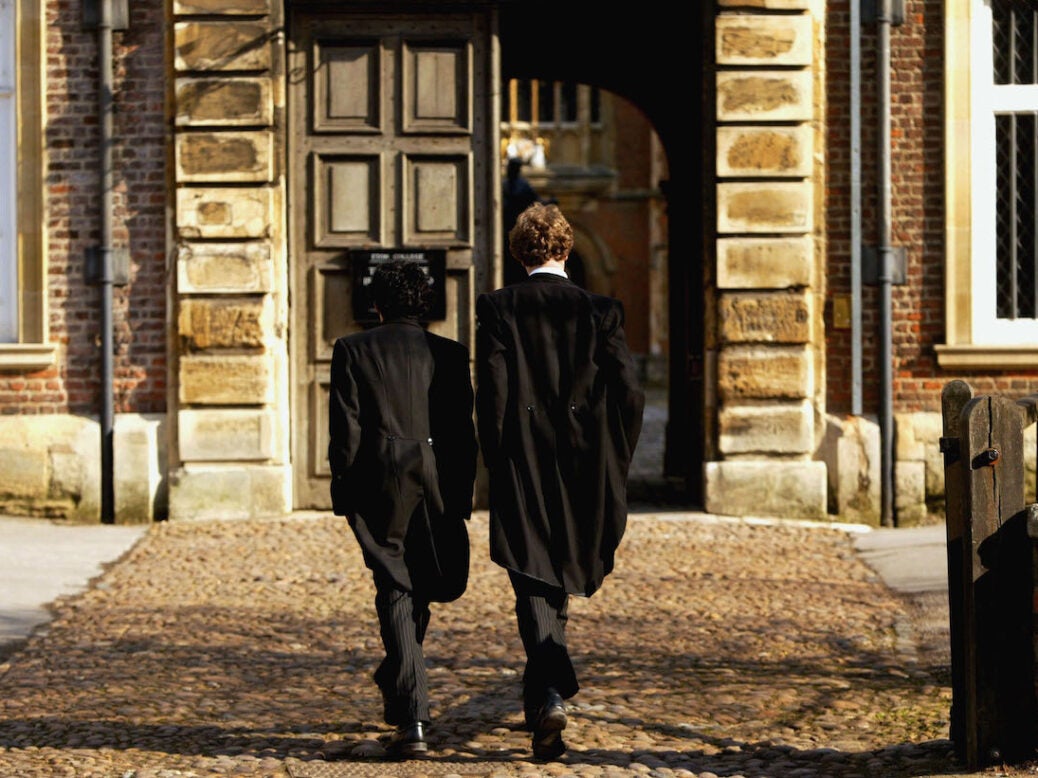 The world's most exclusive boarding schools – from Institut Le Rosey in Switzerland to Eton College in Berkshire – have earned their reputations for producing successful, vibrant alumni.
Their legacies are spread around the world, and throughout history; Eton College has educated 20 of the UK's 56 prime ministers, while Le Rosey specialises in seeing European nobility through their school years.
But as fees rise and university admissions offices begin to reconsider whether independently educated pupils are what they are looking for, do these elite institutions offer your child a future that matches the fees? Or are they, as Labour's deputy leader said earlier this year, 'a waste of money'?
[See also: Lessons from Rosenberg, the most expensive school in the world]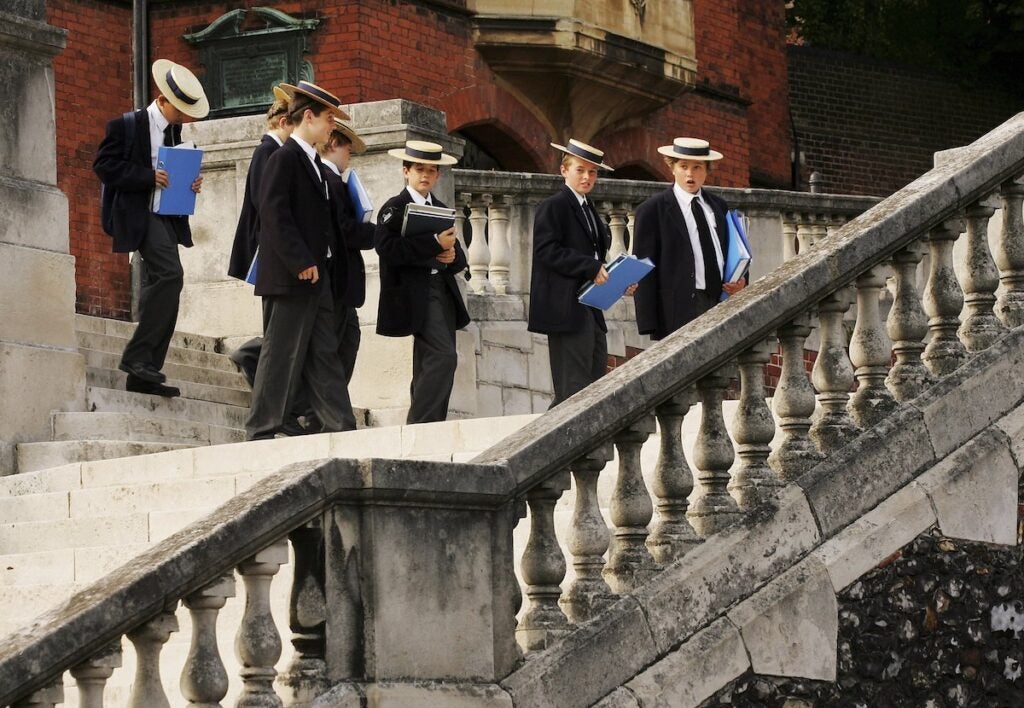 The household name effect
For many parents, the most exclusive boarding schools might represent a familiar pathway to a top university, whether that's Oxbridge or an Ivy League university. 
As Winchester College advertises: 'A significant number of our pupils go to Oxbridge or a Russell Group university every year'. 
The Institut auf dem Rosenberg in Switzerland, where annual fees are 150,000CHF, boasts of having a '100 per cent university acceptance rate' – though they do not specify the institutions their alumni end up at. 
[See also: The most expensive private schools in Europe]
Even if members of their alumni network have sullied their reputations, schools of this calibre remain the most coveted. 
'People think though their child will come out branded with this slightly embarrassing label – which Etonians have felt for years – they appreciate that they are getting a university-type experience at a young age,' says Grace Moody-Stuart, director of the Good Schools Guide. 
This education is about more than just academics. 'It's the nuts and bolts of an academic career, but it's this character thing – and parents know that they will be equipped for life with that. The household names still carry a lot of weight with families both in the UK and internationally.'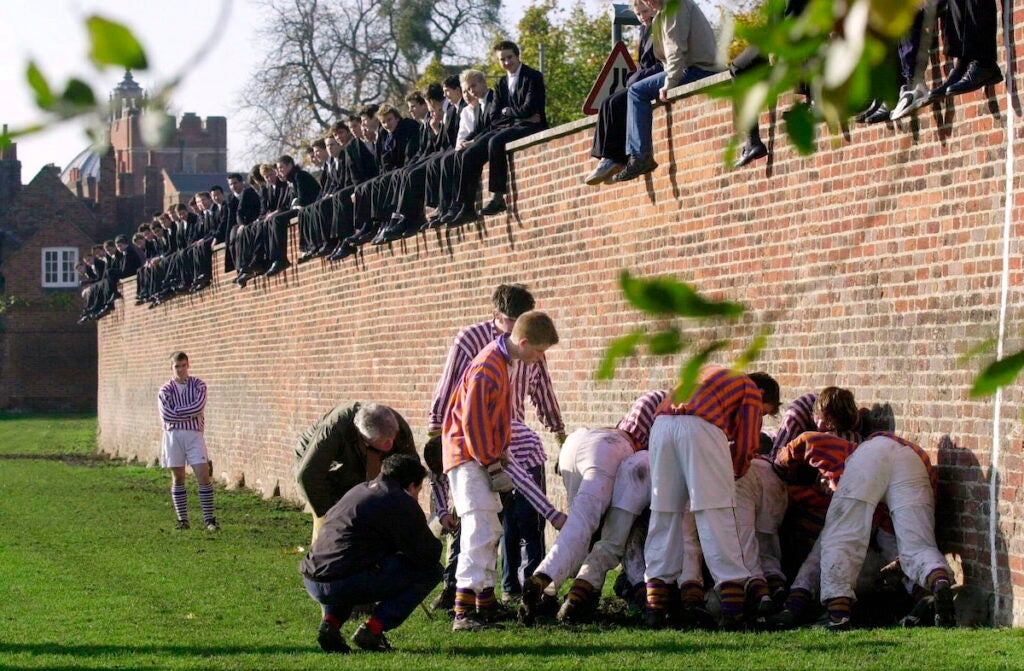 Levelling up
In recent years, talk has turned to top universities accepting a larger proportion of students from state schools. In its 2020-21 to 2024-25 access plan, Cambridge University stated its ambition to increase its state school intake from 63.4 per cent to a minimum 69.1 per cent.
In October 2022, analysis of Oxford and Cambridge offer rates to 50 independent schools found that the likelihood of pupils receiving an offer has dropped from 39 per cent to 26.5 per cent over five years. At Harrow School, 17.5 per cent of its students who applied to Oxford or Cambridge in 2021 received an offer compared to 45.2 per cent in 2016.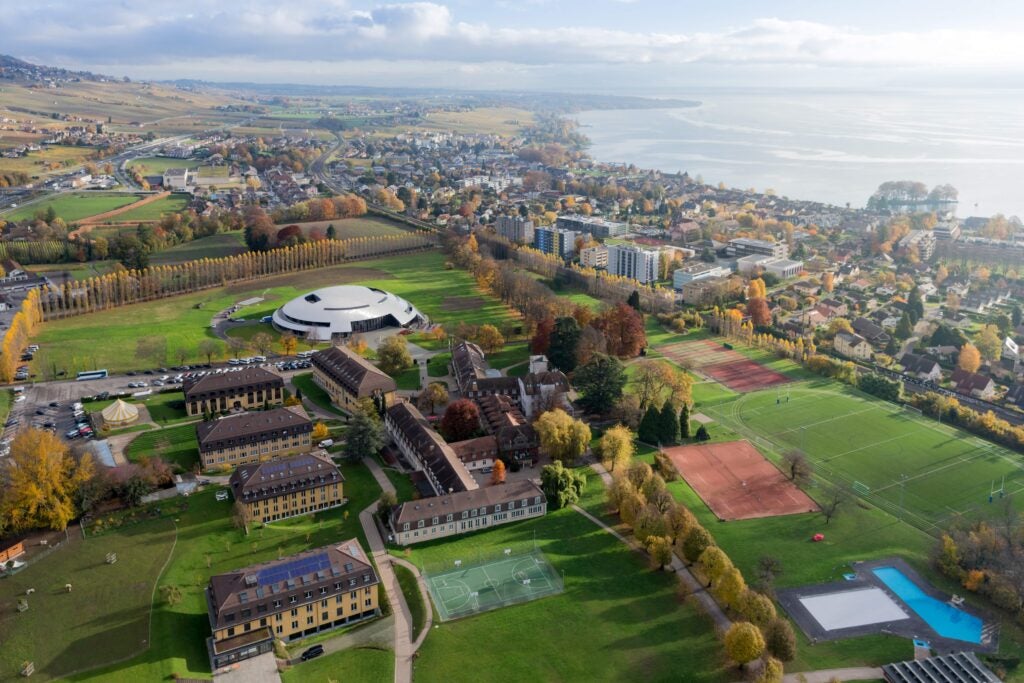 Though these figures look stark, it's 'not a bar to have gone to Eton to apply to Oxford,' says Diana Morant, head of school and university consultancy at William Clarence Education. 
'It is harder now but that's because what Oxford and Cambridge are looking for has changed. In the old days it was, "oh great, you're the captain of rugby, a bright boy". Now it's all about the academic attitude – the passion, wanting to learn. If you're not that sort of pupil you're not going to get in now, and a lot of independent school parents haven't grasped that yet.'
According to the latest UCAS data released by Oxford and Cambridge, of the 80 UK schools with more than three offers, 33 are independent schools - five of which are in the top 10, and private schools have a slightly greater application versus offer ratio than state and grammar state schools.
[See also: Do super-rich graduates value their universities?]
Whether or not Oxbridge is on the table, adds Morant, 'Eton offers an amazing all-round education. They're still doing a fantastic job, it's just harder to get into Oxford and Cambridge now. The universities are clear – it's not that they don't want you if you've been to Eton and Westminster, you've got to be absolutely right.' 
Beyond the British boarding school
If you cannot escape the feeling that these schools might be losing their grip on Oxbridge, there are plenty of other options.
UK independent schools are becoming practised at sending children to universities abroad. According to the Independent Schools Council's 2023 census, the vast majority of ISC pupils go on to university, and of those six per cent choose to study abroad – over half of those in the United States.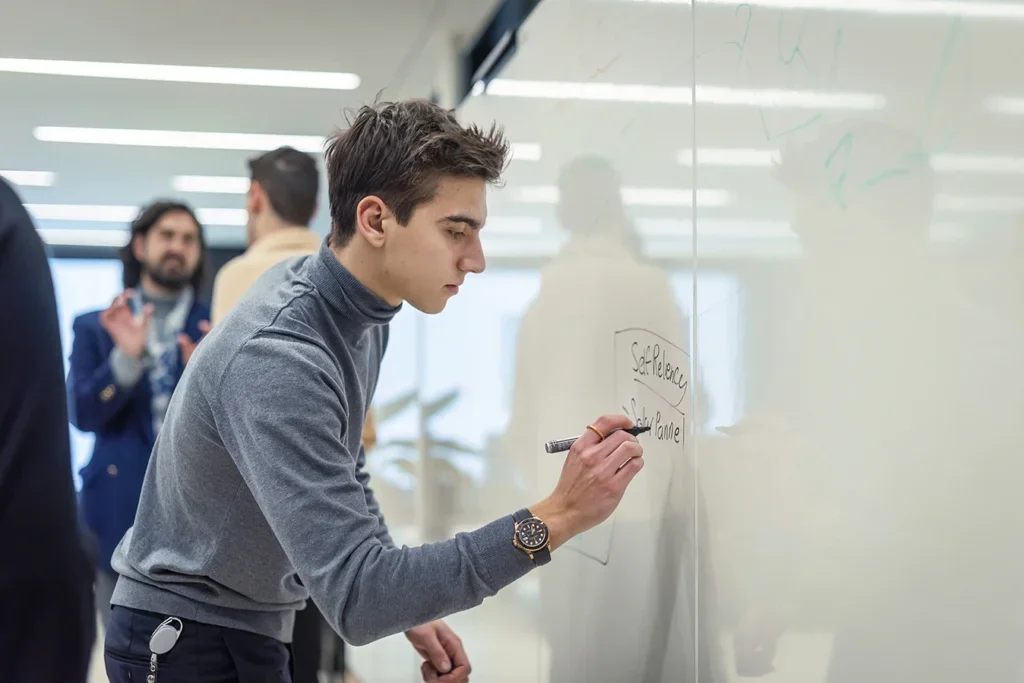 In the decade from 2012, eight per cent of Cheltenham Ladies' College sixth form leavers have gone on to study in North America; during the 2021/22 academic year, 39 Etonians received offers from American universities, including Yale, Harvard and Brown. Eton has a specialist US universities adviser and is a SAT test centre. 
'You're in a really good setting in a boarding school [for an American university application] because you're doing extra-curricular things in-depth which can boost it,' says Grace Moody-Stuart. 'You won't get that to the same extent in a day school.'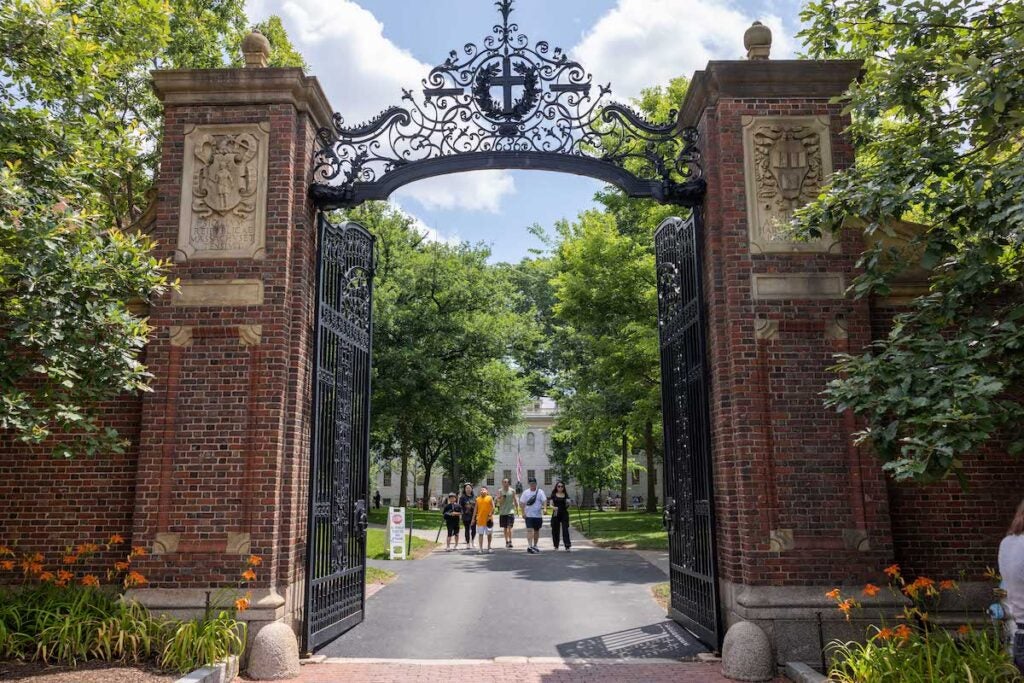 Return on investment from your boarding school
Of course, not all independently-educated children will want to go to university. In July 2023, Labour's deputy leader Angela Rayner declared private schools a waste of money: 'If you've been privately educated and not been able to get a degree, why waste your money on private education?' But is independent school purely a tool through which academic success is measured?
Education consultants agree that paid-for education is usually embarked upon with the goal of producing a happy, successful child – whatever success might mean. Many schools do focus their pupils towards higher education. 
'At Eton or Winchester,' says Morant, 'the norm is that pretty well everyone goes on to get a degree'. But it depends on the school, and on the child. 
'A lot of schools really celebrate different qualifications – quite rightly,' she says.
An independent education, whether it is sought in the UK, in Switzerland, or further afield, need not come with conditions about what must follow it. 
'I don't hear parents saying "I've spent all that money on education and now he's not even going to university,"' says Sophie Oakes, senior education consultant at Carfax Education. 'All parents are just trying to do the best for their children.'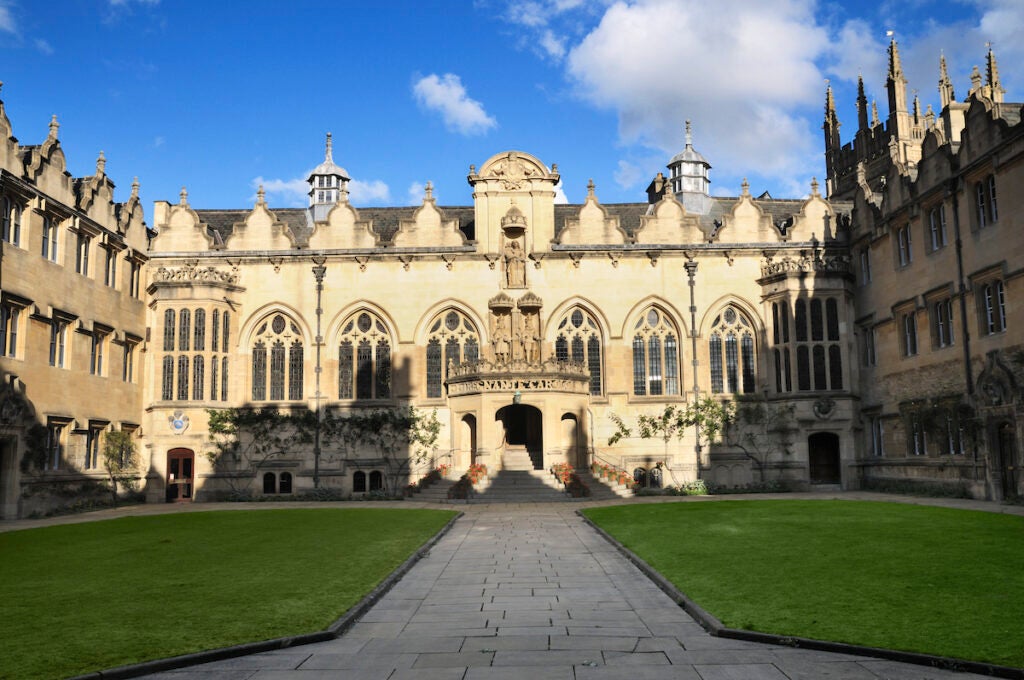 The cost of educating
There's no denying that rising fees – and Labour's threat to levy VAT on fees – is likely to put some parents off sending their child to an elite independent school.
In 2018, the average termly boarding fee was £11,228; in 2023, this rose to £13,002.
But there's a reason why the British elite independent education system appeals to those from all over the world – even above the price-inflated Swiss system. 
'It's partly the traditions and the uniforms, but there's an ethos and a beating heart to the education,' says Moody-Stuart.
[See also: The Spear's Schools Index: Choosing the right school for your child]
Are elite British schools still worth it? 'The answer is 100 per cent yes,' says Oakes.
'A British education is the one thing that people would like to invest in – it's perceived that you'll get into a better university, get a better job, and end up with life skills that you can't learn anywhere else. These schools still have "it".'
For a comprehensive list of the world's top private schools, visit the Spear's 500.