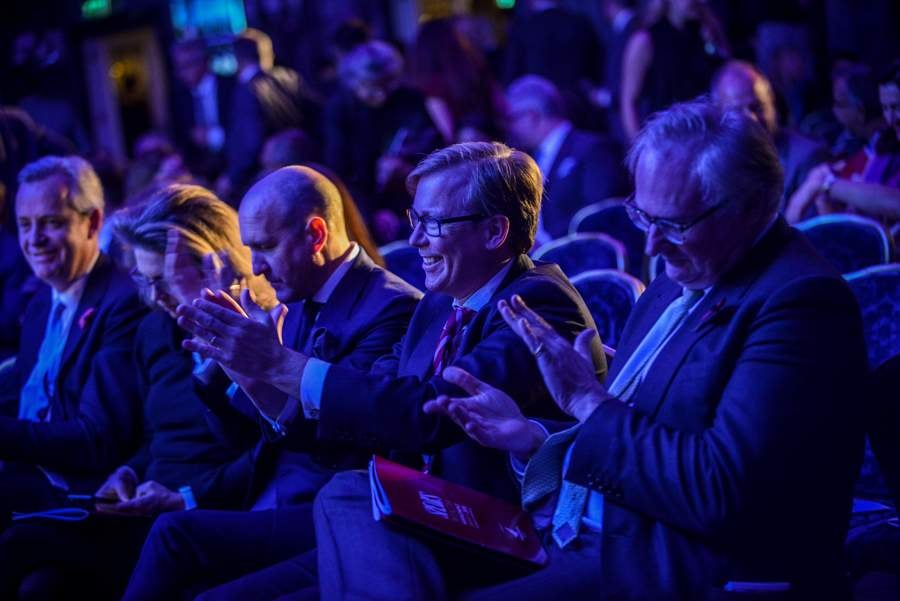 Guy Hands led the line-up of winners at the 12th annual Spear's Wealth Management Awards at the Dorchester on Tuesday, in a night that celebrated the best in the UK's private client world. Emelia Hamilton-Russell reports
Financier Guy Hands and Cerno Capital's Nick Hornby led a line-up of winners at the Dorchester hotel on Tuesday at the Spear's annual wealth management awards. Hosted by Sky News economics editor Ed Conway, the event saw 700 VIPs from business, finance, law and luxury gather to celebrate achievement across the asset management, banking and private client fields. Guests sipped on Villa Sandi prosecco and cocktails provided by luxury cufflink makers Oh My Gott, who also brought along a DJ for the after party.
In his welcome speech, Conway spoke about how times have changed since he first started hosting the event three years ago. Remembering that we were in the midst of an Italian financial crash that threatened an 'existential crisis' for Europe back then, he said: 'The world continues to be chaotic and unpredictable and – while it's good for journalists – it's not good for most people. Wealth managers provide much-needed reassurance in the midst of that chaos, and their services are very much valued.'
The Terra Firma financier Guy Hands was named Philanthropist of the Year. In his acceptance speech he said: 'Julia and I set up the Hands Family Trust almost exactly 20 years ago, so it's fantastic and humbling to receive this award at such a fitting moment.'
Nick Hornby from Cerno Capital received the Outstanding Achievement Award, while Quentin Marshall, head of private banking at Weatherbys, was named Private Banker of the Year. Hornby said, 'There are quite a lot of companies that describe themselves as B-to-B or B-to-C, but at Cerno we don't do that. And I'm sorry if this sounds cheesy, but we consider ourselves to be H-to-H. Human to human. We connect with our clients on a human level, and I think that's one of the reasons we're successful.'
Challenger bank Hampden & Co, launched in 2015, was named UK Private Bank of the Year, while Swiss-headquartered Julius Baer scooped the award for International Private Bank of the Year. While collecting the award for Hampden, Ray Entwistle seized the microphone to make an impromptu address, reminding the audience that he is the 'longest serving banker in the UK' before offering some sage advice: 'What I've learned is that you've got to love you're client. If you don't love your client someone else will.'
Ross Elder came through as a worthy winner of the HNW asset manager of the year, and Charles Costa Duarte, of Rothschild won in the UHNW category. The evening also honoured the top practitioners in the legal profession. The Tax and Trust Lawyer of the Year was Nick Warr of Taylor Wessing, while Charles Russell Speechlys' Miranda Fisher scooped the family law category after winning some big cases for two high-profile Russian clients. 'I was shortlisted last year – and I was completely thrilled to be shortlisted – but to win it… It's completely amazing,' she told Spear's.
Meanwhile Richard and Sophie Rogerson, the husband and wife team at RFR Property took the Property Advisor of the Year award. Richard Rogerson said: 'It's been a tough year in the property industry but this award should really go to the team: they've been fabulous.' Stewarts' Lucy Gould – our Future Leader in Private Client – described herself as a 'lawyer's lawyer': she was also a very popular winner.
The Reputation Lawyer of the Year category was won by Carter-Ruck's Nigel Tait. But the judges were so impressed by Simkins' Gideon Benaim's year in representing Sir Cliff Richard that he was awarded Case of the Year. He went up to the stage with his team in tow, and said afterwards: 'It was a fantastic case to have been involved with and I'm very grateful to have won the award.'
The evening was also the perfect opportunity to announce the launch of the Spear's 500 2019, our Michelin-style guide to high-ranking players in London's private client industry. The culmination of a year's worth of research, interviews and data analysis, the book has become the definitive guide to the best advisors, lawyers and wealth managers for HNWs and UHNWs.
The evening closed with Entrepreneur of the Year where the nominees were Natasha Rufus Isaacs and Lavinia Brennan of Beulah; Tony Lutwyche, of Lutwyche; Zoe and Sven Ley of the Rockster, the world's leading luxury pet food brand; William Chase of the Chase Distillery Ltd; and Alexander Langlands Pearse of Cirrus Inns. Giving the award to Pearse, Conway called him 'the King Arthur of the British pub fight-back'.
The night had a streak of melancholy to it, as both William Cash, Spear's editor-at-large and chairman of the judges, and Conway, remembered the life of Frank Hirth's Paul Hocking – the previous year's Private Client Accountant of the Year – who died suddenly in October, weeks after judging two categories at the Walbrook.
But Cash was determined that the evening honour Hocking's cheerful spirit: '[Paul's] death in Africa in a tragic accident while pursuing his laudable charitable works is something which we would all undo if we could. Tonight, what we can do is remember and honour him – and ensure that we enter into proceedings in a spirit of fun which Paul would have approved of. If you have a glass then please raise it to Paul.'
Many glasses were raised – and the spirit of fun was indeed entered into. This was a night to celebrate success and to find a series of new perspectives on the private client world. One distinguished guest was overheard remarking: 'I only go to one event a year – and this is it.' That guest had chosen wisely – this was a classic.
Spear's 2018 Wealth Management Awards shortlists and winners in Bold
Private Banker of the Year
The nominees:
Giles Crowe, Citi Private Bank
Rennie Hoare, Hoare & Co
Jeremy Knowland, Citi Private Bank
Winner: Quentin Marshall, Weatherbys
Christo Scott, HSBC Private Bank
Helen Watson, Rothschild Wealth Managemen'
UK Private Bank of the Year
The nominees:
Hoare & Co
Winner: Hampden & Co
HSBC Private Bank
Rothschild & Co
Weatherbys
International Private Bank of the Year
The nominees :
Citi Private Bank
HSBC
JP Morgan Private Bank
Winner: Julius Baer
Pictet Wealth Management
Outstanding Achievement Award
Winner: Nick Hornby, Cerno Capital
Future Leader in Private Client
The nominees:
 Kate Capocci, Smith and Williamson
Nicholas Dudley-Hammatt, HSBC
Winner: Lucy Gould, Stewarts
Stephen Kattou, Lincoln
Chris Moorcroft, Harbottle & Lewis
HNW Asset Manager of the Year
The nominees:
Ross Elder, Lincoln Private Investment Office
Salman Haider, Citi
Alan and Gina Miller, SCM Direct
Neil Moles, Progeny Wealth
Charlotte Ransom, Netwealth
Charles White, McInroy & Wood
Patrick Wilson, Credit Suisse
UHNW Asset Manager of the Year
The nominees:
Alex Bowden, Smith & Williamson
Charles Costa Duarte, Rothschild
Aastha Gurbax, JP Morgan
Nick Hornby, Cerno Capital
Michael Parsons, Wren Investment Office
Natasa Williams, LGT Vestra
Private Client Accountant of the Year
The nominees:
Paul Ayres, BDO
James Hender, Saffery Champness
Winner: Liz Henson, PwC
Nicola Roberts, Deloitte
Chris Shepard, Smith and Williamson
Iain Younger, Frank Hirth
Property Adviser of the Year
The nominees:
Trevor Abrahamson, Glentree International
Camilla Dell, Black Brick Properties
Louise Hewlett, Louise Hewlett Properties
Guy Meacock, Prime Purchase
Winners: Richard and Sophie Rogerson, RFR Property
Ed Tryon, Lichfields
Family Office Services Provider of the Year
The nominees:
Chawker & Co
Keystone Advisers
KPMG
Owl Private Office
Winner: Smith & Williamson
Stonehage Fleming
Philanthropist of the Year
Winner: Guy Hands
Philanthropy Adviser of the Year
The nominees:
Winner: John Canady, National Philanthropic Trust UK
Divya Gosrani, C. Hoare & Co.
Anna Josse, Prism the Gift Fund
George King, Maseco Private Wealth
Maya Prabhu
Chris Priestley, Withers
Lawyer of the Year – Tax and Trusts
The nominees :
Robert Brodrick, Payne Hicks Beach
Jonathan Burt, Harbottle & Lewis
Jonathan Conder, Macfarlanes
Bart Peerless, Charles Russell Speechlys
James Quarmby, Stephenson Harwood
Nick Warr, Taylor Wessing
Family Lawyer of the Year
The nominees:
Zoe Bloom, Keystone Law
Debbie Chism, Stewarts
Joanne Edwards, Forsters
Winner: Miranda Fisher, Charles Russell Speechlys
Renato Labi, HFC
Julian Lipson, Withers
Reputation Lawyer of the Year
The nominees:
Gideon Benaim, Simkins
Dominic Crossley, Payne Hicks Beach
John Kelly, Harbottle & Lewis
Winner: Nigel Tait, Carter-Ruck
Dan Tench, CMS
Steven Tregear, Russells
Emma Woollcott, Mishcon de Reya
Case of the Year
Winner: Gideon Benaim, Simkins
Entrepreneur of the Year
Winner: Alexander Langlands Pearse
Emelia Hamilton-Russell is staff writer at Spear's