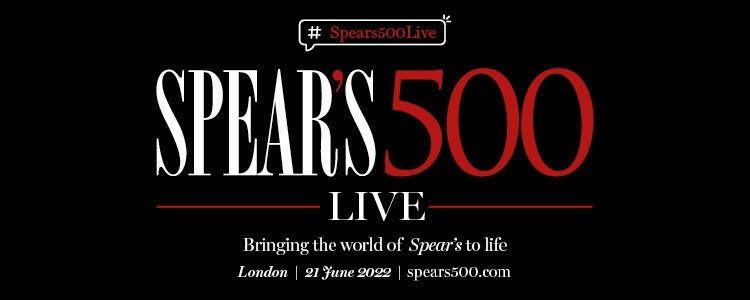 Spear's 500 Live will bring together leading figures from the world of wealth at The Carlton Tower Jumeirah on 7 September 2022
The first ever edition of Spear's 500 Live will take place at the The Carlton Tower Jumeirah in Knightsbridge, London, on 7 September 2022.
Spear's 500 Live is a successor to the hugely popular Spear's Wealth Insight Forum, which last took place as an in-person event in 2019. As such, Spear's 500 Live is the marquee annual in-person event from Spear's, and brings together experts and leaders in the fields of economics, investing, philanthropy, law, geopolitics, property, tax, luxury and education.
The speakers who have already been confirmed are listed below, along with the agenda for the day.
Spear's 500 Live has a strict limit of 500 attendees. To register to attend click here.
Spears' 500 Live Draft Agenda
08:00 – 09:00am
Breakfast and Networking 
09:00 – 09:05am
Welcome remarks 
Edwin Smith, Editor, Spear's 
09:05 – 09:45am
Keynote: New World Order 
International lawyer and adviser to heads of state, Robert Amsterdam, assesses the impact that the geopolitical machinations of recent months and the near future will have on the international pecking order and the global economy
Confirmed Speaker:
Robert Amsterdam, lawyer, Amsterdam & Partners LLP 
09:45 – 10:30am
How to construct the perfect portfolio in 2022, in association with the Royal Mint
Is the 60:40 split dead?
What is the right balance of equities, bonds, commodities, property, alternatives (etc.) in the current market?
Will the private market boom continue?
What assets should UHNW investors consider right now?
Gold Vs digital gold?
Confirmed Speakers:
Annamaria Koerling, Managing Partner, Delfin Private Office 
Rashmi Madan, Senior Managing Director, Head of EMEA Private Wealth Solutions Group, Blackstone 
Toby Osborne, Head of Wealth Management, The Royal Mint Precious Metals Division

10:30 – 11:15am
Prime Movers: the secrets of selling, buying and financing super-prime property, in association with Butterfield Mortgages
How to market a super-prime home (and maximise the sale price) with the competing forces of social media and the need for discretion
How to finance a super-prime property purchase, including the types of information required to access finance for HNWs
Rising interest rates and fixing options for HNW deals
Structuring that's fit for 2022
PCL demand
Market outlook
Confirmed Speakers:
David Gwyther, Business Development Director, Butterfield Mortgages 
Richard Rogerson, CEO, RFR Property 
Camilla Dell, Managing Partner, Black Brick Property Solutions LLP 
11:15 – 11:45am
Coffee and Networking
11:45 – 12:30pm
Panel discussion: The Experience of Luxury – in association with the Oeno Group 
Leading figures from the world of luxury analyse and unpick the nature of luxury experience – and the unique demands of UHNW customers.
The discussion will cover:
The nature of luxury experiences
Leaders in the field
The power of collaboration
The expectations of UHNWs – and how they can be surpassed
Confirmed speakers:
Michael Doerr, CEO, Oeno Group 
Senior representative, The Carlton Jumeirah 
12:30 – 13:15
Panel to be announced 
13:15 – 14:15
Lunch & Networking 
14:15 – 15:00
Panel Discussion: How much is enough? – in association with CAF 
Experts from the fields of philanthropy, economics and behavioural science consider how the effects of philanthropy, giving and impact-investing can be maximised – and whether that provides an answer to a difficult question: How much of their wealth should HNWs give away?  
Confirmed speakers:
Nicola Brentnall, CEO, Ajaz.org 
Emily Carver, Head of Media, The Institute of Economic Affairs 
Mark Greer, Director of Philanthropy, CAF 
15:00 – 15:45
Panel discussion: On firm foundations: How to future-proof your succession planning in 2022 – 
in association with Finance Malta
The major forces shaping succession planning in 2022
What are the (new) prerequisites for successful succession planning?
The most dangerous pitfalls – and how to avoid them
The use of structures and foundations – and how to get this right
How might the equation change in years to come?
Confirmed speaker:
Przemyslaw Koger, Director & Head of Relationship Management Malta, Alter Domus

15:45 – 16:05
Coffee break 
16:05 – 16:50
Debate: Examinations: Good or Bad? – in association with the Institut auf dem Rosenberg
16:50 – 17:20
Fireside Chat 
17:20 – 18:30
Networking Drinks Reception – in association with BVI Finance
Confirmed Speaker:
Simon Gray, Global Head of Business Development & Marketing, BVI Finance 
To register to attend Spear's 500 Live click here.