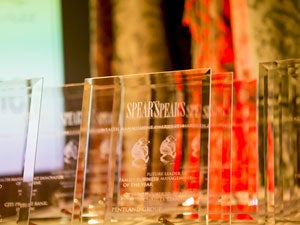 The shortlists for the Spear's wealth management awards have just been published, and show a private client world in excellent health, writes Spear's
It's the most anticipated night of the private client calendar – a night of networking, champagne, and revelry. Hosted by Ed Conway, this year shall again see the great and the good of the private client world gather at the Dorchester Hotel on 6th November.
And now we know a bit more about the likely winners. Once again, Spear's experienced a flood of interest in its awards, and after a rigorous selection process, has produced its list of those whose stars most shone in the private client firmament this year.
This year's shortlist closely tracks our research in our industry-leading indices across the categories of Property, Wealth Management, Tax and Trusts, Family and Reputation Management. We also have additional categories in Philanthropy Advisor of the Year, as well as Family Offices Services Provider of the Year.
Our popular future leader award this year includes those who service HNWs in both the wealth management and the legal industries. Last year, the award went to Veritas' Cordelia Bowdery but this year talented lawyers Lucy Gould of Stewarts and Harbottle & Lewis' Chris Moorcroft are also eligible for it, reflecting the breadth of young talent across the private client industry.
We also have three special awards: our Philanthropist of the Year Award which was last year won by Malcolm Joyce for his work in relation to the Alzheimer's Society; our Entrepreneur of the Year award which went last year to Angus Macdonald in honour of his immense contributions to business; and Outstanding Achievement of the Year award, which went last year to Gerard Tyrell of Harbottle Lewis on account of his contribution to the field of reputation management. All these will be announced on the night.
This is another exceptional list with both repeat nominees – both Stonehage Fleming and Citi Private Bank have a chance to lodge a hat trick of victories in the Family Office Services and International Bank categories respectively – and with exciting fresh talent coming through.
On the same evening, Spear's shall also be launching its latest Spear's 500, it's market-leading guide into the private client field: the Spear's 500 2019 shall be bigger and better than ever before, with new coverage on everything from cryptocurrencies and hedge funds, to nannies and advisors in the life sciences spaces.
Without further ado, here are the nominees:
Property advisors
 Trevor Abrahamson, Glentree International
Camilla Dell, Black Brick Properties
Louise Hewlett, Louise Hewlett Properties
Guy Meacock, Prime Purchase
Richard and Sophie Rogerson, RFR Property
Ed Tryon, Lichfields
Family Lawyer of the Year
 Zoe Bloom, Keystone Law
Debbie Chism, Stewarts
Joanne Edwards, Forsters
Miranda Fisher, Charles Russell Speechlys
Renato Labi, HFC
Julian Lipson, Withers
Private Banker of the Year
Giles Crowe, Citi Private Bank
Rennie Hoare, Hoare & Co
Jeremy Knowland, Citi Private Bank
Quentin Marshall, Weatherbys
Christo Scott, HSBC
Helen Watson, Rothschild & Co
Private Bank of the Year (UK)
C Hoare & Co
Hampden & Co
HSBC Private Bank
Rothschild & Co
Weatherbys
Private Bank of the Year (International)
Citi Private Bank
HSBC
JP Morgan Private Bank
Julius Baer
Pictet & Cie
Future Leader in Private Client
 Kate Capocci, Smith and Williamson
Nicholas Dudley-Hammatt, HSBC
Lucy Gould, Stewarts
Stephen Kattou, Lincoln
Chris Moorcroft, Harbottle & Lewis
Family Office Services Provider of the Year
Chawker & Co
Keystone Advisers
KPMG
Owl Private Office
Smith & Williamson
Stonehage Fleming
Lawyer of the Year – Tax & Trust
 Robert Brodrick, Payne Hicks Beach
Jonathan Burt, Harbottle & Lewis
Jonathan Conder, Macfarlanes
Bart Peerless, Charles Russell Speechlys
James Quarmby, Stephenson Harwood
Nick Warr, Taylor Wessing
Lawyer of the Year – Reputation
Gideon Benaim, Simkins
Dominic Crossley, Payne Hicks Beach
John Kelly, Harbottle & Lewis
Nigel Tait, Carter Ruck
Dan Tench, CMS
Steven Tregear, Russells
Emma Woollcott, Mishcon de Reya
Case of the Year
To be announced on the night.
Private Client Accountant of the Year
 Paul Ayres, BDO
James Hender, Saffery Champness
Liz Henson, PwC
Nicola Roberts, Deloitte
Chris Shepard, Smith and Williamson
Iain Younger, Frank Hirth
Philanthropist of the Year
Winner to be announced on the night
Philanthropy Adviser of the Year
 John Canady, National Philanthropic Trust UK
Divya Gosrani, C. Hoare & Co.
Anna Josse, Prism the Gift Fund
George King, Maseco Private Wealth
Maya Prabhu
Chris Priestley, Withers
Entrepreneur of the Year
 Winner to be announced on the night
High Net Worth Asset Manager of the Year
Ross Elder, Lincoln Private Investment Office
Salman Haider, Citigold
Alan and Gina Miller, SCM Direct
Neil Moles, Progeny Wealth
Charlotte Ransom, Netwealth
Charles White, McInroy & Wood
Patrick Wilson, Credit Suisse
Ultra High Net Worth Asset Manager of the Year
Alex Bowden, Smith and Williamson
Charles Costa Duarte, Rothschild
Aastha Gurbax, JP Morgan
Nick Hornby, Cerno Capital
Michael Parsons, Wren Investment Office
Natasa Williams, LGT Vestra
Outstanding achievement award
Mark Bridges, Farrer & Co
Nick Hornby, Cerno Capital
Sandy Loder, AH Loder Advisors
Daniel Pinto, Stanhope Capital
Khaled Said, Capital Generation Partners
Mark Stephens, Howard Kennedy LLP
Helen Watson, Rothschild Wealth Management