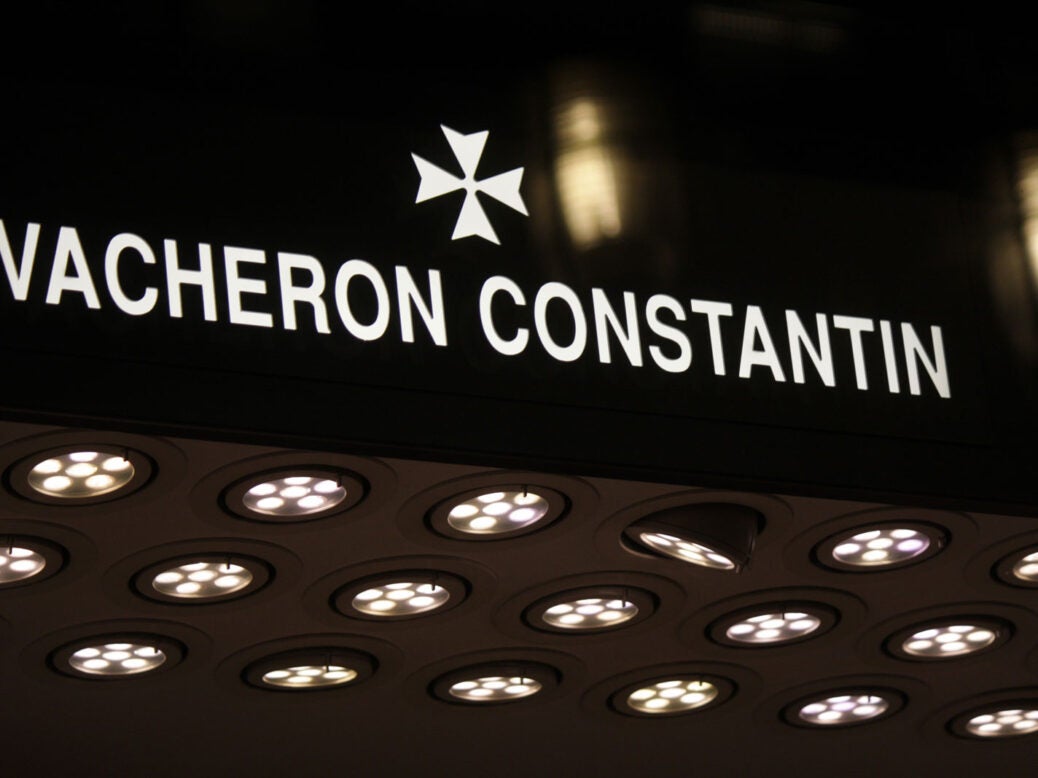 6-10 May 2015
Vacheron Constantin, the world's oldest watchmaker in continuous production, is working together with a number of leading cultural and governmental institutions to put fine craft firmly on London's cultural calendar.
London Craft Week, a brand new initiative that positions makers centre stage of the world's creative capital will open on Wednesday 6 May and run until Sunday 10 May. The event will bring together an unparalleled public programme celebrating fine craftsmanship across the city, where hidden spaces and lesser known makers will be revealed alongside celebrated galleries and luxury brands. Shining a spotlight on centuries-old skills and exciting new talent.
To mark the launch of London Craft Week, The Prince of Wales and The Duchess of Cornwall, visited the Art Workers Guild in Queens Square in February. Their Royal Highnesses were escorted by Master of the Guild, Anthony Paine, and by Guy Salter, founder of London Craft Week, to meet some of the UK's most sought-after craftsmen, industry leaders and makers at work.
Set up as a new independent non-profit initiative, with Guy Salter as Founder, London Craft Week is proudly supported by Founding Partners Vacheron Constantin, and includes strategic partners from Mayor of London, the Crafts Council, Arts Council England, Walpole and the Heritage Crafts Association. The week will run from 6-10 May and will continue to be an annual event; showcasing exceptional and innovative British and international craftsmanship.
Vacheron Constantin has always invested in the perpetuation of manual skills and recognised the value of apprenticeships; in fact basing its foundation in 1755 on the day Jean-Marc Vacheron signed a contract with his first apprentice. Pursuing its longstanding ties with the world of art and culture, Vacheron Constantin is committed to fostering fine artistic crafts that play such a key role in contemporary creativity, while highlighting the excellence achieved by combining these talents with those of design.
"Here in London, the entire breadth of human adventure is ours to admire. It is a journey to the roots of creativity and we hope that it will inspire a number of vocations. It is our responsibility to protect such skills. It is our responsibility to guarantee their longevity."
Juan-Carlos Torres, CEO Vacheron Constantin
As a demonstration of this commitment, Vacheron Constantin today regularly works with over 20 artistic crafts, some which are centuries old and on the brink of dying out and others which are innovative interpretations of traditional methods. Lapidary, glyptic, enamelling and marquetry are just a few of that are currently used at Vacheron Constantin. In 1995, to give visibility and pay tribute to artistic crafts, the Maison created a dedicated collection of timepieces named "Métiers d'Art", which remain a staple of the collection.
Additionally, Vacheron Constantin also supports and participates in various exhibitions around the world to initiate the public and stimulate future vocations. During London Craft Week, Vacheron Constantin's London Boutique will have live demonstrations of watchmaking and hand-engraving. Offering a rare chance to see one of the Maison's in-house artisans at work; visitors will also be welcome to try their skills.
Already patron of the European Artistic Crafts Days in France, Geneva and Milan for several years, Vacheron Constantin wants to continue its commitment here in the UK, a country that is distinguished by its craftsmanship of excellence. Offering the opportunity for the public to understand the history alongside the current offering of the Capital's craftsmanship and interacting with makers will help to make it a known, understood and preserved profession.
London Craft Week will challenge the perceptions of craft and showcase the artistic and creative ingenuity of craftsmen and makers through a 'seeing is believing' programme of openings, demonstrations and exhibitions. Themed as a discovery of hidden crafts and the spaces in which they are created, the week will allow makers to show their skills and share their knowledge. Visitors will have special access to studios and workshops, galleries and shops, and will be able to engage first-hand with the process of making in a variety of different ways to better understand the context of how things are made and why they are so sought after.
In addition, a wide and growing number of partners have come together to augment the programme with their own activities. These include the headline show COLLECT fair presented by the Crafts Council, the Heritage Crafts Association's 'A Place for Craft' conference at the V&A, Crafted, Savile Row, Contemporary Applied Arts, the Heritage Crafts Association's 'CRAFT' photography exhibition, as well as many makers with open studios. Furthermore, the Arts Council England has offered a grant for London Craft Week, with which an outdoor craft pavilion will be constructed. This will become a hub for lectures, dinners and special events around which the topic of artistic craft will be brought to the table.
At the V&A Museum, a long-awaited for exhibition, entitled "What is Luxury" will be running from 25 April – 27 September, presenting exceptional examples of contemporary design and craftsmanship alongside conceptual projects that interrogate fundamental notions of luxury, its production and its future. An exploded movement and heritage timepiece from Vacheron Constantin will be included in this exciting triennial exhibition, which addresses how luxury is made and understood in a physical, conceptual and cultural capacity.
"London has long had a Fashion Week and a Design Festival. From 2015, it will have the equivalent for the craft sector: London Craft Week. Featuring the artistic flair, painstaking skills and raw talent of exceptional craftsmanship and, as a result, attracting an ever-increasing quality and volume of collectors and customers."
Guy Salter, Founder & Chairman of London Craft Week
For the inaugural year, central locations such as Mayfair and Bloomsbury will be the primary focus; historical hubs of industry and craftsmanship, which continue to inspire new examples of creativity and skill in making. The programme has been carefully curated in order to adequately communicate the quality and magic of exceptional craftsmanship, in entertaining and enjoyable ways, focusing on a few core elements, each designed to engage with a particular audience.
"Celebrated throughout the world as a centre of creativity and innovation, London has a long and rich heritage of craft and designer-making, which do not always get the attention they deserve. London Craft Week will throw the spotlight on this vibrant and growing sector and the highly skilled craftspeople at work in our city today."
Boris Johnson, Mayor of London
Partner Activities
The week will encompass a selection of partner activities, which collectively start the process of bringing the rich story of craft to life. In subsequent years these will grow. Discussions are numerous and on-going.
In 2015, the following craft activities will be linked to London Craft Week:
•
COLLECT presented by the Crafts Council at the Saatchi Gallery, from 8 to 11 May 2015
•
The Heritage Craft Association's 'A Place for Craft' Conference at the V&A on Saturday 9th May (open to all).
•
The Crafts Council and V&As' triennial craft exhibition 'What is Luxury?' at the V&A, 25 April – 27 September 2015
•
Walpole Crafted Exhibition, Fortnum & Mason
•
The Heritage Crafts Association's CRAFT photography exhibition at The Prince's Foundation for Building Community, 7th–17th May
About Vacheron Constantin
Founded in Geneva in 1755 by Jean-Marc Vacheron, Vacheron Constantin is the world's oldest watch manufacturer in continuous production for 260 years. Founders of the spirit of fine watchmaking; the people of Vacheron Constantin continue to design, develop and produce exceptional timepieces true to the Maison's three fundamental pillars: perfectly mastered techniques, inspired and harmonious aesthetics, and an extremely high level of finishing.
Pursuing its longstanding ties with the world of art and culture, Vacheron Constantin is committed to fostering fine artistic crafts that play such a key role in contemporary creativity, while highlighting the excellence achieved by combining these talents with those of design. Today, Vacheron Constantin works with no less than 20 artisans and craftsmen who use their combined, rare talents to create some of the most exclusive time-pieces in the world.
The Manufacture is also a privileged partner of a number of cultural institutions such as The Royal Ballet School in London, the Institut National des Métiers d'Art and the Barbier-Mueller Museum Cultural Foundation.
Programme overview
Mayfair, home to some of the world's most renowned luxury brands that are celebrated for craftsmanship and quality, will provide many of the programme's initiatives this year. The New Craftsmen will be showcasing 'Made of Mayfair' – a project for which seven makers have delved into the history of the area to produce a new body of fine work.
This will include fine weaving from Catarina Riccabona, whose work was inspired by the renowned carver Grinling Gibbons whose magnificent carved wood altarpiece sits in St James's Church Piccadilly where Catarina will be in residence creating unique examples on her loom. Drawing inspiration from a very difference slice of Mayfair's history will be historic paint specialist Pedro Da Costa Felgueiras and stitcher and calligrapher Rosalind Wyatt who are joining forces to develop work that explores and celebrates the extraordinary life of one of Mayfair's best known courtesans.
Crafted at Fortnum & Mason will feature Walpole's Crafted alumni and its class of 2014 through demonstrations and talks by glass artist Michael Ruh, conceptual milliner Emma Yeo, ceramicist Billy Lloyd and leather saddler Mia Sabel among others. Bond Street stalwarts ETRO will run demonstrations by Serge Maury, renowned for his intricate paisley cashmere designs and DAKS will accommodate a small power loom from the London Cloth Company weaving scarves in their window.
A cutter and coat maker at Kathryn Sargent Bespoke Tailoring will 'deconstruct the suit' by demonstrating pattern crafting and master craftsmen James Ducker and Deborah Carré will set up shop in the window of Gieves & Hawkes, Vigo Street to demonstrate some of the 200+ rigorous steps that go into hand-sewn shoes. To top it off, visitors should go to Lock & Co to see behind the scenes of the world's oldest hat shop and learn the secrets of designer Sylvia Fletcher's acclaimed couture headwear.
Staying with couture and fashion the London College of Fashion will open its doors to unveil the secret tools of the trade in footwear and accessories innovation through a series of hands-on workshops. The workshop is held in association of the Maker Library Network, a collection of new creative spaces that enable makers to share resources.
Those who wish to learn more about art and craft they can literally wear on their skin, should head to tattoo artist Mo Coppoletta's parlour in Exmouth Market. Visitors will be treated to an insight into the work of the artists at The Family Business and one of London's most prestigious tattoo parlours that is celebrated worldwide.
Those after something more olfactory pleasing can 'Make Perfume' with Ormonde Jayne fragrances by blending and creating their own perfume or cologne with company founder Linda Pilkington. Candle maker Rachel Vosper will teach the history of chandlery and give visitors the opportunity to create their own scented candle.
Other highlights of the programme include glass blowing demonstrations by innovative and influential makers on the British glass scene at London Glass Blowing.
At The Wellcome Trust there will be tours of the Collection and talks by glass artists Max Lamb and John Lewis as well as the Heatherwick architectural studio to discuss their spectacular Bleigiessen sculpture collaboration that fills a 30 metre high vertical space and comprises 150,000 specially processed glass spheres suspended on almost one million metres of fine stainless steel wire. The sculpture glows with a kaleidoscope of colours.
Another collaboration born out of London Craft Week is Dovecot Studio (winner if Walpole British Luxury Award to Luxury Craftsmanship in 2014) at the British Library. Apprentice weaver Ben Hymers and master weaver and studio manager Naomi Robertson will demonstrate weaving techniques positioned beneath the vast Kitaj tapestry Dovecot produced for the library in the mid-1990s.
Cockpit Arts will host an Open Studio to showcase some of the 170 designer-makers that are part of this award-winning social enterprise and a specially created pop-up pavilion of making; The Crafted City will be erected to commemorate the inaugural London Craft Week.
Based at Contemporary Applied Arts in Bankside, once renowned as home to any craft or industry that was 'smelly, dirty or dangerous' from hot glass and leather tanning to hat making, the pavilion is created by 13 makers and will build upon this tradition with a contemporary installation. The Crafted City will act as a flexible and practical space to demonstrate the breadth of craft with dedicated workshops, debates and salons.
It will feature glass panels by celebrated architectural glass artist Kate Maestri and be covered in blue and white tin-glazed ceramic tiles that describe the London Thames through giant cobalt eels and other creatures by Daphne Carnegy.
For established and burgeoning collectors of Craft, COLLECT presented by the Crafts Council is a must. For four days the leading international fair that specialises in contemporary objects brings together collectible craft from galleries across the world to London. An unrivalled display of museum quality pieces from jewellery and ceramics to textiles and metal work will be offered for sale by selected established artists juxtaposed with the craft world's next generation of talent.
Picture: Heatherwick Studio, Bleigiessen, at the Wellcome Trust; Nadia Ricketts, Diamond Daze 2, Represented by Cockpit Arts