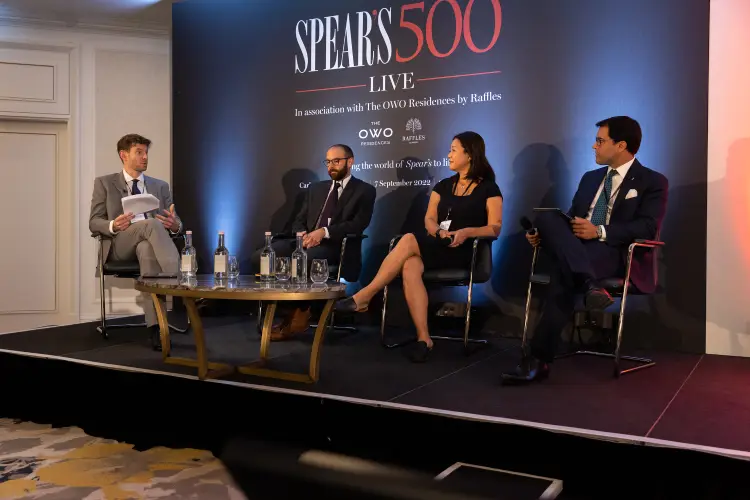 Despite a recent private equity boom, the asset class is likely to attract even more interest from UHNW investors, according to Blackstone Private Wealth Solutions principal Hector Moreno.
'If you look at the historical context and the performance of global private equity versus the MSCI World [a market-cap weighted global stock index], it's outperformed over the last 20 years by over 7 per cent annualised net of fees,' said Moreno, who was speaking at Spear's 500 Live in association with The OWO Residences by Raffles.
Despite this outperformance, (U)HNWs have been slow in allocating to alternatives compared to endowments and other institutional investors who have tripled their allocation to the asset class in the last 15 years, said Moreno.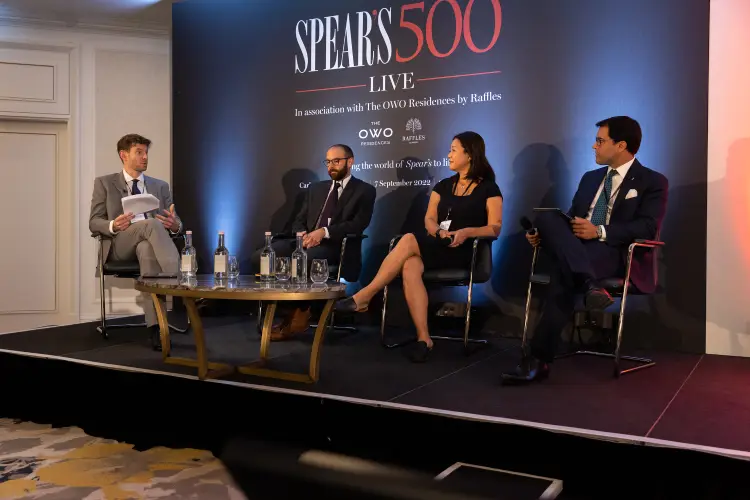 'If you look at an average allocation to alternative investments for HNWs and UHNWs it's less than 5 per cent, which is why we think we're still in the early stages of the alternatives super-cycle,' he continued, addressing the audience during a panel discussion, How to Construct the Perfect Portfolio in 2022, in association with The Royal Mint. 
[To find expert alternatives advisers, take a look at Spear's list of the best alternative asset advisers 2022]
When it comes to building a portfolio, some old rules of thumb are not yet obsolete, but they may be less important in 2022 than they once were, said Andrew Dickey, divisional director of precious metals at The Royal Mint. Dickey noted that the typical 60:40 equity/bond split had become 'a lot less relevant than it was in the past'.
Investors should consider the role of other assets in their portfolios, added Dickey, pointing out that the value of gold has increased by 10 per cent annually over the 20 years leading up to December 2021, while the FTSE100 has annualised around 5 per cent over that period.
'Don't forget that the Britannia coin and the [gold] sovereign are classed as legal currency here in the UK, so they are capital gains tax exempt,' he explained.
Dickey went on to challenge the 'misconception' that gold is an illiquid asset class. 'During the pandemic we've been working hard to reassure investors that they can sell back their precious metals 24/7 through our digital products,' he said.
When asked how much gold he suggests investors hold in their portfolios, Dickey pointed out that while the Royal Mint was not an investment advisor, the World Gold Council suggests a portfolio allocation of anywhere from 5-15 per cent, depending on the composition of the other assets.
Meanwhile, Dr Linda Yueh, fellow in economics at Oxford University's St Edmund Hall, outlined her tips for selecting the equities for a portfolio that could weather the anticipated headwinds of the coming months. 'One thing I think is important is to look at companies that do what economists call "dual optimisation" very well, meaning they control the bottom line while growing the top line,' she told the audience, pointing to the bursting of the dotcom bubble as a period that squeezed company growth and profitability.
'Even though there was tons of money coming into the space [during the dotcom bubble] Amazon ran a really tight ship, and the companies that are able to do that while also pursuing an innovation strategy are the ones to look at.'
Investors should also look beyond companies that are simply disruptors and consider whether a company can survive disruption, she continued.
'This is where public companies will often have an advantage over private companies. They already have market share, they have scale, they can innovate, but can they withstand disruption?'
Scale is also an advantage in private markets, Moreno pointed out. 'The larger you are, the more benefits that scale brings to you, whether it means you can finance yourself more flexibly and in better terms than your competitors, or whether it's because you have more proprietary data than anyone else does.'
Spear's 500 Live 2022 in association with The OWO Residences by Raffles was held at The Carlton Tower Jumeirah in Knightsbridge. The annual event brings the world of Spear's to life with a programme of panel discussions, keynotes and interviews with leading figures from the worlds of finance, economics, wealth management, law, tax, philanthropy, education, luxury and more. 
The event was sponsored by Butterfield Mortgages, CAF, Finance Malta, IQEQ, MOXO, the Oeno Group, RAK ICC and the Royal Mint.
Watch the full interview with Andrew Dickey: