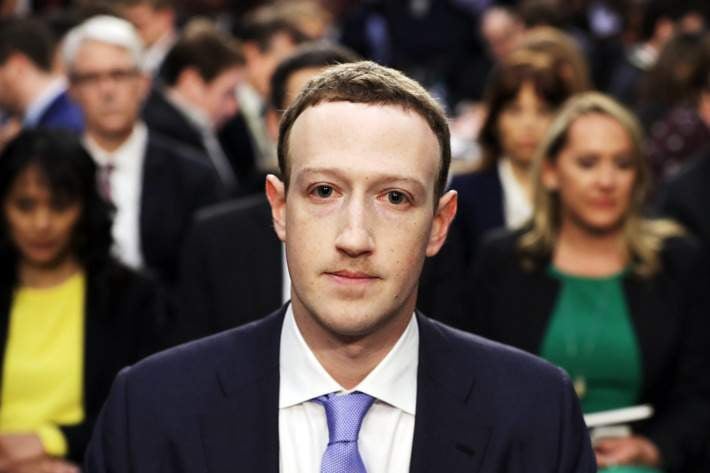 Mark Zuckerberg's awkward encounter on Capitol Hill contains interesting lessons for CEOs, writes Rasika Sittamparam
Facebook billionaire Mark Zuckerberg's hearing before the House Commerce Committee was the stuff of the modern CEO's nightmares: a two-day interrogation before 100 lawmakers of the United States with real reputational issues at stake. In fact, it was a moment so important for the 33-year old's public image that he didn't mind being 'overbriefed', even hiring the help of a former special assistant to President George W. Bush, just to be sure.
But there were slips-ups still – though not all were made by Zuckerberg himself. The interrogation was streamed live, and the world watched on with wonder at the gaffes committed by an ageing Congress who struggled to understand the basic workings of the tech mogul's company. A famous moment even turned into a meme: Senator Orrin Hatch of Utah asked Zuckerberg how the free social media platform media made its money, to which he replied with a smirk, 'Senator, we run ads'.
But his occasional smiles were only transient, and more or less eclipsed by the spectacle of the billionaire in considerable stress. Despite the prep, the young CEO was caught off-guard by a series of questions about the privacy threats his product poses to its 2 billion users worldwide.
The New York Times dubbed the event an 'apology tour' as Zuckerberg apologised for the company's links to Cambridge Analytica – the firm accused of meddling during the 2016 US presidential election. That wasn't all: he also had to answer to allegations that Facebook had been negligent in letting 87 million users' personal data be used to flame up political unrest in Myanmar. Congress members wanted more than plain remorse. 'After a decade of promises to do better, how is today's apology different?'
However, a number of people considered Zuckerberg's emergence from the 'techlash' trial a win – Silicon Valley denizens being among them. Chris Messina, a Silicon Valley entrepreneur best known for starting Twitter's hashtag craze, considers Zuckerberg's appearance a symbol of the dawn of 'technocratic' power in Washington. 'In some ways, it felt like I was rooting for our person from Silicon Valley, as controversial as he is,' he told WIRED.
Stakeholders seemed pleased too. Facebook shares rallied after Zuckerberg faced over 600 questions from the lawmakers – the CEO left the room $3 billion richer than before. The appearance racked up the company's valuation up 4.5 per cent to $479 billion.
Perhaps Zuckerberg's willingness to testify during the crisis demonstrated courage on his part. 'I started Facebook. I run it, and I'm responsible for what happens here,' Zuckerberg told Congress. Reputation lawyer Athalie Matthews from Withers' London office approved of his demeanour, telling Spear's: 'He presented as calm, respectful of the senators and genuine – like a wayward grandson submitting to an inevitable grilling by the grandparents.
'If Zuckerberg's appearance before Congress is anything to go by,' she added, 'then looking very young – and like you haven't slept for days – may be no bad thing when your company is undergoing a global crisis'. In Matthews' view, a crisp suit contributed to the rise in share price too.
However, not everyone was in awe of Zuckerberg's performance. David Engel, a reputation law partner at Addleshaw Goddard, notes that the young CEO frequently dodged difficult questions. 'It's a useful reminder to owner-managers of the reputational importance of being up to speed with the detail of the business when giving evidence in a public forum. The same would apply in a Select Committee hearing here in the UK,' Engel says.
He adds that for a figurehead like Zuckerberg, a thorough understanding of the details of the business is important: 'The fewer times you have to say, "I'll have my team get back to you on that", the better.' It's worth noting that Zuckerberg mentioned at least forty times that he had no answers at hand – no doubt to the lawmakers' rising irritation.
CEOs must not think the Zuckerberg saga is a one-off case. For instance, the Wall Street Journal recently made a call to give Amazon billionaire Jeff Bezos the 'Mark Zuckerberg treatment'. And perhaps any business collecting and utilising data from clients online should anticipate intense public scrutiny following the Capitol Hill interrogation from now on. One might compare it to a Panama Papers-style cascade effect, but in the data havens rather than the tax havens space.
But of course, Facebook isn't the only company holding your personal information. For instance, how much data are companies carrying here in the UK? Well, Digital Realty, a real estate investment trust, recently projected that UK companies will be holding data worth $135 billion annually, by 2025. Since most businesses today are unavoidably carrying terabytes of personal data, or are somewhat entwined in the complex net of Big Data, it might be that Facebook's predicament shall have a ripple effect across the corporate world. Quite likely it will, and UK CEOs can't afford to think of the Zuckerberg appearance in Congress as having nothing to do with them.
So what's the most important thing CEOs and owners of tech businesses should focus on to avoid a Facebook saga? 'The alignment of purpose,' answers Vincent Neate, a relationship expert from Relationship Capital Strategies. He explains that CEOs must revisit the value of the business they started, and bridge the gap between its original purpose and what it's inevitably grown into.
In that respect, Facebook seems to be the modern day Frankenstein, a radical diversion from the platform Zuckerberg created as part of his art history module at Harvard. 'I characterise the way Facebook has gone as entirely transactional – nothing matters apart from making the ad revenues,' Neate says. 'When Facebook started we all thought it was great because it didn't make any money and so it looked like it was all about us and our friends. So the founder/CEO should be asking who they most need to be properly aligned with from a purpose perspective – and it may not be the one paying the bills.'
Post-Washington, it's commendable that Zuckerberg swiftly owned up to his mistake, agreeing that he had a responsibility to ensure that the tools his business created are used for good from now on. Robert Philips, the founder of PR consultancy Jericho Chambers captured the current public sentiment, saying, 'The digital citizen is wandering around the equivalent of an 18th century turnpike, surrounded by what can feel like thieves, marauders & conmen.'
There was a degree of necessity in this apology: Zuckerberg knows that Facebook is built on a growth model, and that with billions of users already, the room for future growth may be limited. Furthermore, his business is dependent on its reputation – and that, it turns out, is a more fragile thing than he may have thought.
Rasika Sittamparam is a science & tech writer at Spear's