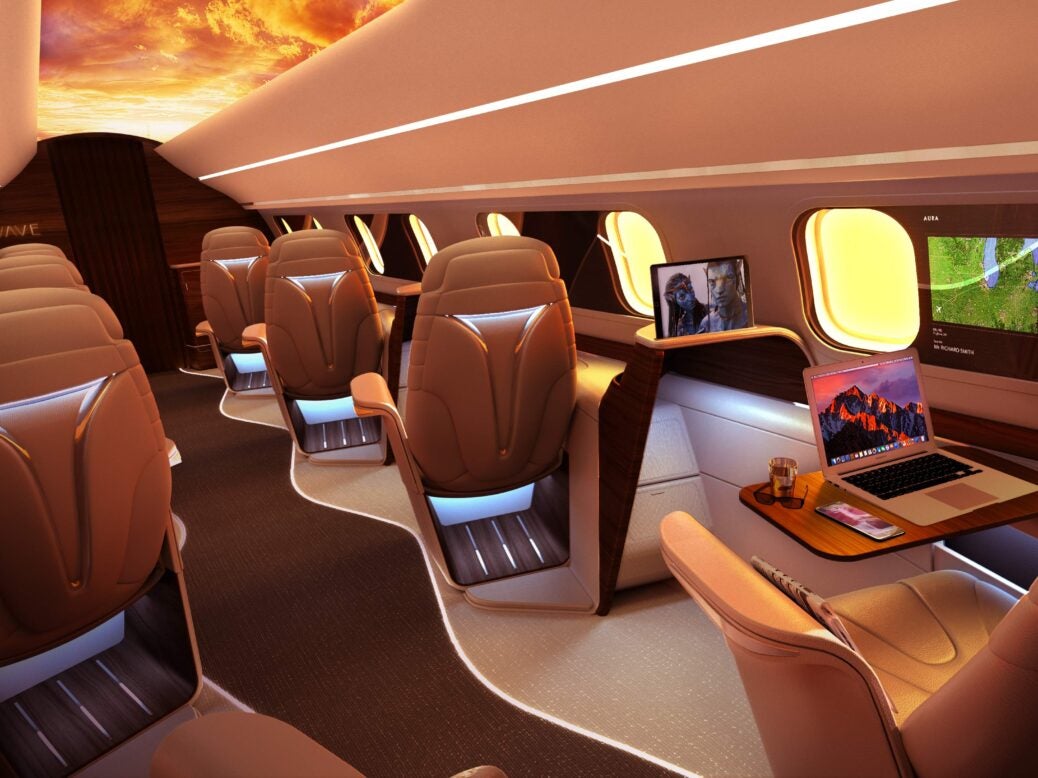 The partnership of two futuristic companies is about to change private aviation for the better
YASAVA Solutions SA, a leading design company based in Switzerland, was selected by US company ZED Aerospace to create the aircraft interior and exterior design for a new and disruptive air service, set to be launched in 2019.
The new service linking Miami, New York, Chicago and other key cities starting with CRJ700 aircraft is tailored for corporate and business passengers, and offers leading class service from private jet terminals. The Private Airline, called AURA®, is set to be a key disruptor in the US aviation market.
YASAVA created the WAVE® cabin, based on the bespoke AÏANA®WAVE seat. Personal space is optimized for ultimate relaxation. Generous cabin baggage space is provided without overhead bins, resulting in an airy open architecture.
YASAVA has incorporated OLED panels in the ceilings and on personal sidewalls, resulting in an emotive environment to match services and moods with adaptive aesthetics.
Unique cabin design elements and solutions are adapted from the ASTRAL® Design, which represent the ultimate cabin design solution available for corporate aircraft.
'We are very proud to have been selected by ZED Aerospace, for whom our innovative approach, design excellence, immersive 3D virtual technology and attention to detail were responsible in YASAVA being given the honor to create the WAVE® cabin", remarked Christopher Mbanefo, Founder & CEO of YASAVA.
'However, what ultimately made the difference was when the customer sat in the AÏANA®WAVE, and experienced a level of comfort coupled with our virtual reality expertise that was not only real, but beyond their expectation.'
Zander Futernick, CEO of ZED Aerospace shared Mbanefo's sentiment, 'We were really impressed with YASAVA's ability to take our requirements and elevate it to another level. The WAVE® cabin design is certain to establish a new level of service, optimized for AURA®, The Private Airline. We are so proud to have YASAVA on our team.'
Web www.yasava.com
YASAVA Solutions SA offers innovative solutions and design excellence for the aviation and transportation sector, based on proven engineering principles, intelligent ergonomics and incorporating socio-cultural design parameters. Based in Lausanne, Switzerland, YASAVA contributes to the traditions of renown Swiss precision throughout the
luxury global market, while respecting individual uniqueness and integrating principles of sustainability.
ZED Aerospace LLC, based in Miami FL, is launching a disruptive aviation service under the brand AURA®, which is set to be a disruptor in the US aviation market. The service will link key cities such as Miami, New York, Chicago and others, operating exclusively from private jet terminals. Launch is expected in 2019, initially with CRJ700 aircraft.