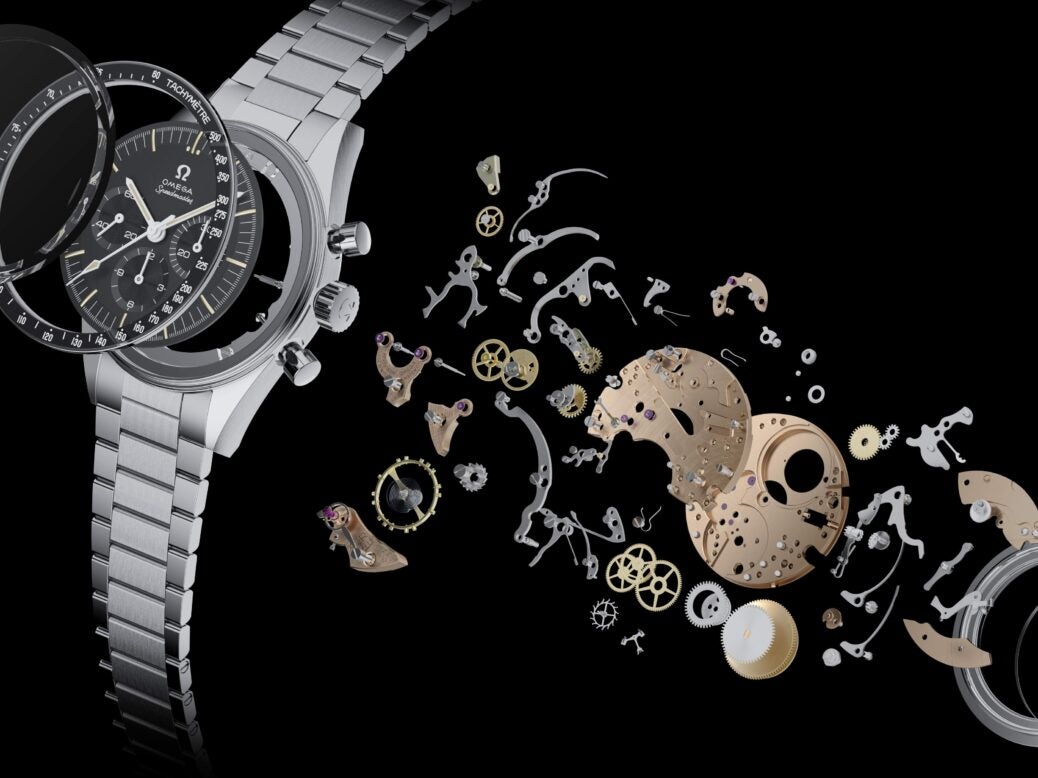 Half a century after it went to the moon, Omega's Calibre 321 movement is enjoying a relaunch that will delight watch purists, writes Tim Barber
For a certain generation of Brits, the numbers '3-2-1' will be forever associated with Saturday evenings, Ted Rogers and an animated bin – I still remember playground discussions as to the exact nature of Rogers' blink-and-you-miss-it 3-2-1 hand signal. Which is probably why I've never been able to take quite as seriously as some of my fellow watch nuts the fact that, in our world, those numbers hold a sacred significance, denoting a canonical part of wristwatch history. And it happens to have become a part of its present once more.
'Calibre 321' is the designation of an old watch movement at Omega – and arguably the most celebrated mass-produced movement ever, for those of us who do celebrate such things. It may not sound especially exciting to the non-watchophile, but we're a funny bunch, and for us the innards of a timepiece are where things really get exciting – it's where, after all, excellence in the craft of timekeeping really counts.
And Calibre 321 really was excellent. It was the hand-wound engine that once powered Omega's most famous model, the Speedmaster Professional chronograph – the one that went to the moon. Devised by the brand's sister company Lemania in the 1940s and refined and upgraded in Omega's workshops, the movement's precise and redoubtable design saw it withstand the brutal tests Nasa threw at the Speedmaster in 1964 when selecting a timekeeper for its space programme (the rival watches from Rolex and Longines didn't survive to the finish line).
Thus selected, it was the 321- powered 'Speedy' that accompanied Gemini and Apollo astronauts on their missions, their spacewalks and finally the surface of the moon. By the time of the moon landings, Calibre 321 had been phased out by Omega and replaced with a new-and-improved mechanism, Calibre 861, but, Nasa having already made its procurement, that never went to the moon.
Hence, among collectors, the Speedmaster with Calibre 321, the last of which was made in 1968, remains the definitive version of the most famous wristwatch. And it's back: last year, just in time for the 50th anniversary of the moon landings, a platinum-cased Speedmaster appeared – with a dial of black onyx and meteorite – containing a new version of this long-defunct engine. With a price tag of £45,000, it's a heavyweight showpiece for the devotees with the deepest pockets.
It's a steel
However, something aimed more squarely at the purists arrived in January, when Omega revealed a stainless steel Speedmaster in the classic style, with Calibre 321 beating away inside. It's yours for £11,300 – almost three times what you'd pay for the normal version of the watch, though near enough to what you might have to shell out for a good quality vintage version containing an original Calibre 321.
One difference is that the new version has a display case-back, meaning you can admire the satisfyingly complex architecture and inner workings of the movement. Nostalgia being one of the defining characteristics of our age and of Swiss watches in particular, it's a wonder that none of the brands has raised a celebrated movement from the dead before.
After all, carmakers Jaguar, Aston Martin, Porsche and, most recently, Bentley have been having success for a few years with handbuilt editions of discontinued classics, faithful to the originals right down to the tiniest engine bolts and screws.
However, as Omega's CEO Raynald Aeschlimann points out, putting an old movement back into production is not simply a case of dusting off some old blueprints. It effectively requires redeveloping from scratch something that was made in an entirely different way from the CAD-designed, laser-cut, spark-eroded movements of today.
'It took us two years of secret research and development to bring the Calibre 321 back exactly as it was,' he tells me. 'We needed every single component to be reproduced to its original specifications, which is a lot harder than you might think. To do that, we worked extensively with tomography technology on vintage pieces [a type of cross-sectional x-ray process], with original drawings and reverse engineering of the original movement.'
Of all the watch factories I've visited, Omega's is by far the most technologically sophisticated – an airtight, solar-powered, robot-assisted future-world that's as far from the traditional idea of horological handcraft as you can get without actually becoming fully automated. On the other hand, the assembly of Calibre 321 is a return to the old school.
Each movement – and, indeed, the cased-up watch itself – is to be assembled and fine-tuned by an individual watchmaker, in a workshop Omega has set up for the task. That's something you only otherwise get these days with small-volume brands at the top end of watchmaking. For the brand of the Olympics and Bond (big year, 2020), these specialist Speedies with the new-old movement will be a minuscule part of Omega's business.
However, Aeschlimann is all too aware that the purists are still an important part of the story. Now they have a watch just for them.
'There are passionate Speedmaster fans all around the world, and for many the Moonwatch with a Calibre 321 is the true Speedmaster,' he says. 'It relates to them on that historical and technical level, and trust me, they have been demanding it for years. So we knew it was something that deserved to be brought back.'
Read more
How Phillips' James Marks has shaken up the watch auction world
Why steel is where it's at in watches – Tim Barber
Tim Barber on the 'freaky, macho, high-tech' watches of Roger Dubuis