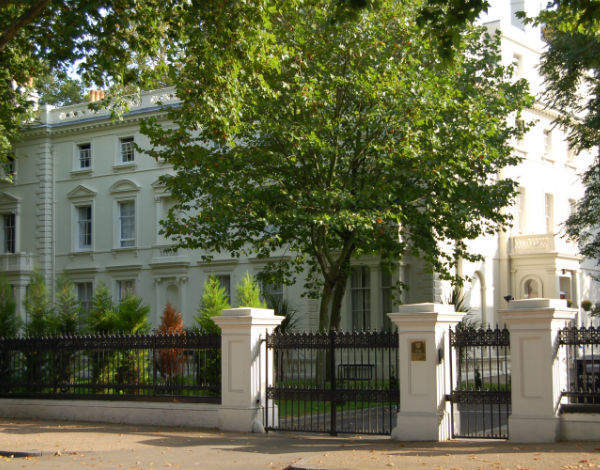 Author: Zahra Al-Kateb


In the latest Property Rich List 2014 from Zoopla, Kensington Palace Gardens has been named as Britain's most expensive street, with the average property worth £42,730,706 – 162 times the value of the average British home.
Just a stone's throw away from Kensington Palace, the street is home to several embassies and high-profile residents, including Roman Abramovich, Lakshmi Mittal and members of the Saudi royal family.
In second and third place are The Boltons in SW10, where the average house price stands at £26,570,341, and Grosvenor Crescent in SW1, with an average property price of £22,293,470.
The most expensive street in Britain outside of the capital is Sunninghill Road in Surrey, where the average home is worth a reported £5,605,067.
Kensington's W8 continues to remain London's most prestigious post code, with average property prices in the area at £2.8 million. SW7 (Knightsbridge) comes in at second place, with average values of £2.48 million. Chelsea's SW3 came third, standing at £2.37 million.
The two most expensive towns outside London are both in Surrey, with average house prices in Virginia Water at £1,186,262 and Cobham at £1,003,400.
Lawrence Hall of Zoopla said: "London boasts all of Britain's twenty priciest addresses. Prime properties in the capital have long been a magnet for the super-wealthy looking for a safe investment asset. For the lucky few who can afford these stratospheric pricetags, the fabulous mansions on streets like Kensington Palace Gardens and the Boltons are offering very strong returns."
The ten most expensive streets in Britain have seen property values grow by 12.9% over the last year. On average, the rest of the country has seen property values rise by just 6.6% over the same period.
Britain's Top 10 Most Expensive Streets:
1 Kensington Palace Gardens, London W8 (average house price: £42,730,706)
2 The Boltons, London SW10 (average house price: £26,570,341)
3 Grosvenor Crescent, London SW1X (average house price: £22,293,470)
4 Courtenay Avenue, London N6 (average house price: £16,877,746)
5 Ilchester Place, London W14 (average house price: £11,853,515)
6 Frognal Way, London NW3 (average house price: £10,974,043)
7 Carlyle Square, London SW3 (average house price: £10,846,481)
8 Montrose Place, London SW1X (average house price: £10,683,611)
9 Cottesmore Gardens, London W8 (average house price: £10,631,829)
10 Manresa Road, London SW3 (average house price: £10,362,420)