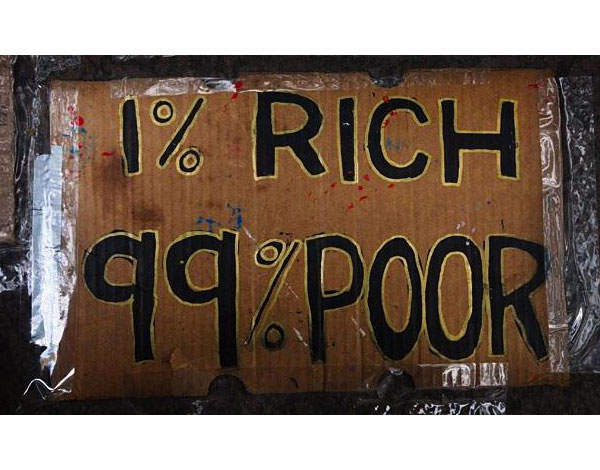 There is a war on wealth, so Robert Amsterdam tells us. Give me a break. If this is war then it's the most incompetently led battle since General Joffre decided the French could overcome German machine guns with just a little more idealism.
The richest 10 per cent of UK households hold 44 per cent of all wealth. The poorest 50 per cent, by contrast, own just 9.5 per cent. The bottom 10 per cent of the population have less than £12,500 in total wealth, while the top 9 per cent have £1 million or more.
In 2010-11 just 6 per cent of estates paid inheritance tax. The corporation tax rate is currently 23 per cent and will be reduced further to 20 per cent by 2015 – the lowest it has ever been in the UK, and the lowest in the G7. Non-dom tax status remains benign.
Last week I met a director of an accounting firm who told me, 'I have almost given up asking for things in the Budget: we have it all already.'
Since 1977 the UK's Gini coefficient – generally accepted as the benchmark for equality by those on the left and the right – has gone from 0.24 (where 0 is perfect equality) to 0.34 in 2012. 'The UK is now one of the most unequal societies in the modern world,' says the Equality Trust. In 1977 the top rate of income tax was 83 per cent: it's now 45 per cent.
This is in the face of what Janan Ganesh of the FT describes as 'the most sustained fiscal contraction since the Second World War'. The day Robert's 'war on wealth' article appeared, Janan wrote: 'It is all too easy for the right.' Mission accomplished.
Even outside the UK Amsterdam himself points out that President François Hollande failed to introduce a 75 per cent income tax, largely because the globalised wealthy now vote with their feet.
But this does not mean everything is sweet for the rich. Yes, there are dangers posed by invasions of privacy, and we must remain ever vigilant to retain competitive rates of taxation.
It is important of course to empathise with our clients, which is why, presumably, most trust and estate lawyers claims to despise estate taxes even though their abolition would be a disaster for them and income taxes are more harmful to economic growth. But this empathy should not blind us to the real challenges faced by the world, of which inequality is one.
Perhaps Robert is right to say there is 'a tremendous distrust of the wealthy'. Like any lobby group it is up to them, or those representing them, to make the case for them. Their contribution in terms of taxes, investment, jobs, and philanthropy are all real and compelling. I want the rich and their family offices in London paying taxes, employing people and investing in our social housing.
But as a public policy advocate of some fifteen years' experience I frown when I hear the refrain 'civil servants just don't understand us'. Why do you expect them to? You work in a complex world, they work in theirs. Only by explaining your case and its benefits in a rational, sensible, empirical way will you be heard.
And you need to do more. For far too long the wealth industry stuck its head in the sand, making a virtue out of the lie that they like to keep a low profile, for which read: We are hopeless at PR. The real leader in this field is Geoff Cook, a man who is facing down the myths about offshore and is not frightened to be the target of opprobrium.
To him language matters and Robert's language of 'war on wealth' is so over the top, particularly on the anniversary of a real, tragic, war a hundred years ago. This is the kind of language that obscures debate, that inflames, that divides. It is inimical to good public policy.
If the rich want to be dealt with fairly then they need to organise themselves and make rational and sensible interventions in the policy debate, not whine about a non-existent war. Perhaps mission not accomplished after all.
Keith Johnston is a founder of the Family Office Council, a membership group for single family offices