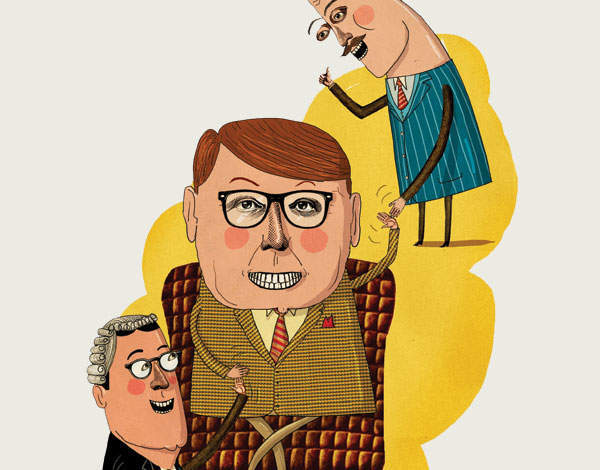 A few months ago, I found myself with a problem to solve. Nothing dramatic, but it involved understanding a number of laws and bureaucratic procedures in different jurisdictions and choosing the simplest option. In retrospect, I could have simply asked a lawyer for a professional advice. Instead, I picked up the phone and called my mum.
I'm not the only one to look up for a wise voice, it turns out. Private clients have been increasingly relying on so-called trusted advisers to run their businesses, organise their philanthropic efforts, plan succession and solve family disputes. The phrase 'trusted adviser' seems to have become the industry's latest buzzword. (Not necessarily a bad thing, as we were getting tired of hearing about boutique firms offering a bespoke but holistic service.) In the last issue of Spear's, for example, you may have noted that several lawyers and accountants in our Tax Adviser Index defined themselves as trusted advisers.
See who won the Spear's Trusted Adviser Award 2014
While these figures have always been around — think of François Leclerc du Tremblay, the influential adviser to Cardinal Richelieu and the person after whom the phrase éminence grise was coined, and Charlie Munger, Warren Buffett's right-hand man — consiglieri and strategic advisers have recently returned to prominence among HNW individuals and families.
Left unable to trust big financial institutions after 2008, private clients are looking for a loyal adviser who can keep an eye on their affairs — even the most personal ones. As lawyers, accountants and bankers are specialising in narrower and narrower areas of their work, HNWs also need someone who can focus on the big picture. 'People are not always looking just for an expert who knows the answer,' says Andrew Nolan, MD of Stonehage, an international multi-family office. 'They are also looking for someone with the experience and wisdom to ask the right questions.'
So how do you recognise a trusted adviser? According to Martyn Gowar — who as well as being a Spear's columnist is a veteran tax lawyer, partner at McDermott Will & Emery, a trusted adviser to a number of HNWs in London and winner of the Spear's Lifetime Achievement Award — they have a professional, rather than trading, relationship with their clients. 'They are not to do with the buying and selling of services, they are to do with the relationship of human to human,' he says. In other words, it's something more than paying in exchange for a service.
At the essence of this relationship, adds Gowar, are attributes like integrity, independence, (assumed) wisdom, loyalty and trust, both given and received. He admits, however, that few client relationships evolve to that stage. 'There has to be an element which goes beyond, almost into a friendship,' he says. This is crucial. Firms can market relationship managers as trusted advisers or hommes d'affaires as they wish, but it's the private client who will decide whether that person is their trusted adviser or just another adviser.
Charlie Hoffman, managing director at HSBC Private Bank, thinks it takes at least seven years to reach that status. 'In personal relationships, it takes often a long time to win confidence and for clients to really rely on the advice of their advisers. You're dealing with human relationships. It's like a marriage in that you never stop working at it.' Like a marriage, it's only by going through some tough times that the other person 'will recognise that you are on their side', adds Charlie Tee, a young tax and trust partner at Withers who hopes to become a trusted adviser.
Equally important in defining a trusted adviser is the nature of the advice, which should be outside the professional's main area of expertise — a lawyer advising on law is simply doing his or her job. A lawyer advising on how to tackle a dispute with the next generation is different. Also significant is how the adviser chooses to charge you.
Gowar recalls a client telling him: '"You know, Martyn, some of the work you do for me is worth £50 an hour and some of the work you do for me is worth £1,000 an hour, so I'll take the blended rate" — whatever I was charging at the time. He knew that I wouldn't be trying to charge him more than I would normally do and that the money isn't really the relevant factor. In fact, in some cases now where I have been the trusted adviser to a family but for one reason or another I'm not giving the legal advice any more, I probably don't charge at all.'
Clients in search of trusted advisers are in search of simplicity. According to the World Wealth Report 2014, by Capgemini and RBC Wealth Management, 42 per cent of HNWs in the UK prefer to work with a single wealth management firm, compared with only 8.5 per cent who prefer dealing with multiple firms. However, the study also found that the number of wealthy individuals who prefer to work with a single point of contact (26.4 per cent) is about the same as those who prefer working with multiple advisers (25.4 per cent), suggesting that perhaps the need is not as strong yet.
'They want creative thinking and you can't really do that when you have five different people to deal with, or five different firms. They all have great ideas but no one has the broader view,' says Sebastian Dovey, managing partner and co-founder at Scorpio Partnership, which conducted the survey.
Most of the time, the relationship between a private client and their trusted adviser develops naturally, with the HNW relying more and more on their lawyer, accountant or investment manager. Recently, however, some wealth management firms have instead started giving their clients direct access to someone who, they say, can become their consigliere.
Last year, for example, Vestra Wealth launched the Private Office. It is intended for the wealthiest clients and those with the most complex affairs, but it's also open to clients who don't have assets with Vestra but want to use it as a sounding board. The firm charges an hourly rate (normally £500) or a project fee (£10,000-100,000, depending on the complexity) — but, says senior partner David Scott, clients sometimes prefer to pay an annual retainer and contact the PO team when a problem arises.
Scott reckons this fee model ensures the independence of the advice: 'The main thing is that you're free from conflicts and that you charge for it on a separate basis, as opposed to giving that advice in the hope that you're going to get an investment portfolio to manage or some other way of making money.'
But perhaps we have already reached peak trusted adviser. The expression has become so common that some have moved on; Andrew Nolan says Stonehage prefers the phrase 'key adviser'. However, key advisers at Stonehage act more like troubleshooters and don't necessarily interact with clients directly on a day-to-day basis — they step in every time major decisions have to be taken (such as selling the family business) but otherwise the client works with a team of specialists. In other words, they have the role of a trusted adviser but without the personal relationship.
If your affairs are becoming too complicated and you feel you need a sounding board before making big decisions, a trusted adviser is what you may be missing. Just beware those who sell themselves as your next best friend. As Nolan says, 'Just using the words "trusted adviser" does not make you a trusted adviser.'
See who won the Spear's Trusted Adviser Award 2014