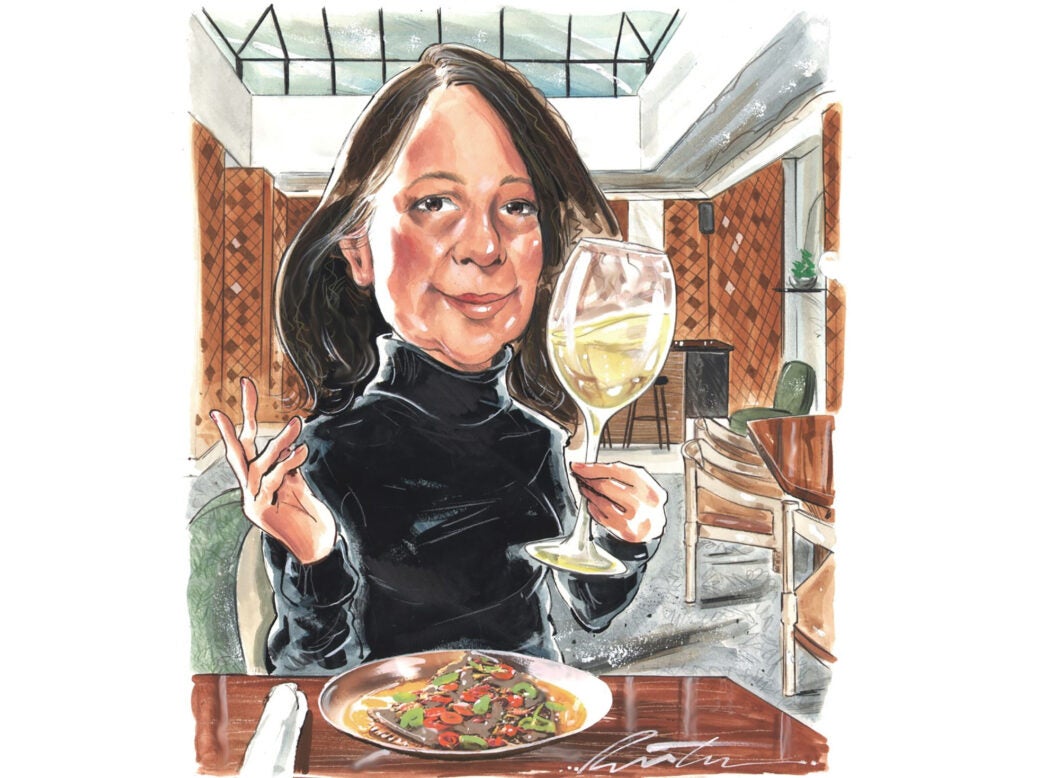 Oxford epidemiologist and lockdown sceptic Sunetra Gupta tells Spear's about how it feels to be at the centre of a global controversy
Lunch with eminent Oxford theoretical epidemiologist Sunetra Gupta begins with a discreet serving of hate. It's not on the menu at Da Henrietta in Covent Garden, but it's an unfortunate topic du jour for an academic who came to global prominence in October as one of the three co-authors of the now infamous Great Barrington Declaration.
Professor (of zoology) Gupta is checking her phone when I arrive, and discloses that she has decided to cancel her next interview, blaming the 'relentless smearing' that followed the publication of the declaration.
Named after the town in Massachusetts where it was written, the declaration contests the value of lockdown as a way of controlling Covid-19 and warns that its repercussions include 'lower childhood vaccination rates, worsening cardiovascular disease outcomes, fewer cancer screenings and deteriorating mental health – leading to greater excess mortality in years to come, with the working class and younger members of society carrying the heaviest burden'.
Instead, with co-authors Martin Kulldorff, professor of medicine at Harvard, and Professor Jay Bhattacharya of Stanford University Medical School, Gupta calls for 'focused protection' of vulnerable groups, leaving the rest of us – and the bug – to get on with it.
'Why would you arrest transmission?' she asks. 'To wait for a vaccine? You cannot get rid of it.' Gupta was invited to Great Barrington by Kulldorff at around the same time as she was becoming increasingly worried by the prospect of the imposition of another lockdown.
'We felt we needed to bring the costs of lockdown into sharp focus,' she explains. 'The fundamental issue [is] that we cannot afford to be in lockdown. By "afford" I don't just mean there isn't enough money in the coffers. The damage done is too profound – it's just a simple cost-benefits analysis. Once you recognise that, you then have to think, "Well what can we do?"'
To listen to Gupta (who also writes literary fiction) or to read the declaration is to be drawn into a fascinating thought experiment. Yet it hasn't been received that way: instead it prompted accusations that the authors were calling for 'age-based apartheid' and met a wall of anger.
'I've never seen anything like this,' she tells me. 'One of the reasons I moved to this country in 1987 from the States was this healthy tolerance.'
The waiter takes our order, steering us towards the chickpea fritters farinata and the buffalo mozzarella served in a pool of pesto oil. Both turn out to be delicious. Gupta then plumps for the grilled mackerel and I take the pasta with pecorino and pig cheeks. Italian white wine soon arrives. So far, so very good.
Gupta says the reaction to the declaration left her feeling 'shocked and dismayed, really hurt'. They were also accused of being unethical and had their scientific credentials attacked – 'by people who aren't in a position to do so'.
Worse still, their intentions were questioned. Yet what mystifies the quietly spoken academic most is the failure by peers to engage constructively with ideas enshrined in the document.
'I've no idea why it would not be taken seriously,' she says. 'It's up for discussion. It shouldn't be dismissed as unethical.'
The declaration has also been attacked by some for where it was written – at the American Institute for Economic Research (AIER), which espouses free-market capitalism.
'It irritates me in lots of ways,' says Gupta. 'One is that AIER is not a libertarian think tank, but also that, actually, I am also not very right-wing. But none of these things should matter. We are all keen on the common good – that's the basic concept. Being right-wing or left-wing is about how best the market can best serve those needs.'
I suggest politely that Gupta may be being a little idealistic. 'But also it ignores the fact that a very large segment of the left are behaving in an entirely individualistic way,' she opines. 'They're just being motivated by their own interests.'
That's as opposed to being motivated by the needs of the community – and therefore, she argues, against serving the common good, which goes to the heart of this Bengal-born scientist's beliefs: thus it would have been a 'dereliction' of duty not to voice her concerns.
And she admits she didn't know how to – until she was invited to Great Barrington: 'I just didn't know what the protocol was… what does one do? I didn't, particularly want to start a movement,' she adds wearily. 'I just thought it's a bunch of academics.'
In her day job Gupta already has her name on one influenza patent, she reveals, and is leading a team to crack the 'holy grail' in the field – a 'universal' influenza vaccine that works on all strains of the disease. This arose from a mathematical model of how influenza evolves.
'That's really my area,' she explains. 'I use mathematics to try to understand infectious diseases and in particular how they evolve – so how the bugs evolve and how we evolve in response. Because essentially at the heart of infectious diseases is an ecological interaction between two species.'
It's a sort of unholy dance, I suggest? 'Characterising the nature of that dance is my main preoccupation,' she replies. Over the starter we arrive at the subject of the touchscreens at Gupta's local doctor's surgery – and at Sainsbury's.
'There seems to be a fundamental misunderstanding of how we live with germs,' she declares, mystified. 'I must say I quite like having the hand sanitiser around.'
It sets up another thought – one that hints at her own understanding of the response to the declaration.
'It's quite curious how much has been invested in this performance of social distancing and mask wearing,' she volunteers. 'A culture has been created of virtue signalling and shaming and this culture is adopted by the academics, clearly. It still continues to completely astonish me when I find on Twitter that a close colleague or friend has essentially resorted to defamation.'
Back in March Gupta did not oppose the first lockdown – partly because there was not evidence to suggest it was harmful.
But the scientist did take a sharply different view from that of Professor Neil Ferguson at Imperial College London, who believed the virus was new and could kill up to half a million people without a lockdown.
She believed the virus had arrived sooner than thought and fewer people were dying from it. 'And actually that's very clear now that the infection mortality rate is a lot lower than what was being suggested,' Gupta says. 'And what is also becoming very obvious is that the infection fatality rate in people under 50 is practically zero.'
The 55-year-old adds: 'I certainly wouldn't alter my life for fear of [Covid]… I think there are benefits to it. I'd rather get it now than when I'm 75 or even when I'm 60.'
This prompts her to wonder why age is such a vital factor: 'I think a lot of it has to do with immunity that's granted against death and disease from exposure to other coronaviruses,' she says, before explaining that there are four other coronaviruses circulating in the population already.
'Everyone by the age of five would have been infected by them and then you get re-infected regularly but with no symptoms – maybe a bit of a cold. I think that should be our destination with this virus – but how do we get there?'
This is where she sees 'focused protection' as key: 'If it were to spread through the population normally, then it would settle down to the levels – the same dynamic we have enjoyed, if you like, with the other coronaviruses.' This could be accomplished within six months.
'Even if immunity only lasts for a year, you still have a standing crop of people who are immune that prevents you from being exposed to those who are infected if you are vulnerable,' she explains, noting regular reinfection will top up immunity. 'It keeps the risks really low – as low as any other coronavirus, which is clearly a risk we are all happy to tolerate. That's the reality.'
Another reality, which Gupta doesn't shy from acknowledging, is that most governments continue to prefer to control the virus with lockdowns, meaning the impact of the declaration was ultimately to stimulate rather more heat than light.
So what next? 'Now that we have a vaccine I don't see why we shouldn't open up straight away,' she asserts, though vaccines should be used with care. 'It's better to use vaccines to protect the vulnerable and for there to be naturally acquired immunity in the population, so they act synergistically to provide a wall of protection,' she says, noting: 'I want to see much more safety data before it is used on 20-year-olds.' (Interestingly, she declines to say which of the available vaccines she would prefer to have herself.)
Now she is focusing on gathering data on the impact of lockdowns and looks forward to an academically rigorous wash-up of the pandemic.
'The reason it needs to happen is so that we know what to do if this happens again,' says Gupta, 'or indeed under any other conditions where some form of total shutdown of society seems to be an option.'
She thinks we'll have a good idea within two years of what went right and wrong. By then some of the passion should have left the argument and hopefully the debate can happen in earnest, not umbrage.
Spear's had lunch in early December at Da Henrietta, Henrietta Street, Covent Garden, London WC2E 8QH
Illustration by Russ Tudor
More liquid lunch
Liquid Lunch with John Paton: 'I used to tell people it rained money'
Steven Pinker on coronavirus and capitalism