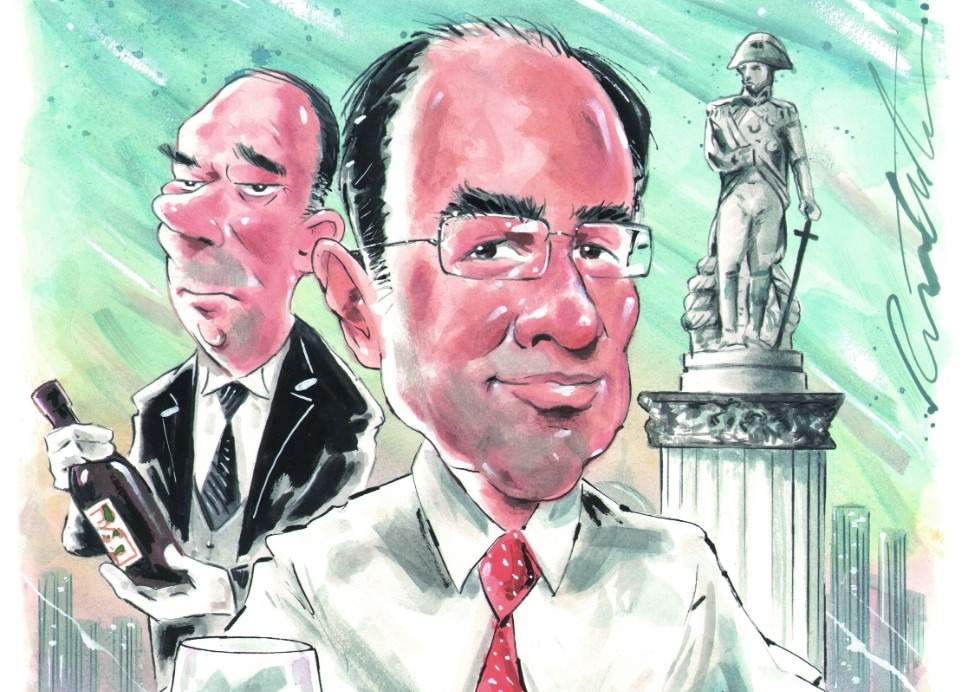 The former London Stock Exchange boss on the chances of recession, traders' working hours and a burgeoning relationship with Saudi Arabia. Interview by Edwin Smith
I thought I'd misheard the receptionist when she welcomed me to the offices of the asset manager CQS, on the western tip of the Strand. 'Take a seat, and our butler will come through to take your coat.' Our butler?
Sure enough, a moment later a chap appears in full morning dress and ushers me into a meeting room with eighth-floor views of Trafalgar Square. Two places have been set at the vast table: one for me, and one for the French CEO of CQS, Xavier Rolet.
In his previous post, Rolet was head of the London Stock Exchange. When he joined in 2009, it was worth £800 million. By the time he left, its value had skyrocketed to £14 billion following a string of acquisitions. In 2017 he was ranked among the 100 leading CEOs in the world by the Harvard Business Review, so when he became available his old pal, Australian-born hedge fund billionaire and major Tory donor Michael Hintze, brought him into the fold at CQS.
When Rolet sits down to join me, he says he still remembers the day the pair first met at Goldman Sachs: 'The 9th of January 1984. We were hired by the same partner and started on the same desk, sitting next to each other.' Rolet had an impecunious childhood in a concrete banlieu of Paris but, via Kedge Business School in Marseille and a stint in the French Air Force, he made it to New York. When he joined Goldman, he was 'fresh out of Columbia Business School. Very, very green behind the…' – he tugs at his ears – 'and ready to learn'.
The reunion with Hintze makes sense, says Rolet. As CQS has grown, reaching $18.7 billion AuM, Hintze wanted to make sure he could 'really continue to focus on the investment process'. If he is looking for an 'enforcer' to run the firm, perhaps Rolet is the right man. The Mail on Sunday noted, after his departure from the Stock Exchange, there were rumours of an 'abrasive' management style. Rolet acknowledged that he is a 'demanding manager', but professed to be 'a pussycat'.
When Rolet started in his current post in early 2019, he noted that large asset managers like CQS were taking more and more of the new money that was coming into the market. As the butler – a study in unobtrusiveness – sets down our first course of St Jude cheese with buttered asparagus, Rolet elaborates. 'That's the trend we're seeing.' Asset allocators want to reduce the number of counter-parties that they deal with for the sake of 'simplicity', but also because firms with scale can offer more. CQS has its own 'situation room', which collects and analyses geopolitical data, passing on insights to its clients.
But it's not just asset allocators that need help getting to grips with the geopolitical forces shaping the markets. 'It's one reason why some managers today are quitting,' Rolet says. 'You hear comments – you know, "These markets don't make sense to me any more", or "I'm returning all my money. I'm going to manage my family office, I'm done."' Often, this happens to the firms that fail to incorporate 'macro geopolitical analysis – which reverts extremely quickly today, and for which you need to have views'.
So, what does the firm's analysis reveal about the prospect of a recession? Last year the inversion of yield curves in the US raised alarm among market-watchers. Of the eight yield-curve inversions since 1965, seven were followed by a recession.
'None of us has a crystal ball,' says Rolet, making his way through the main course of lamb. Nor does CQS have a 'house view' per se, but 'most of our managers don't expect' a recession. Over the past 35 years, or even longer, recessions 'have always had the same root cause: a prolonged, accelerated pace of rate increase, particularly starting with the Fed, which has plunged a banking industry that was over-leveraged into a crisis situation, pulling the whole economy down with it. This is not where we are.'
Rolet's parents joined the French military without finishing secondary school. He spent some of his early years in Algeria during the war of independence before the family returned to a 'concrete hell' sink estate in Paris in the Sixties. He recalls housing units filled with fumes from oil fires (they lacked central heating). It was 'a modest, modest upbringing', but he learnt 'a certain resourcefulness'.
Rolet has certainly done plenty of hard graft to get where he is today. He recounts his days at Goldman, trading the US market during the day as well as two sessions of the Tokyo market – one from 8pm to 10pm in the office, and another from midnight to 2am at home. Then he would be back at his desk on Wall Street before 7am to do it all again. 'I see now the traders want to cut back the trading hours to reduce stress,' he says. He smiles, and adds: 'If you could do it, great. But it feels kind of remote from what we had to deal with 35 years ago.'
Now 60, Rolet still likes to do things quickly, which you'd expect of a man who has completed the Paris Dakar Rally four times and, with his wife Nicole, found time to create his own well-regarded winery, Chêne Bleu. When I glance at his plate, I see that – despite doing most of the talking – he has polished off his lamb, while I'm barely halfway through.
Over a dessert of chocolate brownies, salted caramel ice cream and strawberries, I ask about Saudi Arabia. First, whether we in the UK should regret the failure to bring the marquee IPO of the firm to London. 'Yes,' he says, 'It's bit of a missed opportunity. In part, it is linked to a lack of understanding of the pace of change and the recalibration of Saudi as a nation towards economic growth, technology and co-operation.'
By this point I have finished all but a morsel of my own dessert and our hour is up, but there are more questions to ask. I try to buy a few extra moments by leaving my spoon and fork splayed across my plate, turning the butler's own impeccable standards to my advantage. It works.
Rolet has met Saudi's de facto leader, Crown Prince Mohammed Bin Salman (MBS), and visited the Gulf of Aqaba to see the site of Neom, a planned mega-city and one of the proposed 'gigaprojects' that form part of MBS's vision for the kingdom. How does he square this with concerns over the murder of Saudi journalist Jamal Khashoggi, which the CIA has concluded was ordered by MBS?
'I can't comment on those particular specifics,' Rolet says. 'What I have seen, however, is a country of more than 33 million people that is looking to reform its economy and has made significant reforms in its social rules.' MBS has backed up his declarations with actions, Rolet says, and Neom is a $500 billion project. 'I can't recall a single project that was that large. Isn't that worth encouraging?' He adds that these are the sorts of opportunities that 'savvy investors' are looking at. It's his job to – somehow – find growth by 'being a little bit unconventional in our thinking; looking for the good, not just the bad'.
'Look,' he says, 'I don't want to be provocative, but over the last 150 years the track record of genocide, imperialism, colonialism, oppression and death that has plagued the world – Europe certainly holds the trophy.'
What's more, the Neom project could benefit the region economically, and 'even create a new political dynamic amongst neighbours'. 'Everyone will have to answer for themselves,' he says. 'At the end of the day, you know, we're all children of the same God living in a very small planet.' With that, I bring my cutlery together and, right on cue, the butler comes to clear our plates.
[This article was published before Xavier Rolet stepped down from CQS in January 2020]
Read more: