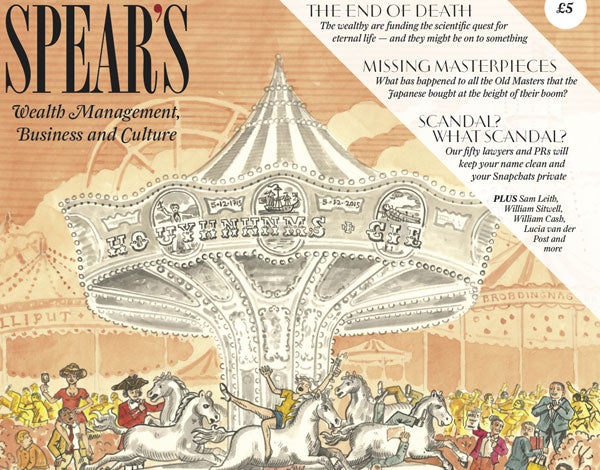 Ahead of our 10th anniversary our latest issue is now available on the newsstands
Spear's will now be appearing on newsstands. Issue 48 of the magazine will be available at a cover price of £5 and will be sold in selected stores across Central London and the West End.
The retail launch coincides with the upcoming 10th anniversary of the first issue of Spear's which initially started as Spear's Wealth Management Survey, a new website and the launch of The Spear's 500 on-line.
'From the news kiosk in Knightsbridge to the airport, the new retail positioning of Spear's will mean that we have a much more visible presence as the UK's most respected business and high-net-worth lifestyle title for its affluent and super-affluent readership,' said Founder and Editor-in-Chief William Cash. 'Thanks to our eye-catching covers by our celebrated cover artist Adam Dant, we expect Spear's to stand out at the newsstand'.
Following his acclaimed work for the government as the official artist of the General Election, Dant has been commissioned by Spear's to create a special Gulliver's Travels themed cover for the launch of the retail issue in mid-December. Dant won the Jerwood Prize in 2002 and has illustrated every Spear's cover since the publication launched in 2006.
The first newsstand cover will celebrate the 300th anniversary of the end of Gulliver's journey: 5 December 1715. Dant's new Spear's cover depicts an updated Gulliver's odyssey in which the hero navigates the hazardous international carousel of the wealth management industry. Gulliver's homecoming after 16 years abroad makes him a 18th century version of a Non Dom 'returner' – a satirical nod to the new UK government's Non Dom rules affecting such high-profile bankers as Stuart Gulliver, CEO of HSBC.
Subscribers to the print edition of Spear's (six issues a year) will also receive a complimentary copy of The Spear's 500, our flagship 'private client' reference guide to the top wealth managers, lawyers and family offices in Europe, as well as recommending the top luxury lifestyle companies servicing the high-net-worth community.
Spear's move into retail coincides with the title's 10th anniversary and the 50th issue in spring 2016 Named 'a European rival to Forbes' by the Evening Standard, Spear's aims to provide an informative, entertaining guide to all aspects of the UHNW lifestyle. The first issue of Spear's was launched in May 2006 in the London HQ of HSBC Private Bank following a pilot edition published in December 2005 as a supplement with the Annabel's magazine sent to all 15,000 members of the Birley clubs.