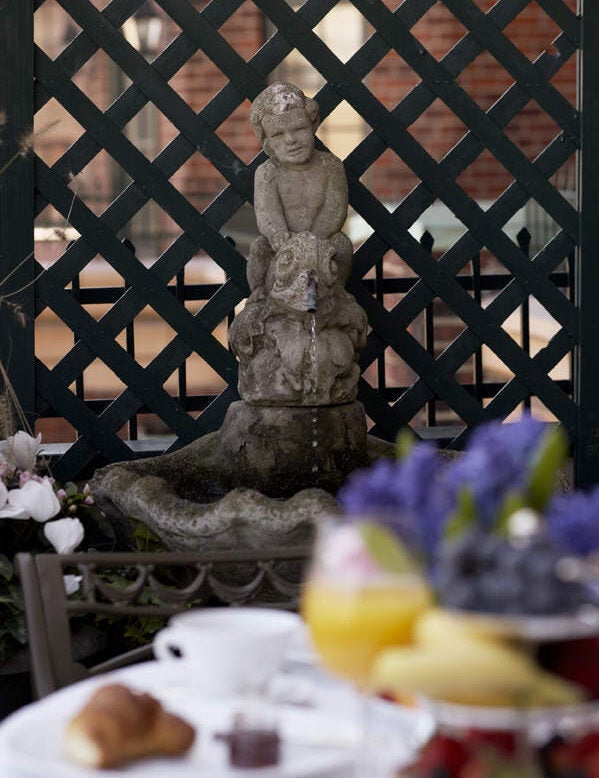 As you can see in this article, I was in New York earlier this year investigating whether the rise of the $100 million apartment means the decline of an old, uniquely New York-ish property cult.
While I was there, I enjoyed the kind hospitality of a hotel which embodies another New York-ish property cult: the worship of the English style. The Lowell, on East 63rd Street between Park and Madison, a townhouse hotel, is a home-from-home for Britishers on business or pleasure.
The designer of the bedrooms could not in fact be more perfectly in tune with American taste – Michael Smith decorated the White House for the non-Anglophile Obamas, who of course sent back the bust of Churchill from the Oval Office. Yet his style is quintessential country house: paper-thin Persian rugs, cashmere throws, oaty-biscuity-mallowy colours.
Pictured above: Manhattan suite bedroom, The Lowell
Over a most civilised breakfast with Ashish Verma, The Lowell's general manager, I observed my elegant, carefully put-together fellow diners, who seemed ladies of a certain age and status. The conversation was quiet, almost whispered, reflecting and creating the hushed dignity of the hotel, highly reminiscent of the peace that prevails over breakfast in the country. (Contrast the Four Seasons, where I also stayed in New York: breakfast there is loud and deal-driven.)
I particularly liked The Lowell's dark-wood lobby, where you can take up residence in a cosy corner and steal sweets from a laden tray or turn the tap on one of those traditional lemonade-dispensers – you know, an engraved silver tag hangs around the tap. At the height of New York's summer heat, when all the sane had fled, this coolant made perfect sense.
Pictured above: Garden suite terrace, The Lowell
As for its location, well, that was quintessentially New York, just down from the Park Avenue Armory, where Paul McCarthy's orgiastic film interpretation of Snow White was showing. (Is this the first time 'The Lowell' and 'orgiastic' have been used in the same piece? I suspect so.)
Read here for more on the Park Avenue Armory from Spear's
The Lowell could not have been more accommodating, and they deserve particular praise for not batting an eyelid when I checked in, sweating in the summer swelter like Al Capone under the feds' cross-examination. I was even wearing shorts. Like most good English institutions, they were unruffled.
The Lowell, 28 East 63rd Street, New York, New York 10065. For more information, see lowellhotel.com