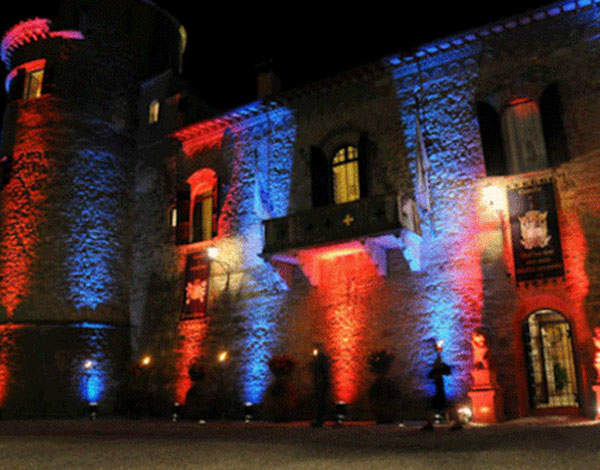 The Castle (XII-XV-XVI-XIX century) is currently owned by an Italian Noble family. It's an ancient fortress of medieval origins that has recently undergone major restoration works, structural preservation and artistic recovery by the present owners. With its three towers and imposing stone walls, dating back to the twelfth century, it dominates the surrounding valley.
Its manor features three ages:
The Early Middle Ages (12th century) – some of the remains can be still found in the large tower and the defensive walls (with their barbican) which can exceed three meters in depth.
The Renaissance age (15th and 16th century) – with its Keep or Tower of the Spouses which is connected to the core area of the castle.
The Gothic Revival age (19th century) – with it's Belvedere Tower overlooking the ancient village.
The frescoes in the noble level and in the towers, the furniture of great historical and artistic importance are testimony to the feudal and noble origins of the whole site.
In the cradle of Italian civilisation with its scenic backdrop marked by olive trees, meadows, forests of oak and chestnut trees, featuring thousands of years of unspoiled landscape, the real 'old heart' of Italy. It has seen the dawn of Italian art and culture but still has ties to the Modern world. Many famous characters from Italian History have graced it's halls.
This is the Magic of this magnificent Castle.
The suites and lounges, all unique, the beauty of the bathrooms (miraculously made within the walls of unusual thickness) the rooms and halls with painted and vaulted ceilings, enhanced by the magnificent Venetian chandeliers of past ages, the ancient paintings and ceramics, give the visitors a sense of pleasure, admiration and wonder that this is, in fact, 'Made in Italy' at its finest.
For further information about this unique property please visit our website here or contact us directly on +44 (0)1279 260360 or mvendone@casadasta.eu.