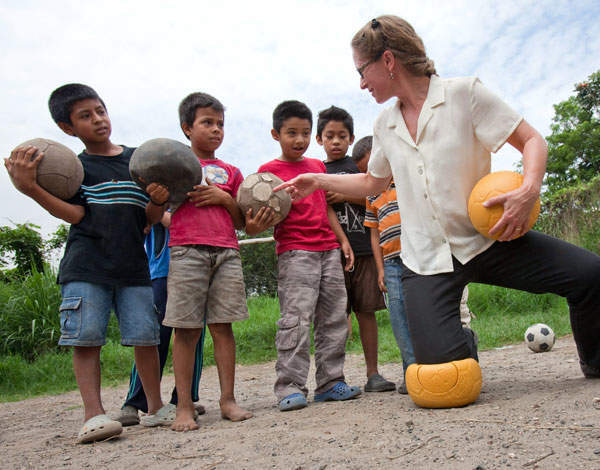 Tim Jahnigen has reinvented the football. He picks up his creation and slowly squeezes it flat between his sizeable palms. A slow hiss and seconds later it has reinflated, completely unblemished. The bounce, weight and feel are the same as any of the latest hi-tech offerings that sell for over £100, but this ball was not designed to grace the trim turf of the Maracanã.
It is 'the world's first nearly indestructible football', and by providing millions of them to impoverished children worldwide One World Futbol hope to change lives.
Equally as innovative has been Chevrolet's philanthropic partnership with the project. Together Chevrolet and One World Futbol hope to deliver 1.5 million balls over the next eighteen months to change the lives of more than 45 million children globally.
Read more on philanthropy from Spear's
For the giant motor brand, it's all about being seen to support a good cause rather than trying to sell cars: 'We've donated balls in more than 55 countries affecting the lives of an estimated 21 million children,' says John Gasloli, senior manager at Chevrolet Global Marketing.
'What's new for us is working on one effort around the globe. We believe the act of play is a fundamental human need that transcends cultures and impacts all ages. Through our partnerships with One World Futbol Project, we are harnessing the passion for play to bring everyone closer to the game.'
But getting the story behind the charity out is difficult in a space so crowded as international football, especially as the Brazil 2014 mass marketing circus is about to roll into town: 'The World Cup is a very cluttered and complicated environment to directly promote the One World Futbol Project,' Neill Duffy, chief catalyst of One World Futbol, tells Spear's.
Read more on the World Cup from Spear's
But that hasn't stopped them launching initiatives on the ground in the Brazilian market including Futebol Social, love futbol and Lionsraw, all movements aimed at empowering disadvantaged communities through sport. Duffy identifies a mutual 'ecosystem' in which both brands can benefit from 'the opportunity to add a layer of purpose and engagement with the communities in which they do business'.
That 'opportunity to contribute towards delivering real social impact and to better tell a brand's story by placing them at the centre of the rich human interest stories' will no doubt get Chevrolet some nice ethical kudos, refresh a product-framed brand and (most importantly) genuinely benefit the lives of disadvantaged millions.
With the carnival of the World Cup just around the corner, there's never been a better time to demonstrate the benefits of good corporate philanthropy.