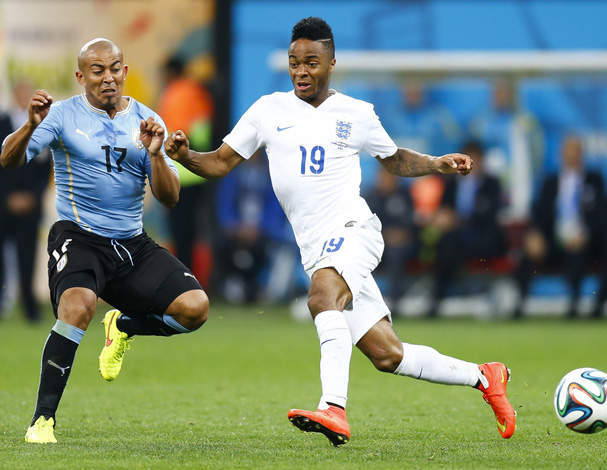 Author: Suren Prasad

Born on December 8, 1994, Raheem Sterling earns an estimated salary of £10 million per year.
His rendezvous with football began at Queens Park Rangers' (QPR) youth team, where he started with £400-a-week. He was then lured to Liverpool by Rafael Benitez for £2,000-a-week in 2010, with the Merseyside team buying him for £450,000.
On a goal-scoring spree, Sterling found the net five times against Southend United in February 2011 (a 9 – 0 runaway score for Liverpool).
At the age of 17 in March 2012, he became the second-youngest footballer to make his senior debut for Liverpool. Sterling was given his first full start against Manchester City in August 2012.
He scored his first senior team League goal against Reading in October 2012, which made him the second-youngest player to score in a competitive match for Liverpool.
His rapid rise through the Liverpudlian ranks saw Sterling rewarded with a £35,000-a-week extended contract on December 21, 2012.
In November 2009, Sterling first played for the Under-16 England team against Northern Ireland.
He represented England in the Under-17 World Cup in 2011 and also played for the Under-21 squad. His senior England team debut was against Sweden in November 2012.
Sterling was bestowed the Liverpool Young Player of the Year award for the 2013-14 season. He also made England's FIFA 2014 squad, with the BBC rating Sterling as England's best player for that campaign.
In June 2014, Sterling was offered a new £100,000-a-week five-year contract by Liverpool which he turned down. Then, in July 2015, Sterling was finally let go by Liverpool for £49 million as he signed a contract on July 14 with Manchester City for a weekly salary of £200,000.
Debuting in the 2015 International Champions Cup against AS Roma on July 21, Sterling went on to score within three minutes of the match commencing. His first hat-trick reflected a sterling performance against Bournemouth on October 17, 2015 in a 5 – 1 win for City.
He has a sponsorship deal with sportswear company Nike and modeled for the Nike Mercurial Vapor IX football boot campaign in January 2013.
Sterling's yearly salary is currently estimated to be £10.4 million.