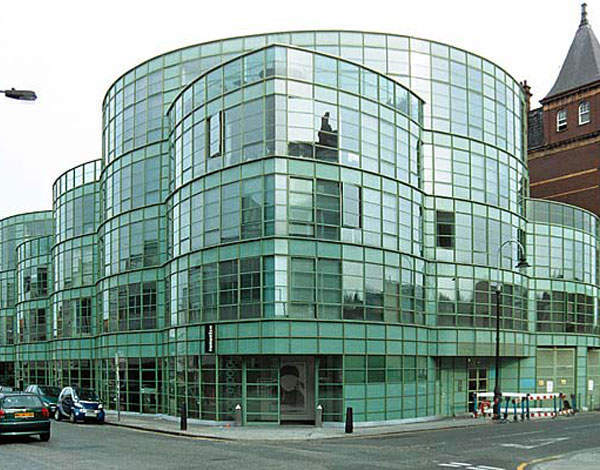 WINDOW PAINS
An Englishman's home is his castle. Unless, that is, he lives in a new apartment in Central London (and beyond), in which case it is his greenhouse: every luxury flat is walled with glass, often floor to ceiling. Earn a bit of money, make a success of life and it is easy to see why you should want to show off a bit, buy a trophy house, drive a flash car. But does that really have to involve exposing the world at large to your bathrobe?
Or even more. A group of residents in Brighton recently celebrated victory at the High Court over neighbours who had taken to showering in full view of the street. The offending neighbours had built a new house with fashionable plate glass windows backing on to more traditional houses. Fed up with covering their children's eyes, they clubbed together and took the case to court. Brighton and Hove council has now been ordered to take enforcement action, obliging the window to be blocked up.
Yet London's prime residential districts remain a voyeur's paradise. Were one minded to take a pair of binoculars around Knightsbridge and along the Thames, it would make for some interesting viewing. In fact, forget the binoculars: many of the glass-fronted apartment blocks which have sprung up over the past decade are within a naked eye's ogling distance of the street.
It does rather raise the question: aren't plutocrats and off-duty celebrities supposed to be jealous of their privacy? They don't like it when their phones are hacked, so how come they are happy to live in glass-fronted apartment blocks, in many cases without any blinds?
This ubiquitous type of block is a triumph of architectural purity over practicality. There is nothing like a shimmering glass wall to soften the appearance of an otherwise bulky building. Lit up from the inside, a glass building makes a statement of liveliness that is absent from brick and stucco mansion blocks. And of course, when you are inside there are the views — assuming they are of something like the Thames and not, as in some cases, the Vauxhall gyratory system.
But it does seem remarkable that anyone should be sufficiently bamboozled by architects' drawings and photographs to shell out £10 million for a home with rather obvious faults. It doesn't take much, surely, to work out that if you can stand in your living room and enjoy a panorama of the world going by, the world is going to be able to see you.
THE GREAT EXHIBITION
Or maybe that is what some of us want. Ed Mead of Douglas & Gordon recalls the case of Knightsbridge residents upset by a famous neighbour who used to 'prance about with nothing on' in his flat. 'He didn't care and there was nothing they could do,' he says. Except, presumably, let their flat to a paparazzo.
It is the same with glass-fronted apartments by the Thames. It isn't that it hasn't occurred to occupants that they can be seen; they just don't care. For every extremely wealthy person who seeks privacy, there is also a slightly less wealthy wannabe billionaire who wants to broadcast their arrival in the land of the rich — something I only grasped when I read Philip Beresford, who compiles the annual Sunday Times Rich List, thanking all those people who, as usual, had sent him photocopies of their bank statements in a desperate bid for inclusion.
It is, though, a peculiarly British thing, says Mead. While home-grown show-offs display themselves in their lower-floor flats, Far Eastern buyers prefer the higher floors. Then again, life is all very well in a fifteenth-floor penthouse until someone comes along and builds a twenty-storey building next to it. In the current fad for high-rise buildings, you would have to get up to the 87th floor of theShard before you could be reasonably confident nothing taller will be built next door.
None of this, though, addresses some of the other drawbacks of glass buildings: their poor insulation and, as we found with the Walkie Talkie building in the City last year, the tendency of some of them to reflect and focus the sun's rays on to hotspots on the ground — in one instance partially melting a Jaguar parked in a nearby street. That was a lucky escape compared with the guest in a Las Vegas hotel who complained that his head suddenly started burning as he lounged near the pool.
Voyeurs, high heating bills and scorched heads: yet for some reason the great boom in glass-fronted apartment buildings shows no sign of abating. Somehow, I just can't see developers going to the market with a glossy brochure showing £10 million flats adorned with nothing but little portholes.