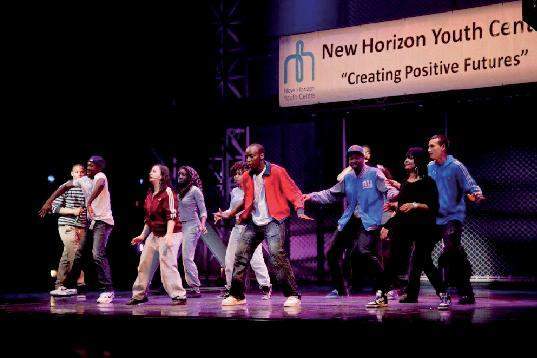 Back from Black
They said goodbye in more than words, and now Mitch Winehouse is celebrating his daughter Amy's legacy with a foundation supporting the young
Mitch Winehouse
Amy Winehouse Foundation
I WAS IN New York when I heard the news that Amy had passed away, and I don't know how I got back to London. I really thought, 'This is it, you're not going to get through this.'
When we arrived at Amy's home in Camden Square and I saw Amy's family and all her fans outside, I realised that we, her family, could do one of two things. We could either dig a hole in the ground, jump into it and disappear, or we could try to turn what happened to Amy not into something positive — that would be impossible — but we could try to get some positives out of it.
Amy was 27; she didn't leave me a list of instructions for what should happen in the event of her death — no 27-year-old does. But we knew she loved young people, so it wasn't too much of a leap for us to set up the Amy Winehouse Foundation to help disadvantaged young people and children.
When we set up this foundation, we went into it not knowing what we were doing. We didn't have a clue. Because we were grieving, we just wanted to help everyone, and you can't. We went into several children's hospices and made donations, which were all gratefully received, but they weren't strategic. Now we're focused on funding specific projects where we think we can have the biggest possible impact.
We were really lucky that after a month we found Dalton Leong, who's head of charities at Global Radio. He's now on our team and without him I don't know what we'd do. We've also had great help from the Charities Commission and now we're working on our governance. Everything — our governance, our due diligence — has to be spot on. Every day we're learning something new.
One of the things I learnt very quickly is that I can't open my big mouth. When Amy passed away I said that I was going to set up a foundation, and one of the first things that happened was that some bloke bought all the website domain names and company names for the Amy Winehouse Foundation.
We aim to give away £500,000 this year to a number of causes: hospices for children, drugs education in schools, night shelters for young people like Pilion Trust, and of course New Horizon Youth Centre.
It wasn't difficult choosing to support New Horizon. There are 3,000 young people living rough on the streets of London, only you don't see them because they slip between the cracks. A few years ago, I would have said that kids are homeless because they're drug addicts or alcoholics, or in gangs. Actually, often they become homeless because they're trying to escape gangs, and a lot of them come from very abusive homes. Coming from a close family, it makes me so emotional thinking of that.
These kids are fantastic, and all they want is for you to give them a chance. There was one young man who slept rough at night. During the day he would come to New Horizon for a rest, some food and a shower, and then he'd go to night school. He got into medical school and guess what, now he's a surgeon. There are hundreds of stories like that.
We've decided to fund all the centre's meals for a year, and we hope to carry that on ad infinitum. We've also upgraded their music room and provided them with a part-time music teacher. If you teach someone to sing, or play an instrument, you teach them how to get on with others. Teach someone music, and you teach them discipline, which they can apply to other areas, too.
I know I might sound like an idiot, but music solves everything. Love solves everything and music is love. One of the guys at New Horizon recently came out of prison and has had some terrible times with his family. Because he can't really write this stuff down he raps it, and that helps him get it all out. And it's like one of Amy's songs, because it comes right from down there, from the heart. Amy would have approved of this. Well, I know she does approve, because if she didn't she would have thrown a lightning bolt down on me by now.
Stella Hamada
Business development officer, New Horizon
At New Horizon Youth Centre, we're very lucky and unique because we can provide everything a young person needs under one roof. Typically, when a young person comes to us they will have reached a significant rock bottom in their life. We don't want to have to direct them elsewhere.
Once we've got them into this supportive environment, we can offer them a whole range of services. We cover their primary needs, such as a hot meal, laundry and showers, but we can also help them with alcohol and drugs support, housing advice, healthcare and support into work or training.
We have a lot of donors who are wonderful and give us money, but they don't always want to have more involvement in the organisation than that. Mitch was quite different, because it was clear to us that he didn't just want to give money: he also wanted to become part of the organisation.
It was obvious from the first time Mitch and his colleagues visited that they were really interested in knowing how they could have the most impact with the money that they were giving. So much so, in fact, that Mitch actually went to work in our kitchen.
The Amy Winehouse Foundation's funding is making a huge difference. Firstly we no longer have to worry about fundraising for our kitchen and catering costs (we provide a hot meal for our young people seven days a week), which has lifted a significant burden. Secondly, the music tutor is exactly what our young people are most interested in. We're a very user-led organisation and whenever we've asked our young people what they feel they need, music always comes up first.
One of the reasons music means so much to young people is that it's often the only voice they have. A lot of young people at New Horizon may not have English as their first language, and many of them have had a very disappointing experience when it comes to formal education, so having a music tutor is something really special for them.
The music tutor is doing some great work. He helped put on a music performance at the Prince Edward Theatre and these young people performed completely by themselves, in front of an audience of almost a thousand people. One of the things we notice is that when these young people come to us they have very low self-esteem and confidence. Getting up on stage in front of a crowd is a once-in-a-lifetime experience and it really boosts their self-esteem.
We call music and drama 'hook activities' because they get young people into the centre and doing something they enjoy. Once they're involved in the centre, we can get to a stage where we can begin to work on their health, qualifications and employment skills.
It's great to have someone so high-profile like Mitch behind the organisation. There are lots of connections, too: Amy was young, and from Camden, and often troubled. So it's not only a really successful partnership, but also a natural one.
Interviews by Sophie McBain
amywinehousefoundation.org
nhyouthcentre.org.uk
Don't miss out on the best of Spear's articles – sign up to the Spear's weekly newsletter