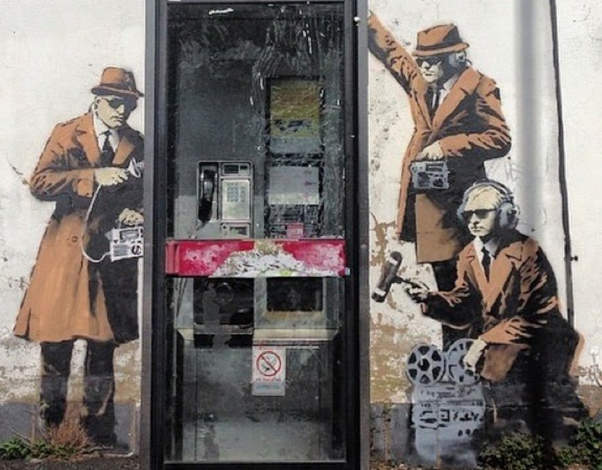 Author: Aoife Moriarty


Banksy's 'Spy Booth', near GCHQ in Gloucestershire, was inspired by last year's global surveillance scandal. It is now beloved of the town's art appreciating inhabitants. However, it is also painted onto the wall of a terraced house, with the owners keen to sell the work for 'at least £650,000'.
Yesterday, a stop notice which prevented the removal of the wall for 28 days expired. That's when millionaire businessman Hekmat Kaveh stepped in, saying he would buy the Banksy to ensure it stayed where it was, to the grateful hoorahs of the local 'Save the Banksy' group.
The educationalist and property developer told The Gloucestershire Echo: 'Having spoken to many people over the last few weeks, and read many comments on social media, I have concluded that there is a very strong feeling about this work.
'It seems that Cheltenham generally is in support of not only retaining the Banksy in town, but in its current location, where it was clearly intended to be.'
The entrepreneur hopes to turn the site of the graffitied artwork into a museum exploring the history of GCHQ, but said its exact location would depend on the outcome of a thorough consultation process.
Read our recent feature on heritage philanthropy by William Cash here.