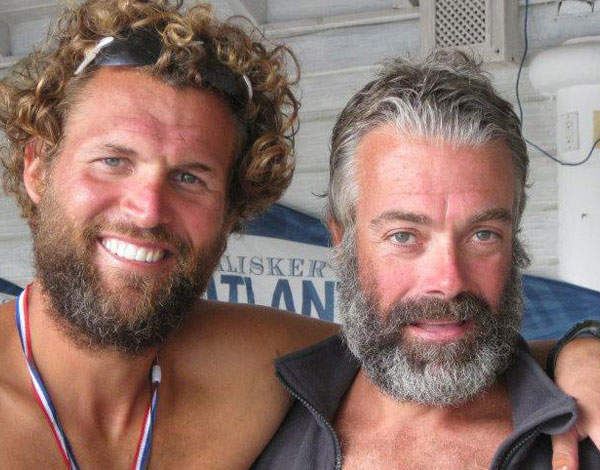 These days people will do anything in the name of charity – eat bugs, throw themselves off cliffs, grow heinous moustaches – but a 250km slog across 50-degree desert must surely be one of the world's most gruelling charitable challenges.
Yet apparently there is no challenge too great for The King's Speech and My Week With Marilyn actor Bertie Portal (pictured above right), who is taking on the Marathon des Sables to raise money for the Rainbow Trust, which supports families with terminally ill children.
Speaking to Spear's the day before he sets off for the sweltering Sahara Desert, Portal says he's most concerned about 'Dune Day', the first day of the course, which means scrambling across 26 miles of dunes, and 'Long Day', which involves running across 50 miles of desert.
'I'll finish it. There's no question of that – it just depends when,' he says, adding that, unsurprisingly, he is not good in extreme heat. 'You've just got to grit your teeth and get on with it and hopefully the Sahara will let you cross very slowly over the top of her.'
Portal is no stranger to outlandish sports challenges (or rather, offlandish). Just two years ago he took on the Talisker Whisky Atlantic Challenge, a 3,000-mile row across the Atlantic Ocean, with rowing partner James Cash, which raised £400,000 for charity. 'I'd never been to sea before, I'd never rowed before,' he said. 'I've always had a terror of the open sea so I thought I'd better go and do that and lay that demon to rest. I'm not sure I did!'
Having regularly run marathons and triathlons, Portal's penchant for extreme sports challenges started when his good friend Martin Kelly died. Kelly had started a charity called Facing the World that provides craniofacial surgery to disadvantaged children, and so Portal wanted to pay tribute to his friend by raising money for his charity with his rowing challenge.
What does it take to get through a hair-raising tempest-ridden row or a heavy-footed sand trek in scorching temperatures? 'You have to be selfish, bloody-minded, stubborn – they're not very nice qualities. But I'd thoroughly recommend it,' he says.
Portal, who recently stopped filming a comedy feature that doesn't yet have a title, gave himself a practical buzz haircut to go out to the desert so that he can become 'more like a machine than a human being'.
Unfortunately he has since discovered that he still has more filming to do when he returns from his marathon six days later. 'I've got to carry on for a day or two when I get back, unbeknown to me – I thought I'd finished. But now I've cut all my hair off, I'll probably have to wear a hat for the rest of the film!'
Portal hopes to raise £200,000 for the Rainbow Trust. To make a donation, click here or send cheques payable to Rainbow Trust Children's Charity to 6 Cleeve Court, Cleeve Road, Leatherhead, Surrey, KT22 7UD.