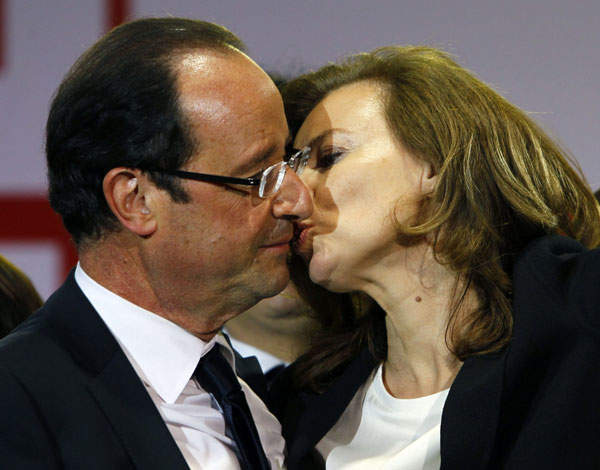 Valérie Trierweiler and President Francois Hollande are not married and not in a formalised French civil union. Whatever the outcome of their sad saga, their dispute brings into sharp relief the prospect of financial claims between unmarried couples in France and in England, where our laws could not be more different.
Mr Hollande has said his relationship with Ms Trierweiler is modern, because it is not traditional marriage. But what protections exist on separation? Another rumour reported in the Anglo-Saxon press is that Julie Gayet might be expecting a child from her alleged relationship with the President. What financial protection would exist for the child?
England and Wales, France and indeed Scotland have a bundle of very different rights. Woe betide a couple with the wrong set of rights in the wrong country. The payer could be left with a big bill, or conversely the weaker financial party could be left extremely vulnerable.
Here are three examples which hopefully balance up a little the perfidious Anglo-Saxon press reports on Monsieur le President.
If Alex Salmond of Scotland divorced and then had been in a long term relationship outside marriage, his partner could acquire financial rights on separation. Scotland now allows cohabitee financial claims, without any prior formal registration of the relationship.
By contrast England and Wales and France do not. So if Mr Cameron had entered a 'modern relationship', rather than marriage, his estate too like the French President's would be safe on separation from his very modern First Lady.
French PACs
To get any protection French couples must get a PACS (Pacte Civil de Solidarité). But those are not protective rights like in Scotland, just a division of property according to what was agreed at the outset when the union was registered.
The financially powerful party may be in the driving seat at that outset and therefore on separation. Around 200,000 people a year sign up to the PACS in France, being almost as many as those who marry. There are tax advantages to the PACS.
The Cameron government is apparently considering whether cohabitees should have more rights. But given the political sensitivities, change is a mirage right now.
What about Ms Gayet and the rumoured baby and how would the similar new arrival born of an English actress or Scottish actress from having an affair with David Cameron or Alex Salmond fare?
In France maintenance is payable by the father until a child finishes tertiary education. The same applies in England and Wales and also Scotland (albeit there is a separate government agency not the courts who oversees it here in the UK).
In England and Wales however, the courts have substantial additional powers. Given Mr Cameron is wealthy, he would face having to house the mother and child until it finished tertiary education, and having to pay top up maintenance to the mother to include private school fees and a decent lifestyle (subject to the mother's ability to work).
The courts would want to see the child grow up in a lifestyle not vastly different from the father's. Therefore a comfortable house or flat say in central London would be the expectation (but not chauffeur cars and probably no second home in the country). A significant maintenance budget (potentially £100,000 a year) would be possible. Also a small security detail, paid for by Mr Cameron, would not be out of the question given the celebrity status of the child.
Mr Cameron then, would be financially worst off in respect of a child from an unmarried relationship. Mr Salmond would be worst off if he separates from a cohabitee (with no children involved). President Hollande, from the land of paramours and romance, would be incurring the least penalties for separation from a cohabitee and a private indiscretion.
William Healing is a partner at Kingsley Napley