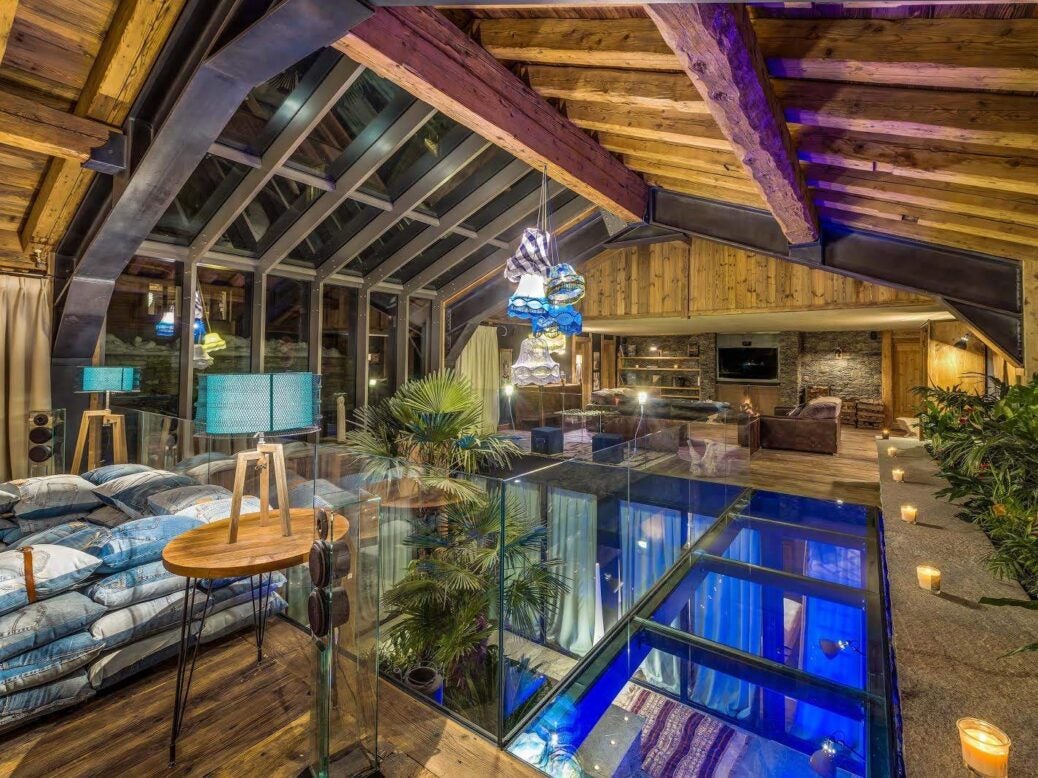 Author: by Chloe Barrow
A nice chalet in the Alps, complete with sauna and hot tub, is generally perceived as an extravagance, but that's a modest dwelling compared with what's on offer across the Channel this winter.
In a recent article I discussed the super tutor, but this season's latest craze is the super chalet, a beast of a building equipped with such features as a bar, an indoor garden and pool, a pistol and archery range and a climbing room. This is no ordinary winter bolthole; it's the ultimate après ski entertainment centre. Shove an indoor piste in there and you needn't step out the door.
One such example is Chalet Husky (pictured above and top), a brand new €12 million seven-bedroom chalet, located in the Espace Killy mountain range, just 300 metres from the centre of Val d'Isere. This winter wonderland, designed by Jean-Charles Covarel, has all of the aforementioned features plus a gym, sauna, Hammam, Jacuzzi, wellness area and relaxation area – and, one of my favourite quirks, an iPad in every room to control light and heating.
Read more on property from Spear's

According to French property experts Athena Advisor, there are a number of these super chalets being developed following a trend for the 'next level' in luxury facilities to cater for the luxury rental market. And it makes a fruitful investment, as the property owner can earn up to €300,000 in rental over a season, as well as getting a possible 19.6% rebate on the purchase price if you use a management company.
Athena Advisor has observed a substantial 32 per cent increase in sales of ski chalets above €1 million over the last year. 'At least three times the number of chalets have been built compared with recent years', Nicholas Leach, a partner at Athena Advisors, said in a press release. 'This is largely due to the pent up demand as a result of a large volume of buyers sitting on the fence for so long and now jumping off. This rush to the market has created a lot of demand for a limited supply.'
The boom in high-end French chalets is likely due to Francois Hollande's proposal last summer to reduce capital gains tax on second homes in a bid to boost French property sales. With super chalets on the rise and fresh money pumped into its property industry, the French Alps could soon become as expensive as Switzerland.