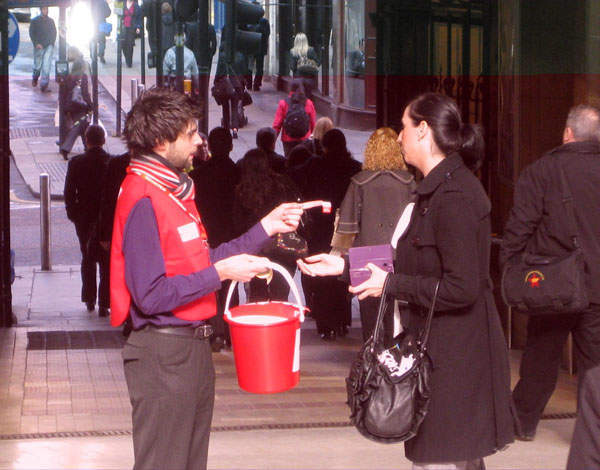 Even the least philanthropically minded could not fail to have been moved to delve into their pockets for loose change over the last few weeks. Despite the stark contrast in the approach of the various appeals (the Poppy Appeal, collectors sporting teddy bear ears and spotted bandages, the gritty images showing the horrific reality of Typhoon Haiyan), the message from the fundraisers comes across loud and clear: 'We need your money to help others and we need it now.' But what is the best way to collect it?
Rattling buckets in public places is demonstrably an extremely effective way to raise both funds and the profile of the recipient charity and provides an easy way for donors to give without noticing any difference to their financial position, but both donors and charities are missing the Gift Aid trick to increase the value of every donation.
Of course, the recently introduced (April 2013) Gift Aid Small Donations Scheme (the clue is in the name) will be of some assistance – this facility allows pure cash donations received without the requisite documentation to qualify for Gift Aid – but the limits of £5,000 per charity per year and £20 per donor mean that the impact is severely limited.
Certainly those bucket-rattlers in Pudsey onesies I encountered as I made my way through Heathrow Terminal 5 on Friday evening were grateful for change; you may not be aware that Gift Aid donations too can be made in any currency.
What is essential, however, is that the donation is in money, and must be by way of gift, ie there must be no element of reciprocal benefit from donor to donee (subject to strictly construed donor benefit limits). This is why (of particular interest for any Royal readers of this blog) when you purchase your large crystal-encrusted poppy brooch, you are not, strictly speaking, making a donation but a purchase and so Gift Aid cannot be claimed by either the donor or the donee.
I suspect the value of the stick-on poppy would be within the donor limits, depending of course, on how much you donate (ie you have to donate more than 25 per cent of the value to you of the poppy!).
An increasingly successful adaptation of the Gift Aid rules has appeared in relation to the donation of unwanted clothes, books and bric-a-brac via street collection bags posted through one's letter box.
'Those aren't donations in the form of money.' I hear you mutter – quite so – but there is normally a Gift Aid declaration on part of the plastic bag. The way it works is that the charity sells the items for you and you are then deemed to make the requisite donation 'in the form of money' on which Gift Aid can them be claimed.
The added value of Gift Aid obviously makes the extra hoops through which the charities have to climb worthwhile – but the alluring simplicity of the bucket remains.
Sophie Mazzier works at boutique private wealth law firm Marice Turnor Gardner LLP (Sophie.Mazzier@mtgllp.com)